IFC: Curraha set up quarter final clash with the 'Moores'
September 11, 2017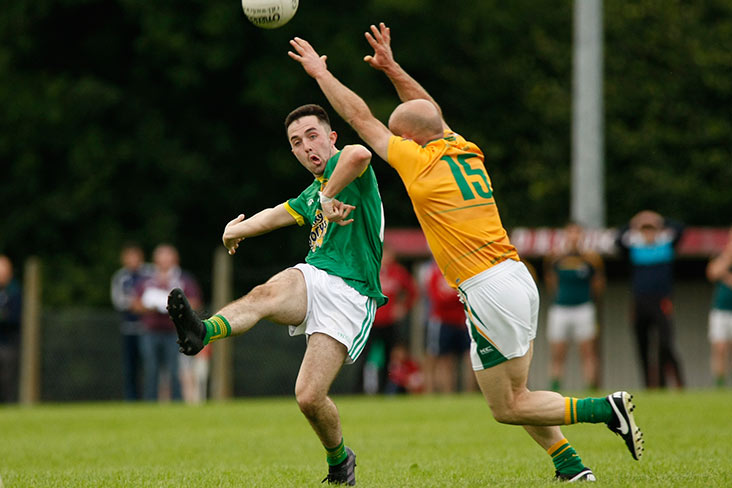 Curraha's Andrew Battersby
Curraha 2-15 Ballivor 0-06
Curraha went into this game needing a convincing win to top the group and they duly obliged with a 15-point victory over Ballivor in Senchalstown.
Curraha were very patient in the opening 30 minutes as Ballivor played a blanket defence with 13 men behind the ball. They notched up seven points against a whirlwind wind that was swaying every direction. David Toner had the ball in the back of the net which is ruled out for square ball for some unknown reason by referee Pat Clarke. Curraha led by 0-07 to 0-2 at the break.
With the wind at their backs Curraha kicked on in the second half and although Ballivor kicked the opening score of the half, some nice points from Conor Moriarty and David Coyle had Curraha back in control. Andrew Coyle came off the bench and had a major influence in the game and a turnover from him saw Andrew Battersby set up Conor Moriarty for a goal. This seemed to kill off Ballivor and Curraha were on top in every position and when Moriarty repaid Battersby with a fantastic ball he slotted to the net to finish the game off. Curraha notched some fine scores including ones from subs Sean Keogh and Coyle.
Donaghmore/Ashbourne now await the HA side in a quarter final.
Curraha: L. Hogan, S. Hogan, N. Murphy, M. Jackson, B. Joyce, N. Shortall, B. Murphy, P. Dowling, J. McEntee, G. Coyle, A. Battersby, M. Phelan, D. Coyle, D. Toner, C. Moriarty. Subs: A. Coyle for McEntee, S. Keogh for Battersby, E. McGovern for G. Coyle, C. Joyce for Phelan, C. McCann for Murphy, I. Battersby for Toner
Most Read Stories