IFC: Trim advance at windy Pairc Tailteann
September 11, 2017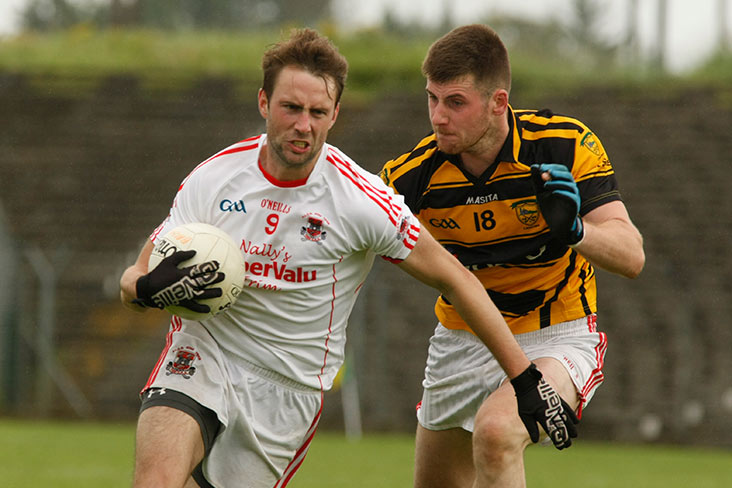 Trim's Alan Douglas with Mark McCullen Ballinlough during the Meath IFC game at Pairc Tailteann
Trim 1-11, Ballinlough 1-10
The wind was the controlling factor at Pairc Tailteann as Trim took on Ballinlough in the final round group A of the Meath intermediate football championship.
Ballinlough had already qualified but the table permutations meant that Trim could possibly be depending on other results if they failed to win. With the wind in the first half the Trim lads ran up a significant lead whereby they were ten points up after ten minutes on a score line of 1-7 to 0-0. It looked that a rout was on the cards with the James Toher show in town. He had scored 1-4 of Trim's tally from play. Significantly they hit two wides in the eleventh and twelfth minutes before Ballinlough hit their first wide and then their first point in the fifteenth minute to be followed by a goal in the nineteenth to reduce the deficit to six. In the lead up to half time two points from Ballinlough and one from Trim left the score at the break at Trim 1-8, Ballinlough 1-3.
With the wind in their faces after the turnaround there was concern in the Trim camp that the five point lead would not be enough and this fear was well founded as Ballinlough reduced the deficit to four with a point in the first minute. Trim could only respond with two wides with their opponents firing over one point in the fourth. Alan Douglas and Frankie Murphy settled the Trim lads down with two significant and well taken points against the wind in the sixth minute to take their lead back to five. But the experienced Ballinlough side applied serious wind assisted pressure and over the following fifteen minutes capitalised by winning frees in front of goal which resulted in four points. Trim's young goalkeeper Alan Carey then kept his side on track with a magnificent point blank save. His block was crucial as a Ballinlough goal at this stage in the game would have been a game changer. With only one point between the sides Alan Douglas landed Trim's final point of the game but Ballinlough pressure left for a nail biting finish. They hit one more point in the thirtieth minute but try as they might they could not find another with the Trim defence holding out.
Getting back to the first half, James Toher put his side into a two point lead when on target in the first and second minute. Alan Douglas followed up with his first of four points one minute later. James Cullen found the target with a point in the fourth when he we through 'man on man' with goalkeeper. Toher was on target again in the sixth and then brought his score tally to 1-3 with a goal in the seventh. Full forward Neil Heffernan landed a point in the tenth to be followed by a James Toher effort one minute later to leave his side ten points up. The Trim surge was then halted by Ballinlough's 1-1. Alan Douglas scored his sides last point of the half in the twenty second but the North Meather's had the last say with two points leading up to haft time.
On a day of difficult conditions for good football the Trim win ended up in an eventual grind but they held out for third place in the table and a quarter final clash in two weeks time with Oldcastle. Along with the afore mentioned scorers Trim were best served by goalkeeper Alan Carey, full backs Luke Moran and Rory McGrath, who had the unenviable task of marking Peader Byrne. Half backs Shane Downes and Ciaran O'Rourke both put in a good shift while Robert Bourke in the middle of the field was also impressive. Corner forward Nigel Duignan put in a good hour with non stop running and involvement. James Toher had a master class of scoring in the first half but was tightly marked in the second. Alan Douglas pulled the strings in the middle of the field. His non stop running, his work rate and his four points contributed significantly to his side's victory.     
Trim scorers: James Toher 1-4, Alan Douglas 0-4, Neil Heffernan 0-1, Frankie Murphy 0-1, James Cullen 0-1.      
Trim: Alan Carey, Declan Dowling, Luke Moran, Rory McGrath, Ciaran O'Rourke, Shane Downes, Gerard Dwayne, Robert Bourke, Alan Douglas, James Cullen, James Toher, Frankie Murphy, Nigel Duignan, Neil Heffernan, Daire Lynch. Subs: Darryl Phelin, Sean Fitzgerald, Michael Cullen, Dimi Higgins, Ciaran Joyce, Ryan Andrews, Ciaran Giblin, Paul Munnelly, David Murtagh, Niall Murray, Eoin McGrath, Sean McDonagh.
Trim scorers: James Toher 1-4, Alan Douglas 0-4, Neil Heffernan 0-1, Frankie Murphy 0-1, James Cullen 0-1.
Most Read Stories