SFC Group A: Moores exit despite massive win
September 09, 2017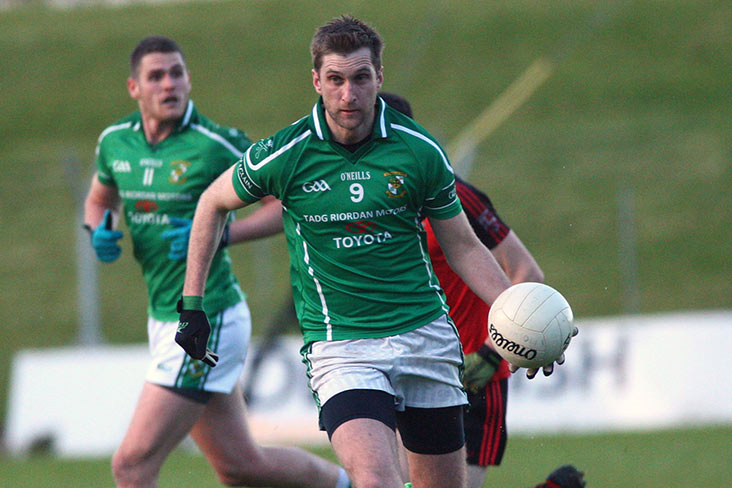 Kevin Lannigan - Donaghmore Ashbourne
Donaghmore/Ashbourne 7-16  Duleek/ Bellewstown 0-6.
Coming into the last round of games in the group stage of the Senior Football Championship Donaghmore/Ashbourne knew that to reach the knock out stages they were relying on Summerhill to beat Wolfe Tones and they also had to overturn a twenty nine point score difference. However despite an impressive thirty one point winning margin the south Meath side lost out because Wolfe Tones in defeating Summerhill advanced to the quarter finals.
Kevin Lannigan was in top form scoring 5-1 from his full forward position,  Leo Reilly again impressed with seven points while Bryan Menton, Paul Gilligan and Jack Giles also stood out for the winners.
Donaghmore Ashbourne: Jack Hannigan, J.P. Casserly, Cormac McGill, Jack Giles, Conor Carton 0-1, Shane Melia, Paul Gilligan 0-3 (2 45s 1f), Conor Carey, Bryan Menton 1-2, Darragh McGovern 0-1, Thomas McGovern 1-0, Colm O'Mealoid, Dylan Brady 0-1, Kevin Lannigan 5-1, Leo Reilly 0-7. Subs: Niall Farrell for Conor Carton, David Carey for Paul Gilligan and John Brodrick for Kevin Lannigan.
Most Read Stories