IFC: Trim back on track
August 28, 2017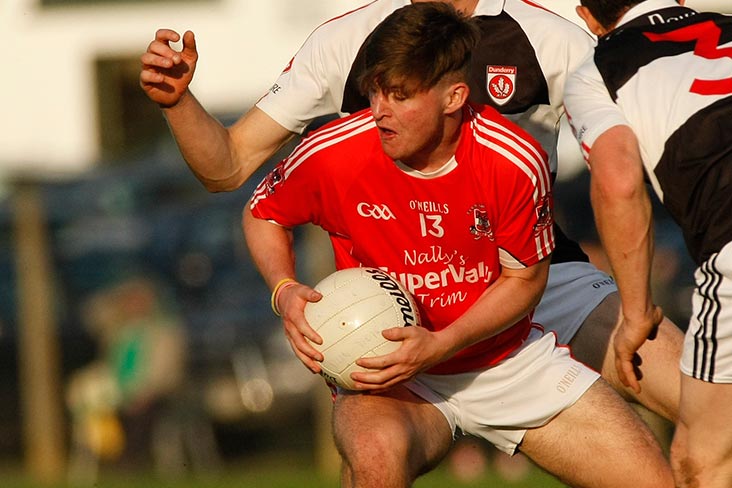 Trim's Daire Lynch
Trim 2-14, Drumbaragh 1-6
From a Trim perspective this was a game that had to be won if they had any aspiration of advancing in the 2017 Meath intermediate football championship. With only three points from a possible six so far they were poised precariously in the qualification table behind other contenders Ballinlough, Dunderry and St Michaels.
The game was played in Athboy on Sunday morning. Weather conditions were favourable for good football so there was no excuses and none were required. The game ended up a one sided affair with the Trim side much the stronger and indeed the final score line, even though showing a twelve point difference in the end, flattered Drumbaragh as the winners missed many chances in front of goals.
Drumbaragh were first to score with a point in the first minute. This was followed by two Trim points in the second and fourth minute, the first from Neill Heffernan who received a long pass from James Toher, then turned his man and fired over. The second one was from Robert Bourke who hit a peach of a point from forty metres out. The North Meath side levelled in the eight with a second point but that was to be their last of the half. Trim pressure started to crank up commencing with points in the eleventh and seventeenth from Alan Douglas who ran from deep to score and then a clever James Toher effort. Eoin McGrath then put five points between the sides when he netted in the twenty third minute after superb build up work and pass from Robbie Kenny.  James Toher followed two minutes later with a pointed free after Eoin McGrath was fouled in front of goal. The Trim pressure relented with four wides in the lead up to half time but just before the break they landed two points from the boot of Neill Heffernan and Daire Lynch. Half time score Trim 1-5, Drumbaragh 0-2.
As with the beginning of the first half Drumbaragh were quick out of the blocks after the throw in with a first minute point but they weren't to score again until the thirteenth during which time the Trim lads clocked up 1-3 to run ten points ahead. The goal came from Neil Heffernan and the points from Daire Lynch (2) and a further point from Heffernan. Points were traded in the thirteenth with Eoin McGrath doing the honours for the Reds. Drumbaragh then made a recovery of sorts when they hit 1-2 in the seventeenth minute but that was to be their final score of the game. Trim fired over a further three points on the run in to full time, their scorers being Ciaran O'Rourke with a fisted effort and two from Michael Cullen.         
The Trim defence were superb to a man all through the game and goalkeeper Niall Murray did his bit with a great save in the first half.  Their midfield was totally dominant winning 31 of the 37 kick outs throughout the game. There was good mix of scoring from their forwards even though nine wides were hit. The in-form Neil Heffernan was again significant with 1-3, wing forward Daire Lynch fired over three points and Eoin McGrath chipped in with 1-1. James Toher and Alan Douglas constantly spurred the team onwards and substitute Michael Cullen made his mark with two points.    
Trim scorers: Neil Heffernan 1-3, Daire Lynch 0-3, Eoin McGrath 1-1, Michael Cullen 0-2, James Toher 0-2 (1 free), Robert Bourke 0-1, Alan Douglas 0-1, Ciaran O'Rourke 0-1.
Trim: Niall Murray, Declan Dowling, Luke Moran, Rory McGrath, Robbie Kenny, Shane Downes, Ciaran O'Rourke, Frankie Murphy, Robert Bourke, James Cullen, James Toher, Darryl Lynch, Alan Douglas, Neil Heffernan and Eoin McGrath. Subs: Alan Carey, Nigel Duignan, Darryl Phelin, Ryan Andrews, Patrick Lennon, Michael Cullen, Ciaran Giblin, Conal McGrenra, Kevin Nally, Richie Murphy, Gerard Dwayne, David Murtagh, Cian Walsh.
Most Read Stories