IFC: Michaels edge past 'Wood'
August 28, 2017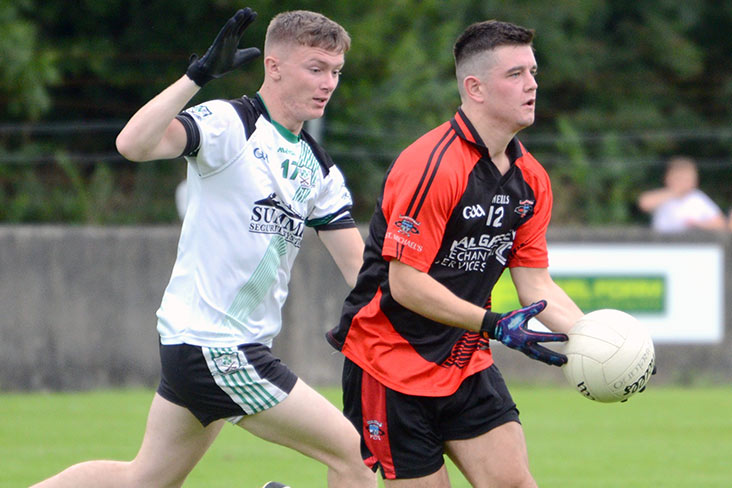 Ronan Lynch gains possession for St. Michaels against Longwood during the Meath IFC game at Athboy
Michaels 1-15 Longwood 1-14    
The return to the playing fields of Jamie Reilly was an uplifting sight with the wily defender making a key contribution late on as St. Michaels edged past Longwood in a thrilling IFC match in Athboy on Sunday afternoon.
The Meath junior panellist's recent battles with injury was foremost in everyone's minds when his appearance with 12 minutes remaining was greeted with a hearty round of applause and true to form Reilly immediately stamped his authority on the game around the middle third with some telling fetching and distribution to his inside forwards and guiding his colleagues through those tense closing moments to snatch a well deserved victory.                                                    
St. Michaels took the crucial lead in the 63rd minute when Oran Meehan was quickest to react to a poor Longwood kick-out and although he was closed down almost immediately he managed to off-load it to top scorer Ciaran Lynch who split the posts for the winning score.
Lynch opened the scoring for St. Michaels with three points in the opening nine minutes, Longwood quickly settled and were on level terms a minute later having opening their account on five minutes. Some good inter-play between Ciaran Lynch and Meehan ended with a fine point from the latter to restore the lead once more. A Shane McCormack converted free following a foul on J.B. O'Reilly put two between the sides but Longwood fired a rasping shot past the outstretched Darren O'Connell for the opening goal of the match and a one point lead on 17 minutes. Longwood were in full flight now adding three unanswered points in a ten minute spell before Shane McDonnell blasted low and hard to the bottom corner to reduce the deficit to a point, however there was still time for Longwood to put two between the sides before the interval, 1-07 to 1-05.
Longwood re-started with all guns blazing adding two points in as many minutes, Peter O'Connell sent over a beauty after been fed by Ben Tobin, Lynch pulled another one back from a free on 36 minutes, Longwood replied in kind  but ace shooter Lynch added two excellent efforts from play after been set up by Meehan and O'Connell to leave his side trailing by just a point, 1-9 to 1-10 after 40 minutes play. Longwood responded immediately for a two point lead but the hard working Ronan Lynch who put in a consistent performance throughout set up Shane McCormack who landed a booming effort from near the left sideline to make it a one point game once more. Things began to look bleak for St. Michaels when they lost Ronan Cassidy to a second yellow at the end of the third quarter but the introduction of Jamie Reilly changed the game and it was also the increased work rate and dogged determination of all his team-mates that altered the course of the match. Oran Meehan levelled the match with a great effort on 48 minutes, but back came Longwood with two unanswered points, 30 seconds later Shane McDonnell had the deficit back to one, by this stage there was no quarter given or taken by either side, it was manly stuff and there were more cards flashed than scores recorded. Longwood went two ahead with two minutes of normal time left, then Ciaran Lynch stepped up and pointed a free from the 45m line, his next effort levelled the match in the 32nd minute and he was put through for the all important winner by Oran Meehan a minute later. Longwood were awarded a free and a chance to level the match, however they wasted the opportunity much to the delight of the St. Michaels lads.           
St. Michaels team and scorers: Darren O'Connell;  Thomas O'Brien, Sam Briody, Ronan Cassidy; Christopher Drew; J.B. O'Reilly, Matthew Halpin; Peter O'Connell (0-1), Shane McCormack (0-2); Ben Tobin, Ciaran Lynch (0-9), Ronan Lynch; Mark Stafford, Oran Meehan (0-2), Shane McDonnell (1-1). Sub: Jamie Reilly for Ben Tobin 48 minutes.
Referee: Marcus Quinn.                                                                                                                                                                                                              
Report by Pascal Reilly.    
Most Read Stories