IFC: Goals galore as Nobber remain in contention
August 25, 2017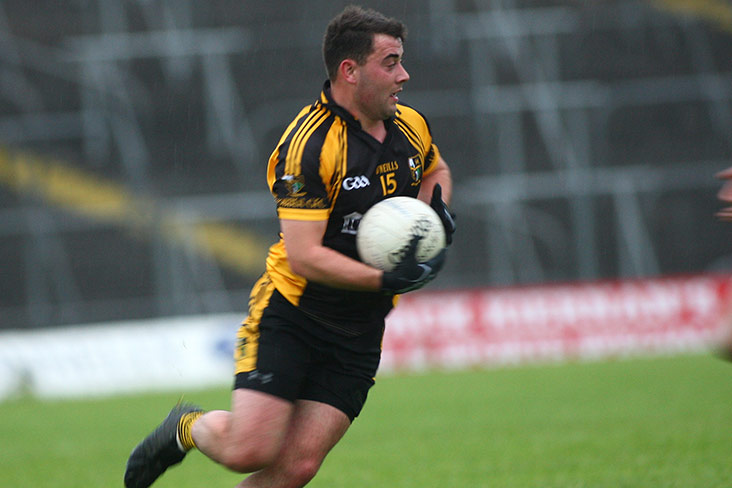 Nobber's Karl Casserly
Nobber 4-12 St. Ultans 4-7
Nobber maintained their interest in this years Championship following this hard earned victory over St Ultans at a well appointed Ballinlough on Thursday evening.
Ultans were first on the board and raced in to a 1-1 to 0-0 lead after 4 minutes.
Dale Larkin opened Nobbers account in the 10th minute followed by a Karl Casserly 12th minute goal after great approach work from the returning Sean Meade. 
By the 23rd minute the Ultans had moved in to a 2 point lead but Nobber gained the upperhand at this stage with another goal this time from Sean Meade and further points from Larkin 2, Jack Condra and Fiachra McEntee saw them lead comfortably 2-6 to 1-4 at the break.
On the resumption further scores from Larkin 2, Casserly and Alan Farrell (who incidentally saw red in the 46th) saw them lead 2-11 to 1-7 after 49 minutes.
But then the floodgates opened with Ultans goaling in the 53rd and 55th minites to leave just a point between the teams.
Again Casserly came to Nobber's rescue with a 58th goal, which the Ultans promptly replied with their fourth goal a minute later to again leave a point between the sides.
Playing into injury time substitute Gerard Campbell steadied the Nobber ship when latching onto a high ball into the square to finish to the net amid a wealther of excitement. Larkin closed out the scoring as Nobber come away with the spoils
Nobber scorers: Karl Casserly 2-2, Dale Larkin 0-6, Sean Meade 1-0, Gerard Campbell 1-0, Darren Lambe 0-1, Jack Condra  0-1, Fiachra McEntee 0-1, Alan Farrell  0-1
Nobber: D. Hutchinson, E. Fagan, P. Meade, J. Condra, B. Heffernan, S. O Brien, N.Farrell, A. Farrell, T. Murtagh, D. Lambe, P. Weldon, S. Meade, D.Larkin, F. McEntee, K. Casserly. Subs: Brian Meade for Heffernan, Gerard Campbell for Niall Farrell, Gavin Farrelly for Lambe
St. Ultans Report
Nobber 4-12  St Ultans 4-7 
Nobber ended St Ultans hopes of qualification for the knockout stages by coming out on top in an eight goal thriller in Ballinlough. St Ultans started brightly with a point from Gearoid Rennicks. Followed by a goal from Ronan Breslin, after Cian Rennicks put him through on goal from an intercepted kickout. Nobber responded with a free but another Gearoid Rennicks point from play cancelled this out. Nobber responded with a quickfire goal and point to draw the sides level. Further efforts from Gearoid Rennicks and a 45 from keeper Cian Rennicks edged Ultans into a 2 point lead. Nobber dominant period in the game followed as they scored 1-4 without response in the closing 10 minutes of the opening period to lead by 5 at the break. 
The majority of the drama was saved for the 2nd half where Nobber edged further in front with early points Cian Rennicks kicked 3 points to keep Ultans in touch but Nobber cancelled them out to lead 2-11 to 1-7 heading into the final quarter. Goals from Paul Murray and Cian Rennicks closed the gap to the minimum and with Ultans dominating possession it looked like the comeback was possible but Nobber scored a breakaway goal to lead by 4 in the final few minutes. Ultans continued to drive forward and a powerful run from full back Sean Herward reduced the gap to 1 again. Unbelievably Nobber got the 8th and final goal of the game and time ran out on the spirited comeback. 
Ultans will hope to bring the battling spirit to their final group game against Donaghmore Ashbourne while Nobber will hope to to progress to the Quarter Finals 
St. Ultans: Cian Farnan 0-1 45, Darren Costello, Sean Herward 1-0, Declan Ball, Martin Dolan, Declan Galligan, Darren Mallon, Gearoid Rennicks 0-3, Mark Allen, Conor Smyth, Cian Rennicks 1-3, Emmet Costello, Kevin Galligan, Ronan Breslin 1-0, Darren Kavanagh Subs Ronan Galligan, Paul Murray 1-0, Alan Martin
Most Read Stories