SFC: Pats unlucky in Duleek
August 17, 2017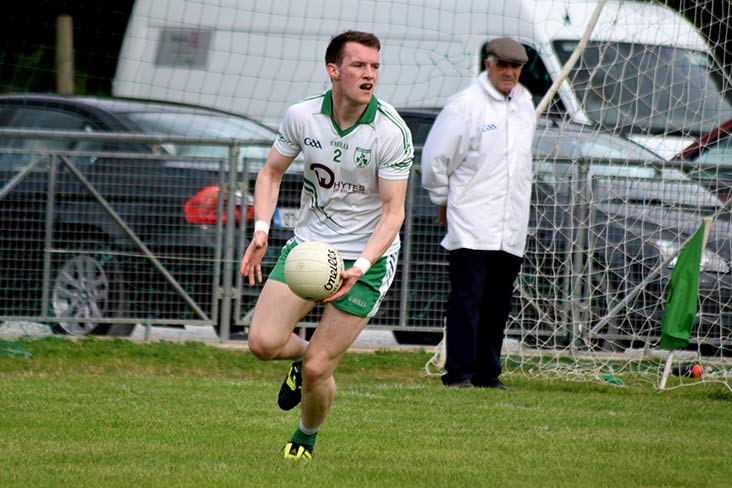 David McQuillan St. Pats
St. Pats 2-12 Dunboyne 2-16
St. Pats were unable to repeat last year's victory over Dunboyne in this thrilling SFC game in Duleek but can take a lot of positives out of a fantastic second half display.
Both teams came out of the blocks well but found scoring tough in the opening minutes as both teams traded possession. However it was Dunboyne who struck the first big blow with a goal on 15 minutes. Pats recovered well and came in 4 points down at the break when it could have perhaps been a little bit more.
Half time: Pats 0-5 Dunboyne 1-6
A few positional switches at half time seemed to kickstart the Pats as they started the second half like a steam train and quickly found the net thanks to a well taken Alan Vickers goal. The Stamullen side were very nearly in for a second minutes late but Neil O Flaherty's goal attempt went narrowly wide. Dunboyne then responded with their own goal and it was clear that we were in for a fantastic finish.
It was a real end to end second half with Dunboyne going close to goals but for the intense Pats defending, particularly from full back Kieran Lynch. Neil O'Flaherty then got another chance of a goal and made no mistake and expertly slotted the ball past the Dunboyne keeper. The sides were then 2-11 a piece with 5 minutes remaining. Dunboyne showed great composure to knock over 3 unanswered points. Blood sub Niall Whearty clipped over a close range point which could have easily been a goal to give Dunboyne a scare but with time nearly up Dunboyne were awarded a penalty which they slotted over the bar to give them a 4 point victory.
St. Pats: R.Cluskey, D.McQuilan, K. Lynch, A.Byrne, A.Vickers (1-0), S.Dowling (0-2), D.Stafford, D.Quinn, B.Mooney, J.Curtis (0-1), D.Hagan, N. O'Flaherty (1-0), S. Landy (0-1), N. Mooney (0-7), P. Nulty.
Subs: M.McNulty for P. Nulty, S.Byrne for M. McNulty, N. Whearty(0-1) for J. Curtis (blood sub)
Most Read Stories