IFC: Entertaining draw at Athboy
August 16, 2017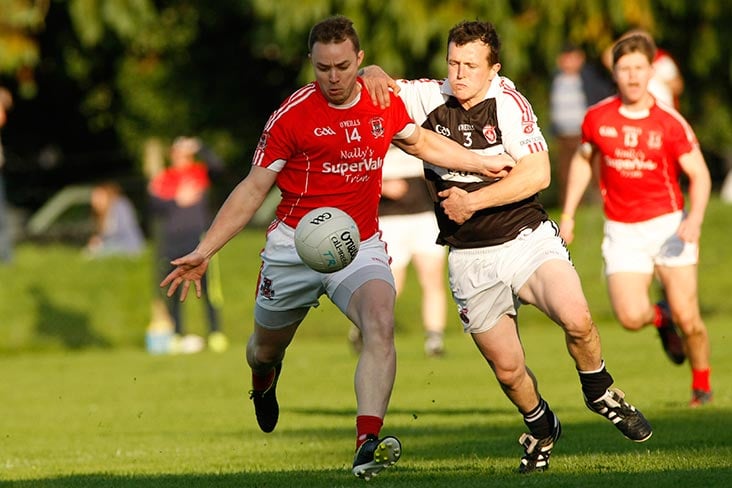 Trim's Neil Heffernan with David McCormack during the Meath IFC game at Athboy
Trim 0-11, Dunderry 0-11
There was relief all round at the end of the Trim v Dunderry team in this drawn intermediate football championship game in Athboy last night.
Relief for different reasons. Trim had two points from the previous two rounds and another defeat would have left them in severe trouble in terms of qualifying for the closing stages. They were also five points down seven minutes into the second half and the game seemed to be going away from them but through a late resurgence they were lucky to get the draw. Dunderry, on the other hand came into this game with victory in the two previous rounds but this was their first real test with the three stronger teams to be played in the group. Coupled with this they are missing key players through emigration and injury. With five points up early in the second half and a saved penalty by their goalkeeper they were slowly reeled in by a resurgent Trim side and were also lucky to hold on for the draw in the end.
Trim were first out of the blocks with a Declan Dowling points in the first minute. This was followed up in the third minute with an on target James Toher free. They missed a chance to go three up with a kickable free in the fifth. Dunderry got off the mark with an accurate '45 in the sixth minute but was quickly followed up by a Neil Heffernan point for Trim. From then to the fifteenth minute Dunderry took complete control of the game and their efforts were rewarded with four unanswered points to lead by two. Trim pulled the lead back to one point with a free from Daire Lynch but this was followed immediately by a Dunderry point. The remainder of the half was played out with the Black and  Whites registering two points to Trim's mere response of two wides to leave the score at the break Trim 0-4, Dunderry 0-8.
Immediate from the resumption James Toher clocked up a Trim point but the Dunderry lads fired over two in quick response to lead by a significant five points and looking comfortable. But from then onwards the Trim lads started to turn the reel with a Frankie Murphy point in the tenth minute. They were awarded a penalty shortly afterwards but the uncommitted strike was saved. It should have been the fillip for the Dunderry lads to advance onwards. But not the case. It was the Reds that pressed onwards with four points from  Eoin McGrath, Robbie Kenny, James Toher and Neil Heffernan to draw level with five minutes left to play. Kenny's substitution midway through the second half was inspired. He literally controlled the game during the resurgence with hunger to gain possession and become his team's playmaker with clever distribution and firing over a point also.
Dunderry went ahead once more with a pointed free in the twenty fourth minute but from then to the end of the game the Trim lads applied relentless pressure in their quest for victory. Parity was gained with a Neil Heffernan point in the twenty sixth. From there to the final whistle three Trim wides left the sides tied at eleven points apiece.
Final Score line - Trim 0-11, Dunderry 0-11.
Trim's young goalkeeper Alan Carey must be commended for his very accurate kickouts and his clean sheet. Frankie Murphy had a busy hour in the middle of the field and made a valuable contribution while up front Neil Heffernan was a threat anytime he gained possession. Perhaps more ball into his area would have been profitable for the Trim lads.
The trend of this game reflects also the trend of Trim's second round game against St Michaels where they were seven points down at the beginning of the second half but reeled them in to within a point just before the final whistle. Missed frees were also significant in both Trim games and needs to be rectified if they are to advance.  
Indiscipline was also a Trim downfall with a Red and Black Card issued for needless misdemeanours that left their side devoid of two key players.     
It means knockout championship for the rest of the year and possible results from other games going in their favour.  Next up is Drumbarragh and will not be easy.
Trim scorers: James Toher 0-3 (1 free), Neil Heffernan 0-2, Robert Bourke 0-1, Declan Dowling 0-1, Daire Lynch 0-1 (free), Robbie Kenny 0-1, Eoin McGrath 0-1, Frankie Murphy 0-1.
Trim: Alan Carey, Ciaran O'Rourke, Luke Moran, Rory McGrath, Gerard Dwayne, Shane Downes, Declan Dowling, Frankie Murphy, Robert Bourke, Alan Douglas, James Toher, Nigel Duignan, Darryl Lynch, Neil Heffernan, Eoin McGrath. Subs: Darryl Phelin, Robbie Kenny, Eoin O'Connor, Michael Cullen, Ciaran Giblin, Conal McGrenra, James Cullen, Kevin Nally, Richie Murphy, Peter Farrell,  David Murtagh, Mark Murray.  Sean Fitzgerald, Ciaran Joyce, Niall Murray.
Most Read Stories