IFC: Newmans to the fore as Kilmainham draw
August 14, 2017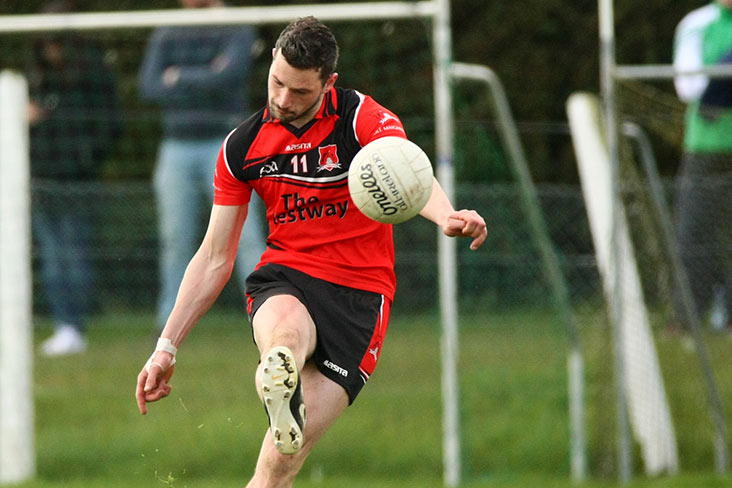 Kilmainham's Mickey Newman
Kilmainham 1-13 Ballivor 1-13 
Kilmainham drew with Ballivor in round 3 of the Intermediate Championship on a sunny morning in Athboy. 
Kilmainham started the brighter of the 2 teams and were 0-03 to 0-01 up after 8 minutes with the Newman brothers Mickey and Denis providing the points. Ballivor got the score back to 0-04 a piece but Kilmainham pushed on to go in leading 0-06 to 0-04 at half time with points from Barry Lynch and Denis with his 2nd of the day. 
It was point for point in the early stages of the 2nd half but then a mix up in Kilmainham defence gave Ballivor a goal and they led by the minimum 1-6 to 0-08. 
The next 15 minutes was all Ballivor as the hit 4 unanswered points as they raced in to 1-10 to 0-08 with 10 minutes left. 
A Freddie Newman pointignited the Kilmainham fight back. Mickey Newman followed with 2 quick scores, 1 from a free and then a goal where he ran straight through the Ballivor defence and rattled the net.  This left the minimum in it again 1-11 to 1-12 with 5 minutes of normal time remaining. Ballivor stretched their lead to 2 as the game entered injury time. Then up stepped Denis Newman to land his 3rd of the day with a fantastic a point to leave 1 in it again with time running out.
Kilmainham applied pressure on Ballivor as they tried to walk the ball out of the defence and were rewarded and a free. Mickey Newman stepped up and cooly slotted the ball over the black spot and the game ended in a draw. 
In the last 10 minutes Kilmainham players stepped up and worked extremely hard to claw back the lead. It might not be the win we wanted but we'll take the point over a loss! 
Kilmainham: Trevor Lynch, Stephen Newman, Richie Brady, Darren O'Sullivan, Joe Mahon, Harry Newman, Gerard Morgan, Barry lynch (0-01), Mickey Newman (1-07, 4 frees, 1 45'), Seanie Mahon, Paul Farrelly, Denis Newman (0-03), Colm Mc Givern, Freddie Newman (0-02), Shane Morgan. Subs: Mark Newman for Paul Farrelly, Fergal Black for Stephen Newman
Most Read Stories