IFC: Important win for St. Michaels
August 14, 2017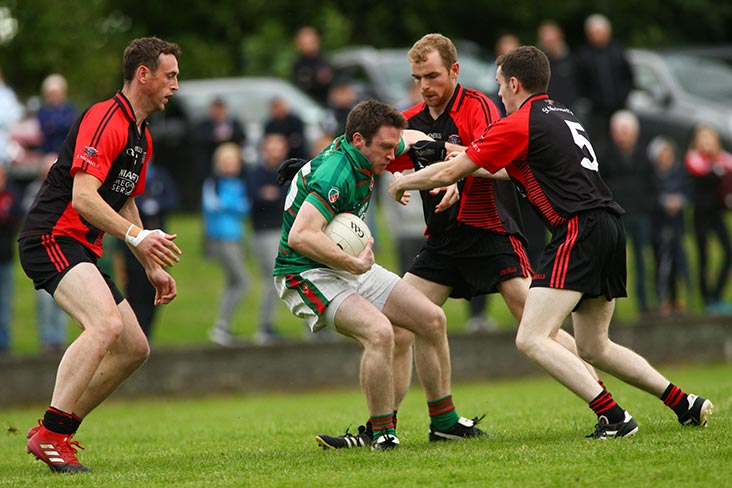 St. Michaels J.B. O'Reilly, Sam Briody and Christopher Drew close out Willie Carry Drumbaragh during the Meath IFC game at Carnaross
St. Michaels 2-14, Drumbaragh 0-8   
St. Michaels picked up two valuable points in Carnaross on Friday night last and in doing so ran riot in the second half killing the game off as a contest.
This match however will not live long in the memory of those in attendance as both sides were guilty of some woeful shooting in front of the posts. Drumbaragh were first out of the blocks with a point in the opening minute but they had to wait until the ninth minute for their second score. Shane McCormack opened the scoring for St. Michaels after three minutes and a minute later Shane McDonnell found the back of the net when he pounced on a loose ball after a good save by the Drumbaragh keeper. McDonnell added St. Michaels second major from the penalty spot in the 29th minute following a foul on Ray Reilly to put his side into a 2-5 to 0-5 lead at the break.
Drumbaragh added two points in quick succession six minutes after the re-start, McDonnell fought hard for a turn-over which he expertly split the posts with for his sides second half opener on forty minutes, Ray Reilly fetched a high ball delivered in by Peter O'Connell and he sent it over to restore their six point lead. It was all St. Michaels from there to the final whistle as Drumbaragh capitulated only raising one more white flag from a '45 at the end of the third quarter while Ciaran Lynch, O'Connell and McCormack all added points for St. Michaels.                                                                                                                                                                                                                                                                                                                                                                                                                                                                                                                                                               
St. Michaels team and scorers: Darren O'Connell;  Thomas O'Brien, Sam Briody, Ronan Cassidy; Christopher Drew; J.B. O'Reilly, Matthew Halpin; Peter O'Connell (0-2), Felim O'Reilly (0-1); Shane McCormack (0-3),  Ciaran Lynch (0-6), Ronan Lynch; Ray Reilly (0-1), Oran Meehan, Shane McDonnell (2-1). Sub: David Lynch for Ciaran Lynch on 59 minutes.
Referee: Seamus O'Connor                                                                                                                                                                                                            
Report and photo Pascal Reilly.                                                                                                    
Most Read Stories