IFC: Castletown pushed all the way by Curraha
July 26, 2017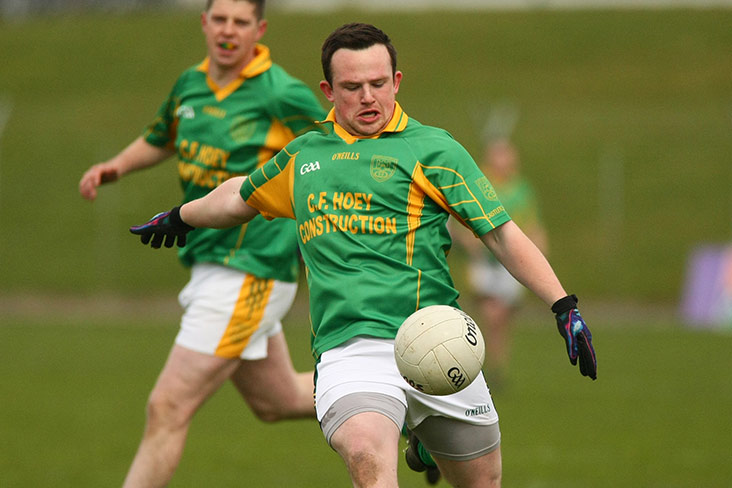 Castletown's Kevin Ross
Castletown 2-14
Curraha 0-19

Castletown made it two wins out of two in this years Intermediate Championship with this one point victory over Curraha in Bective on Tuesday evening.
On an excellent evening for football we were served up a very exciting game which could have went either way but the experience of Castletown at this grade and the expression of goals win games proved to be true. Curraha opened the scoring in the first minute but Castletown scored in the 4th and 5th minutes from Kevin Ross and Declan Cribbin a point each to take the lead. Kevin Ross then scored 1-1 and Darren Finney got a goal to leave the eventual winners one point up at the break - 2-4 to 0-9.

Curraha scored the first point of the second period and took the lead on 34 minutes with a point which sparked Castletown into life where they scored two in a row one each from Declan Cribbin and Kevin Ross to go back into the lead. Curraha drew level on 36 minutes but Castletown pulled three clear again with points from Ross, Cribbin and one from Darren Finney. Curraha scored the next point but Castletown scored  two more points from Tommy Smith to go three points up after 45 minutes of play. Curraha then scored two in a row to cut the deficit to the minimum with 47 minutes on the clock. With less than 10 minutes of the game remaining Tommy Smith scored his third point in a row and Mark Kelly added another point a minute later. Curraha responded with two quick points one after another but Castletown matched their scores with two points of their own one each from Darren Finney and Declan Cribbin. This would be the last scores for the Castletown men. Curraha never gave up and scored the last two points of the game to leave just the minimum between the sides at the final whistle. The fulltime score finished Castletown 2-14 Curraha 0-19. 
Castletown will play Bective in round 3 of the IFC 2017. 
Castletown - Jonathan Ginnitty, Joey Carry, Damien Ginnitty, Noel Smyth, Robbie Hoey, Gerry Farrelly, Kenny Smith, Francis Hoey, Shane Hoey, Darren Finney (1-2), Tommy Smith (0-3), Kevin Ross (1-4), Declan Cribbin (0-4), Barry Smith and Stephen Duffy. Subs - Mark Kelly (0-1) for Barry Smith (35 minutes), William Bellew for Francis Hoey (BC on 50 minutes).
Curraha report
Curraha 0-19
Castletown 2-14
Curraha were on the end of a one point loss to IFC rivals Castletown on Tuesday night in the second round of the championship. James McEntee opened the scoring for the Curraha men in the opening minute but Castletown responded with two unanswered points before Andrew Battersby drew the teams level with a sublime point with the outside of his boot. Points were traded again with Andrew Coyle getting his name om the scoresheet. From the resulting kick out Castletown worked the ball well up the field and Kevin Ross slotted it calmly to the net to give his side a big advantage. Curraha responded well and pushed themselves ahead with four unanswered points from Conor Moriarty (2), McEntee and Battersby but Castletown raised the green flag after some loose defending. McEntee and Moriarty points had the teams level for the 5th time but a late Castletown point gave them a one point lead at half time.
Two well taken McEntee points had Curraha in front inside the opening six minutes of the half but Castletown drew level before a McEntee free had Curraha in front after ten minutes. Castletown seemed to get on top then and rattled off three successive points. A Gavin Coyle point had the deficit back to one at the half way stage but two points from placed balls had Castletown three in front on score line of 2-10 to 0-13. A brace of points from Moriarty had the minimum between them but after all the good work in getting back into the game Castletown cancelled out those two with two of their own. A Sean Keogh point was followed by one from McEntee to leave one between the sides approaching injury time but it was déjà vu again as Castletown cancelled these scores out immediately. Points from David Coyle and Battersby brought it back to one but that was as close as they could get. One positive that the 'Ha' men can take is seven different scorers getting 19 points on the board with 16 coming from play.
Curraha: L. Hogan, M. Jackson, N. Murphy, C. McCann, S. O'Hanrahan, S. McDermott, B. Joyce, B. Murphy, N. Shortall, A. Battersby 0-3, J. McEntee 0-7, P. Dowling, P. O'Hanrahan, A. Coyle 0-1, C. Moriarty 0-5. Subs: G. Coyle 0-1 for McDermott, E. McGovern for Dowling, D. Coyle 0-1 for A. Coyle, S. Keogh 0-1 for P. O'Hanrahan, S. Hogan for McCann, C. Joyce for S. O'Hanrahan. 
Most Read Stories