SFC Group C: Dunboyne by double scores
July 25, 2017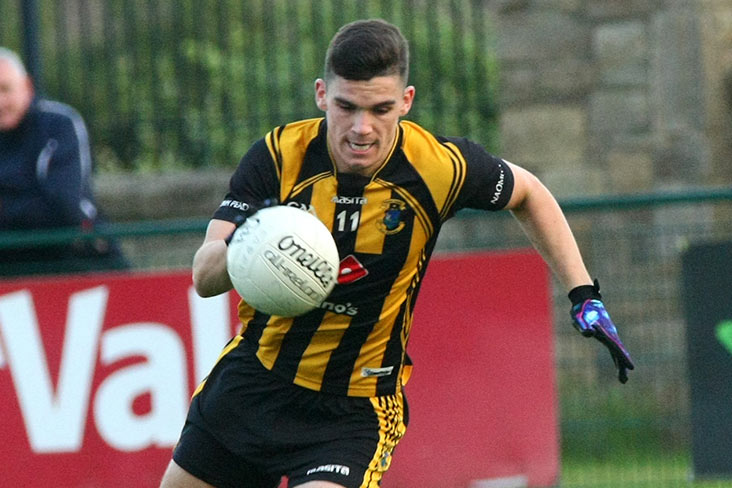 Dunboyne's Donal Lenihan
Dunboyne ran out decisive winners over Skryne in this SFC round two fixture in good conditions at Ratoath on Monday evening.

Dunboyne ...... 2-14
Skryne ........ 0-10

Second-half goals from Niall Jones and Shane McEntee copper fastened the outcome. Skryne's inaccuracy after the change of ends emphasized the Dunboyne' superiority.

Having beaten Dunshaughlin by five points first time out, Dunboyne enhanced their score difference into double digits. Skyrne lost here by one point more than they did to St Pat's in round one. Thw winners could even afford the luxury of a missed first half penalty as Des McAviiney went down well to save Donal Lenihans effort. 

A fine Paddy O'Rourke point left Skryne trailing by the minimum, 0-7 to 0-8, after 35 minutes. It quickly followed on from a Jason Fox pointed free.

The outcome was effectively decided in the next 10 minutes during which time Dunboyne outscored Skryne by 2-2 to 0-1. With 46 minutes gone, it was 2-10 to 0-8.

Shane McEntee's goal came following a run and shot which appeared to take a deflection en route to the net.

Donal Lenihan and Robbie McCarthy shared 0-10 overall with the former landing three frees and the latter one.

Dunboyne were denied a 56th minute goal by Des McAvinney's fine save from the impressive Stuart Lowndes.

Just before the end post got in the way of Darragh Campion's goal attempt.

A determined Skryne had the better of the early exchanges with Jason Fox (free) and Mark Battersby pointing inside two minutes. Dunboyne responded with a trio points from play, courtesy of Donal Lenihan, Niall Jones and Robbie McCarthy to lead by 0-3 to 0-2 after eight minutes.

The scores were tied twice more in the first-half. while Skryne regained the lead to move two points clear, 0-5 to 0-3, early in the second-quarter. Paddy Carpenter's score was a notable effort.

Paddy Fox doubled Skryne's lead in the 17th minute, finishing a move he began with Eoin Smyth and Mark Battersby also involved.

Dunboyne closed out the half with four unanswered points. They might have moved further ahead but Donal Lenihan's 27th minute penalty was well-saved by Des McAvinney.

When the ball was recycled, Lowndes landed the final score of the half to leave Dunboyne 0-7 to 0-5 ahead at the break.

A Lenihan free extended Dunboyne's lead within two minutes of resumption. Then came Skryne's brief rally but it was unable to break St Peter's.

Skryne take on Na Fianna in round three, while Dunboyne are set to meet St Pat's.

Ratoath produced a team sheet for patrons with numbered subs listed which was appreciated.
An unusual feature of the game was the direct confrontation of former Meath goalkeeper David Gallagher with the present custodian Paddy O Rourke in the middle of the field. Two big men with the veteran Gallagher edging the battle.

Dunboyne - Padraig Curran; Gary Timoney, Jack Scannell, Jordan McLoughlin; Johnny Meehan, Cathal Finn (C), Gavin McCoy; David Gallagher, Shane McEntee (1-0); David McEntee (0-1), Niall Jones (1-1), Stuart Lowndes (0-2); Robbie McCarthy (0-5, 1f), Stephen Moran, Donal Lenihan (0-5, 3fs)). Sub - Cathal Lacy for Jones (53).

Skryne - Des McAvinney; Timmy Lennon, Eoghan Greene, Declan Morley; Paddy Carpenter (0-1), Mark Harrington, Darragh Campion; Paddy O'Rourke (C) (0-1), Ciaran Lenehan; Eoin Smyth (0-1), Brian Davis (0-1), Aidan Tuite (0-1); Paddy Fox (0-1), Mark Battersby (0-1), Jason Fox (0-3 fs). Subs - Dermot Brennan for Lennon (bs 30), Brennan for Morley (40), Colm Craigie for Tuite (44).

Referee - Padraic Coyle (Seneschalstown)
***SKRYNE REPORT***
Second Championship Defeat for Skryne.
Dunboyne 2-14 Skryne 0-10.

Dunboyne made it two wins from two games in the Senior Football Championship when they defeated Skryne in this match played in excellent conditions in Ratoath this evening.
The final scoreline is probably a little unfair to Skryne who were unlucky when conceding Dunboyne's second goal to a deflected shot leaving keeper Des McAvinney completely stranded. Add to that Darragh Campion hit the Dunboyne post on two separate occasions. Having said that Dunboyne were the best team - apart from the first fifteen minutes - all through the game. Skryne played Patrick O'Rourke in a number of positions but Dunboyne consistently punched the ball away from him and Skryne were unable to pick up the breaking ball. Without winning at least fifty percent of the loose ball Skryne had no chance of victory in this game.
The Blues did begin the match very well and had two points on the board before Dunboyne settled and got into the game. Dunboyne led at half time by 0-7 to 0-5.
Five minutes into the second half came the first goal. A Skryne attack broke down close to the Dunboyne goal resulting in a fast flowing move ending with the ball in the Skryne net. Soon after that Campions goal bound shot rebounded off the Dunboyne post and across the goal line and out wide on the opposite end line. The Blues luck was out at that point and fifteen minutes in, Lady Luck again deserted them when Ciaran Lenehan blocked a Dunboyne forwards shot only for the ball to rebound into the net on the other side of McAvinneys goals.
Des Mc could not be blamed for either of the goals and did well overall including a great penalty save in the first half. He got great support in defence from Timmy Lennon and Paddy Carpenter. Eoin Smyth ran his heart out for the team and Mark Battersby had a good first half but got very little quality ball thereafter. Jason Fox kicked three lovely points from difficult free kicks.

Skryne - Des McAvinney. Timmy Lennon, Eoghan Greene, Declan Morley. Paddy Carpenter (0-1), Mark Harrington, Darragh Campion. Patrick O'Rourke (0-1), Ciaran Lenehan. Eoin Smyth (0-1), Brian Davis (0-1), Aidan Tuite (0-1). Paddy Fox (0-1), Mark Battersby (0-1), Jason Fox (0-3).
Subs used - Dermot Brennan and Colm Craigie.
Most Read Stories