SFC Group A: Late Summerhill surge wins it in Trim
July 24, 2017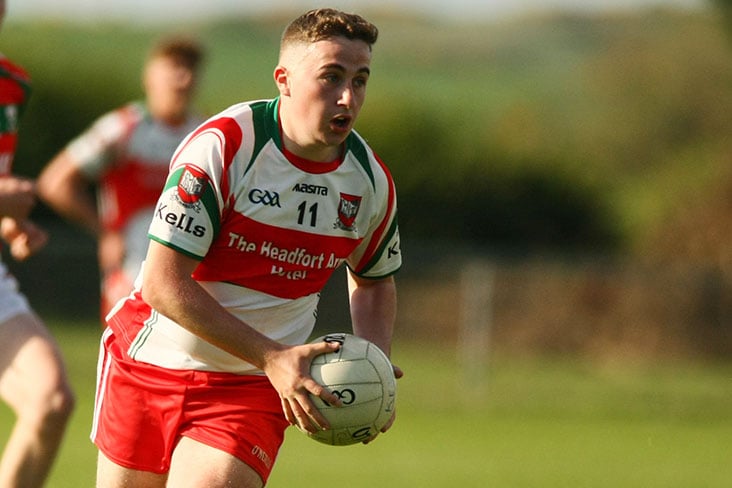 Fionn Ferguson Gaeil Colmcille
Summerhill 1-12
Gaeil Colmcille 0-11

Trim was the venue for this SFC contest between Gaeil Colmcille and Summerhill played in perfect conditions. It was a special day for Conor, Olivia and the Ferguson family when sons Cormac, Fionn and Liam started a championship match for the first time together as Fionn made his senior debut.

It was Gaeil Colmcille who got off to the better start with frees from Brian Hanlon and one from just inside the 45 line from Cormac Keegan. Summerhill responded with five unanswered points leaving them 0-05 to 0-02 up after 18 minutes. Kells would not register their first score from play until the 20th minute when patient build up, the ball ended up with Keegan who struck with the outside of the boot to leave two between the sides. Kells would get the next two scores, first from Fionn Reilly and the second from centre-back Barry Tormay to leave the sides level at the break 0-05 to 0-05.

Summerhill got the opening two scores of the second half putting them 0-07 to 0-05 up, Kells went on to score the next five points in a row with two points from Seamus Mattimoe, brothers Oisin and Fionn Reilly getting a point each and an excellently hit free from about 55 yards by Keegan saw Kells stretch three clear leading 0-10 to 0-07 with 15 minutes remaining. Then the turning point of the game, Jonny Quigley who was performing well for Kells in a tight half-back line was given a black card and Summerhill took advantage as they went on to to level the match up at 0-10 each. A Brian Hanlon free on 57 minutes put Kells up by one heading into the closing stages but it was Summerhill who finished the game the stronger getting two points in a row before getting the all important goal on 61 minutes to clinch the game and take the two points. 

The result leaves Summerhill sitting on top with 4 points with Gaeil Colmcille joint 3rd on 2 points heading into round 3.

Gaeil Colmcille: J Carry-Lynch, C Ferguson, B Smith, J Muldoon, P Tormay, B Tormay (0-01), J Quigley, L Ferguson, C Keegan (0-03), S Mattimoe (0-02), S Curran, F Ferguson, F Reilly (0-02), B Hanlon (0-02), O Reilly (0-01). 

Subs: C Riordan for Quigley (Black Card), S Reddy for F Ferguson, R Farnham for F Reilly, M Foley.
Most Read Stories