IFC: Impressive win for Nobber
June 10, 2017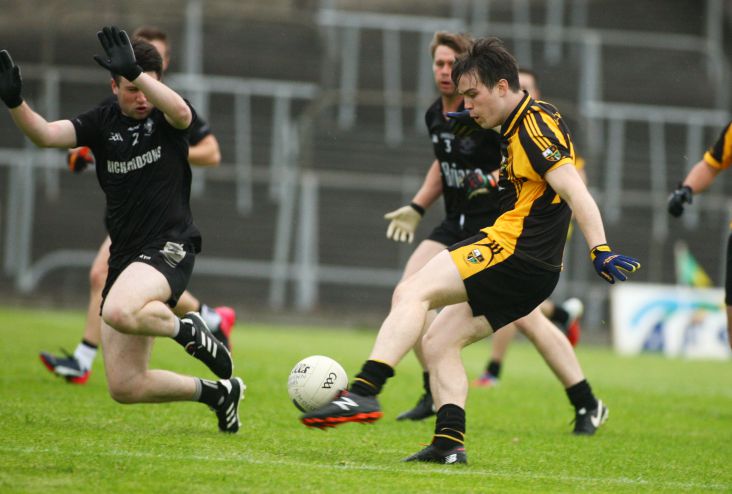 Nobber's Fiachra McEntee shoots against Walterstown during the Meath IFC game at Pairc Tailteann
Nobber 5-9 Walterstown 2-13
In a match in which they were never headed Nobber atoned for a poor IFC first round performance to account for Walterstown in dull conditions at Pairc Tailteann.
The winners got of to a lighting start with a spectacular Sean Meade goal after 30 seconds following brilliant approach work.
Meade added a further point before Gerard Campbell and Karl Casserly found the net to see them lead 3-1 to 1-0 after 10 minutes.
With further scores coming from Dale Larkin (3), Campbell and Fiachra McEntee Nobber went in at the break 3-6 to 2-6 in front. 
On the restart Meade, McEntee and Larkin were again on target but Walterstown dug deep and had reduced the deficit to 2 before Murtagh and a second Campbell goal kept Nobber on the victory trail.
This was a very good Nobber performance with Sean Meade, Gerard Campbell, Karl Casserly, Fiachra McEntee, Thomas Murtagh 
the Farrell brothers Niall and Alan, Larkin and Brendan Heffernan to the fore.
Another pleasing aspect to this performance was that 5 of the starting forwards got on the score sheet.
Nobber scorers: Gerard Campbell 2-1, Sean Meade 1-2, Dale Larkin 0-4, Karl Casserly 1-0 , Thomas Murtagh 1-0, Fiachra McEntee 0-2
Nobber: D Hutchinson, E Fagan, P Meade, B Cassidy, B Heffernan, S O Brien, J Condra, N Farrell, T Murtagh, G Campbell, D Larkin, S Meade, D Larkin, F McEntee, K Casserly. Subs: Alan Farrell for Cassidy, B Meade for Larkin
Most Read Stories