SFC: Skryne through to quarter final
September 27, 2016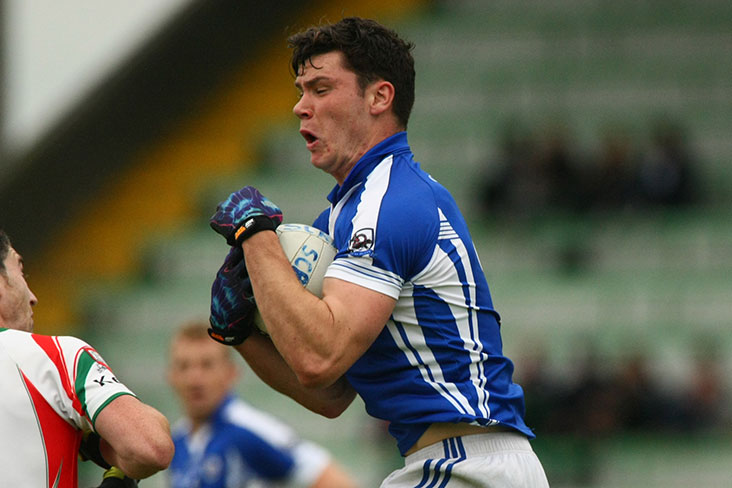 Skryne's Harry Rooney
Skryne 3-7 Rathkenny 1-9

Skryne reached the quarter final of the hoganstand.com Meath Senior Football Championship with this workmanlike win over Rathkenny in Simonstown on Sunday.
After a really heavy downpour lasting fifteen minutes shortly before the 2pm throw-in time the pitch was in a very difficult state for good quality football. With surface water in places we were lucky that referee Joey Curley deemed the pitch playable at all. Having said that it held up well and the conditions were the same for both teams.
Early on Rathkenny coped much better than Skryne and raced into a five point lead to the delight of their small band of supporters. Eighteen minutes had elapsed before Skryne got on the scoresheet - a superb pointed forty five from the boot of Paddy O'Rourke. He followed this with another from a free and Bryan Davis and Aidan Tuite also pointed to complete the first half scoring. Even though Skryne had 8 wides to Rathkenny's 2 in this period the Red and Black brigade will surely believe they should have been more than just one point ahead at the break, 0-5 to 0-4.
They again began the second half better than Skryne and had the ball in the net to increase that lead to four points. They had another chance soon after only for Felim O'Rourke to make an excellent save at the expense of a fruitless forty five. Stephen O'Brien reduced the lead with a point before man of the match Harry Rooney ploughed his way through the Rathkenny defence only to be fouled in the 'area' before he could shoot to the net. Patrick O'Rourke calmly slotted home the resulting penalty and the Blues were back in the game. An excellent interception by Eoghan Greene set up Tómas McKeown for the score of the match with less than ten minutes to go. Tómas soloed nearly forty yards before blasting the ball to the Rathkenny net to set the Blues on the victory trail. This despite the fact that Skryne were down to 14 men at this stage after Aidan Tuite was unlucky to receive a second yellow card.
The final Skryne score was also a well worked goal finished superbly by substitute Conor O'Brien to book their passage into the quarter final where they will take on Summerhill next Sunday evening.
Apart from the excellent Rooney this was a game for the younger brigade and Donie Ryan, Eoghan Greene, Darragh Campion and Eoin Smyth justified their inclusion with assured performances in the heat of a typical physical senior football clash.

Skryne - Felim O'Rourke. Eoghan Greene, Ciaran Lenehan, Mark Jordan. Tómas McKeown (1-0), Donie Ryan, Niall Lenehan. Aidan Tuite (0-1), Harry Rooney. Stephen O'Brien (0-1), Darragh Campion, Eoin Smyth (0-1). Bryan Davis (0-1), Patrick O'Rourke (1-2), Mark Battersby. Subs used - Conor O'Brien (1-1), Paddy Fox and Declan Morley.
 
Most Read Stories