IFC: Walterstown set up semi final date with St. Colmcilles
September 26, 2016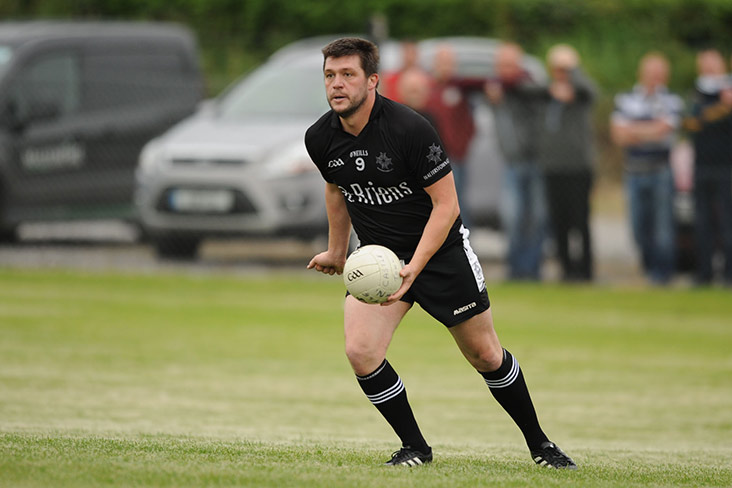 Walterstown's Alban Crosbie
Walterstown 0-14 Syddan 0-11
Walterstown played Syddan in the quarter Final of the Intermediate Championship in Pairc Tailteann on Saturday last.
The wet and windy conditions favoured defenders in this game. Walterstown adapted quickly and after 10 minutes were 3 points to zero ahead through 2 frees from Alban Crosbie and a well worked Davy Donnellan point. Syddan had their first point after 12 minutes and kept the gap to 3 points at half time with Walterstown leading by 0-7 to 0-4.
Walterstown got a great start to the second half through a John Geoghegan point from 45 metres out. After 15 minutes of the second half, Walterstown had increased their lead to 5 points, with the score at 0-11 to 0-6. The score could have been much closer only for a brilliant save from Walterstown keeper John Davis 10 minutes from the end. Syddan continued to work hard and with 5 minutes remaining had narrowed the gap to just a goal. However another excellent Geoghegan point and a pointed free from a difficult angle, by man-of-the match Alban Crosbie, left Walterstown 0-14 to 0-11 ahead, when referee Padraig Coyle blew for full time.
Walterstown now play St Colmcilles in the Semi Final of the IFC next Sunday in Pairc Tailteann.
Walterstown: John Davis , Colin McGrane (0-1), Davy Reynolds, Colm O Reilly , Davy Donnellan (0-1), Peter Reynolds, Mark McCormack (0-1), Conor O Sullivan , Tom Walsh, Alban Crosbie (0-5, 4F), Ruairí O Dowd (0-1), John Geoghegan (0-2), Cormac Madden (0-1), Richie Barry, Brian O Connell (0-1) Subs: Aaron McLoughlin for C Reilly, Joey Coogan (0-1) for C. Madden, Paul Donnellan for R Barry, Ronan Barry, Kashif Ali, Francis Cosgrove, Dan Halligan, Brian McGrane, Conor Cassidy
IFC Quarter Final
Syddan Report
WALTERSTOWN 0-14 SYDDAN 0-11
FOR the second time in three years Syddan exited the IFC at the quarter final stage when coming up marginally short against a much more street wise Walterstown at Pairc Tailteann on Saturday.
And while the Blacks showed the greater flare and cohesion throughout Syddan had every chance of causing an upset but lacked the killer instinct.
Too often Syddan dropped point efforts short and into the grateful hands of Walterstown keeper John Davis while they weren't nearly as comfortable on the ball as their opponents.
They also had possession turned over on numerous occasions and got punished for it. The north Meath side created the games' three goals opportunities, including two in the opening half but they failed to take any of them.
The trend was set in the early stages as Syddan squandered two point efforts and allowed Walterstown a platform with three points in the opening 10 minutes.
Conceding frees within scoring range proved costly as Alban Crosbie had the Blacks off the mark from placed balls before David Donnellan shot a third point.
Ian Curran opened Syddan's account on 11 minutes and Daire Rowe responded to a Colin McGrane point by converting a free on 13 minutes. The next two points were for Walterstown, both scored by defenders, Colin McGrane and Mark McCormack.
Syddan kept in contact with further points from Daire Rowe and Ben Bashford but at the break it was Eamon Barry's men who led 0-7 to 0-4.
The sides swapped points on two occasions in the third quarter with Rowe and Kevin Traynor on target for Syddan before Walterstown opened up a five point advantage, 0-11 to 0-6, by the 45th minute.
The gap eventually stretched to six at one stage but full credit to Syddan as they hit four successive points in a six minute spell to whittle the lead back to two.
Daire Rowe (two frees), Sean Clare and Gary McManus accounted for those Syddan points in that productive spell while a Rowe goal attempt went the wrong side of the post.
Alban Crosbie made certain of victory for Walterstown with a pointed free in added time.
WALTERSTOWN - John Davis; Colin McGrane 0-1, David Reynolds, Colm O'Reilly; David Donnellan 0-1, Peter Reynolds, Mark McCormack 0-1; Conor O'Sullivan, Tom Walsh; Alban Crosbie 0-5 (4f), Ruairi O'Dowd 0-1, John Geoghegan 0-2; Cormac Madden 0-1, Richard Barry, Brian O'Connell 0-1. Subs - Aaron McLoughlin for O'Reilly (46), Joey Coogan 0-1 for Madden (52), Paul Donnellan for Barry (55).
SYDDAN - Ciaran Farrelly; Kevin Garland, Stephen Dillon 0-1, Mark Fedigan; Graham Garland, Jack Reid, Peter Sheehy; Kevin Traynor 0-1, Sean Clare 0-1; Gary Farrelly, Ben Bashford 0-1, Patrick Farrelly; Ian Curran 0-1, Daire Rowe 0-5f, Michael Fedigan. Subs - Cormac Rowe for G Farrelly (23), Fiachra Ross for Curran (39), Ronan Mooney for Bashford (43), Gary McManus 0-1 for Sheehy (52).
REF - Padraig Coyle (Seneschalstown).
Most Read Stories