IFC: 'Moores' are out by the minimum
September 24, 2016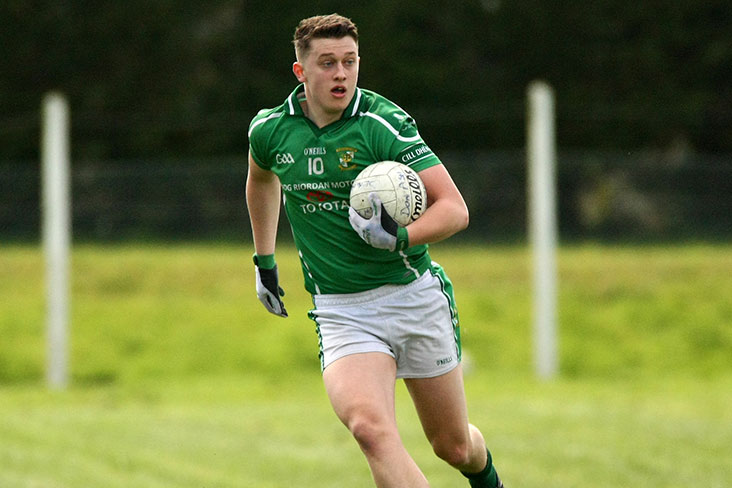 Sam Benville Donaghmore Ashbourne
Donaghmore/Ashbourne 1-7, Ballinabrackey  0-11
Donaghmore/Ashbourne lost out to Ballinabrackey in this I.F.C. Quarter Final at windswept Dunganny on Friday by the minimum margin.
After getting off to a perfect start with John Brodrick tapping in a goal following David Carey's shot being saved Don/ Ash failed to take full advantage of the strong breeze in their favour scoring only once more from play in the first half,  a point from Sam Benville. Pointed frees from Benville and David Carey and a 45 from Goalkeeper Andy Colgan left the score at 1-4 to 0-2 at the break. Don/Ash registered eight wides in the first half.
Ballinabrackey scored the first four points of the second half before Don/Ash replied with a point each by Ciaran Bierne and Sam Benville. Despite some good defending by Jack Giles and Jack McCarney Ballinabrackey scored five more points without reply to lead by two, David Carey pulled one back for Don/Ash who tried hard to the end for an equaliser but Ballinabrackey held on for a one point win and a place in the semi final.
Donaghmore/Ashbourne: Andy Colgan 0 - 1 (45), Jack Giles, Tadgh Kelly, Garth Deery, Iarlath O'Donnell, Jack McCarney, Martin Lynch, Rory O'Connor, Dathi Murtagh, Kevin Fenton, Ciaran Bierne 0 - 1, David Carey 0 - 2 (1f), Sam Benville 0 - 3 (1f), John Brodrick 1 - 0, Eric Callaghan.
Subs: Leo Reilly for Eric Callaghan, Stephen Carton for Martin Lynch, Shane Rea for Garth Deery and David Dowd for Ciaran Bierne.Intermediate Football Championship
Most Read Stories