IFC : St. Michaels go out as Dunderry advance
September 03, 2016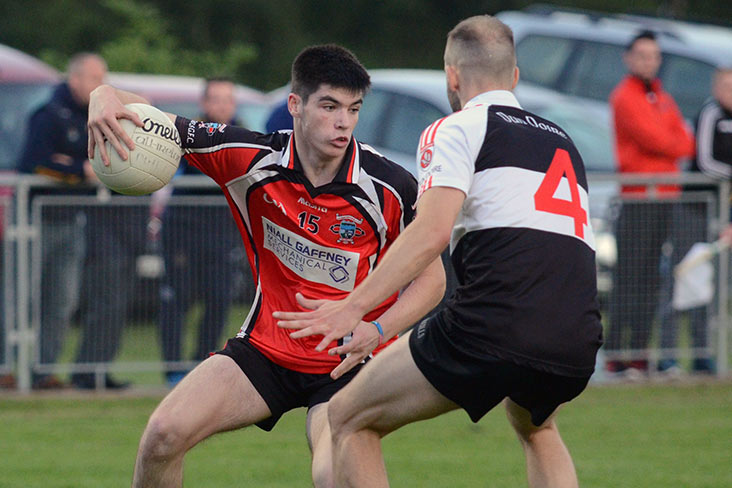 Shane McDonnell gains possession for St Michaels as Dunderry's Aaron Newman closes in during the Meath IFC game in Cortown.
St. Michaels 0-11, Dunderry 2-09
Both sides needed to win this last group match on the excellently turned out Cortown pitch last evening in order to reach the quarter finals of the Meade Potato Company IFC, however it was Dunderry who responded best to the task with a four point victory over St. Michaels in a game that was action packed from start to finish, much to the delight of the large attendance. St. Michaels starting without two of their most influential players Ciaran Lynch and Peter O'Connell ( both injured ) and were dealt a further body blow when Davy Lynch received a red card and his marching orders nine minutes into the game with Dunderry four points to the good at that stage. As sometimes happens the sending off served as a wake up call for St. Michaels as they upped their game immensely and held Dunderry to just two further first half points and led by 0-7 to 0-6 at the interval.
Dunderry started with all guns blazing cutting through the St. Michaels defence and popping over four unanswered points from play in the opening eight minutes. It was Matthew Halpin who opened the St. Michaels scoring with a point on 10 minutes, Oran Meehan cut the deficit to two points two minutes later, a converted free from Dunderry edged them further ahead but Ray Reilly and Meehan found the target again to leave just one between the sides. St. Michaels then had what seemed a good "point" waved wide much to the annoyance of team management and supporters.
It was end to end football at this stage as Dunderry stretched the lead to two points on 23 minutes with their last score of the half. St. Michaels dominated the remainder of the half with Ronan Lynch punishing the Dunderry indiscipline converting 3 frees for a 0-7 to 0-6 half time lead. Ronan Lynch extended that lead to two points 30 seconds after the restart, Dunderry replied with a point from play four minutes later, good work by Shane McDonnell put Oran Meehan through for a 0-9 to 0-7 lead on 36 minutes. Dunderry replied immediately with two points to draw level two minutes later. Both teams were deadlocked for the next eight minutes, each enjoying plenty of action but unable to make it count on the scoreboard, then came the game changer on 45 minutes, a Dunderry player about to shoot on goal was brought down in the square by full back Sam Briody, referee Richard Morris had no hesitation in awarding a penalty and showing Sam the Black Card, Dunderry converted the penalty for a 1-9 to 0-9 lead at the end of the third quarter.
Three minutes later St. Michaels were in deeper trouble as young Shane McCormack failed to hold on to a high ball into the square and it dropped over the line for a six point lead for Dunderry. The winners didn't score again, however "what we have we hold" and Dunderry parked their bus and defended in numbers leaving the St. Michaels forward division starved of possession which was the case for the most part of the second half. Ronan Lynch added two further points, one from a free and a good effort from play. It was Dunderry's evening and we wish them the best of luck in the quarter final where the will meet Trim.
Dunderry: D.Jennings, D.McCormack, D.Callaghan (0-1), A.Newman, A.Watters, D.Clarke, C.Dempsey, L.Dempsey, P.Kennelly (0-4,1f), M.Kane, C.Farrell (1-0), C.O'Shea, S.Coogan (1-4,1P,2f's), C.Harte, S.Carty. Subs: D.Mahon for S.Coogan (Blood Sub), D.Mahon for C.Harte, S.Maguire for C.I'Shea, J.Martin for M.Kane, M.Garry for D.Mahon.
St. Michaels team & scorers: Shane McCormack, Adam O'Brien, Sam Briody, Ronan Cassidy, Alan Reilly, Philip Rogers, Matthew Halpin 0-1, Jamie Reilly, Mark Stafford, J.B. O'Reilly, Ronan Lynch 0-6, Davy Lynch, Ray Reilly 0-1, Oran Meehan 0-3, Shane McDonnell. Subs: Joe Martin for Alan Reilly 45 minutes, Felim O'Reilly for Sam Briody BC 46 minutes. Referee: Richard Morris.
Report and photo Pascal Reilly.
Most Read Stories