SFC: Simonstown have the edge over Dunshaughlin
August 23, 2016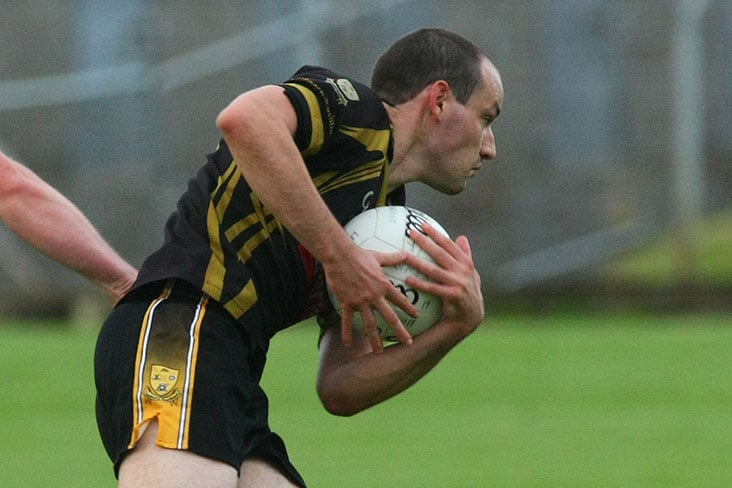 Dunshauglin's Niall Murphy
Simonstown 1-13 Dunshaughlin 0-11
Dunshaughlin were looking to make it 3 wins on the bounce in the Meath Senior Football Championship, but on Sunday they came up against a Simonstown team who knew it was win or bust.
Playing with a strong breeze Simonstown showed up well in the first half and kicked some nice points from distance through Sean Tobin and Mick Brennan. Dunshaughlin however worked the ball well against the elements and got some good scores from Cathal O'Dwyer and Tadhg O'Dushaline.
The middle sector was a battle throughout with Simonstown coming out on top due to their ability to win the majority of breaking ball. It was a difficult night and pretty football was limited. The hard pitch and greasy surface meant the ball had to go to hand. Dunshaughlin were sloppy at times in possession and were guilty of giving Simonstown too much space to pick out their team mates.
Fergus Toolan's point just before half time meant Dunshaughlin were just one point down at the interval.
Simonstown took control in the second half with Tobin kicking some great scores from play and dead balls. Niall Murphy, now operating in the forwards for Dunshaughlin, ran at the Simonstown defence and kicked two excellent points to tie things up at 10 points each midway through the second half.
As the game became stretched, space opened up and Simonsotwn took advantage. Andy Smith made an excellent save to deny Brennan but minutes later Simonstown struck for a goal to deflate Dunshaughlin. They then added some further scores. Dunshaughlin did try hard to get a late goal but it wasn't to be their day. Overall they will be disappointed with the performance particularly in the second half.
Three championship games in 16 days is a lot for any team.  Dunshaughlin will have to re-group before they face Navan O'Mahonys in a winner takes all tie. Simonstown will take on Na Fianna in their last group match.
Dunshaughlin: A.Smith, F.Delaney, C.King, M.Ahern, D.Quinn, N.Murphy (0-2), A.Doyle, R. Maloney, J Crimmins, T O'Dushlaine (0-1), R.Geraghty (0-1), B.Duggan (0-1), T.Dowd (0-1), F.Toolan (0-2), C O'Dwyer (0-3)
Most Read Stories