IFC: Three on the trot for Syddan
August 22, 2016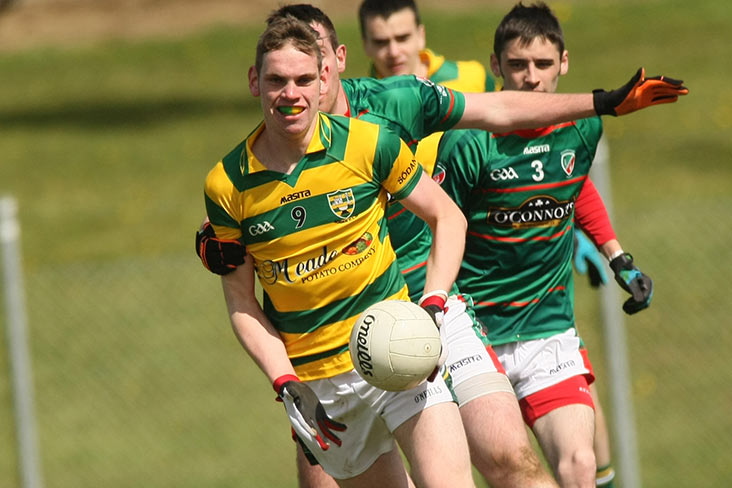 Syddan's Sean Clare
SYDDAN 2-9 BALLINABRACKEY 1-9
WALTERSTOWN will be Syddan's opponents in the IFC quarter final after the north Meath side clinched second position in Group A at Trim on Sunday evening.
It was Syddan's third win on the trot and they laid the foundations for victory in the opening period, as the end of which they led 2-5 to 0-2. They came under pressure in the closing stages though after leading by 11 points early in the second half.
Ballinabrackey led for the only time when Andrew Munnelly put them ahead on five minutes. 
Ian Curran got Syddan off the mark and they found the net after Ben Bashford added the finishing touch to a Kevin Garland centre on eight minutes. 
Damien Carroll replied with a point for the Offaly border side but they didn't score again for the remainder of the half as Syddan dominated proceedings.
Daire Rowe contributed three points while Sean Clare added another. Rowe then set up Clare for Syddan's second goal on 25 minutes.
It got even better for Syddan within three minutes of the restart with Rowe adding two further points to leave it 2-7 to 0-2.
Ballinabrackey responded well though and and corner forward Andrew Munnelly found the net following a slip up in the Syddan back line.
That score gave Ballinabrackey impetus and Syddan only added two further scores, from substitute Ronan Mooney and Rowe.
Nine points separated the sides with 10 minutes remaining and the Bracks finished strongly with four points (frees) from Damien Carroll and one each from Chris O'Connor and Danny Quinn.
Ballinabrackey pressed hard in the closing stages but left themselves with too much leeway to make up and time eventually ran out on them.
Despite the defeat they did make it through to the knockout stages, edging out Ballivor on score difference.
SYDDAN - Ciaran Farrelly; Kevin Garland, Stephen Dillon, Mark Fedigan, Jack Reid, Thomas Dillon, Graham Garland; Kevin Traynor, Sean Clare 1-1; Ben Bashford 1-0, Paddy Farrelly, Cormac Rowe; Ian Curran 0-1, Daire Rowe 0-6 (4fs), Michael Fedigan. Subs - Ronan Mooney 0-1 for G Garland, Gary Farrelly for P Farrelly, Gary McManus for Mooney, Peter Sheehy for C Rowe.
BALLINABRACKEY: John Curry; Stephen Donoghue, Trevor Bannon, Kevin Swords; Ray Kearney, Nicky Judge, Michael Kearney; Chris O'Connor 0-1, Damien Carroll 0-5 (4fs); Brendan Glennon, Seamus Curry 0-1, David Finn; Andrew Munnelly 1-1, Danny Quinn 0-1, Evan Daly.
REF - Jack Gordon (Walterstown)
Most Read Stories