SFC: St Pats stun Dunboyne
August 21, 2016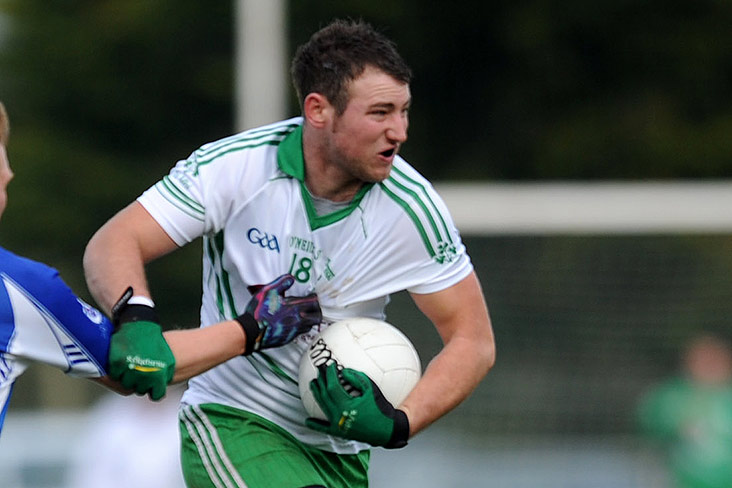 Alan Vickers - St Pats
St Pats 0-16 St Peters Dunboyne 1-12
St. Pats bounced back from last weeks defeat to Ratoath with a stunning win over favourites St Peters Dunboyne in a wet and windy evening in Duleek.
It was Dunboyne who came out of the blocks faster with a fine score but this was soon cancelled out thanks to a point from Shane Landy. Pats soon settled into the game well after this and played some nice football as well as showing good composure in defence but with conditions the way they were it made it tough it made it tough for both teams, and this was proven after a handling error with the slippy ball let Dunboyne in for a soft goal. What could have been a hammer blow for a lot of teams Pats brushed it off well and thanks to scores from Vickers, Dowling, Hagan and a brace from Niall Whearty went in only four down at the break with the wind to their advantage in the second half.
Half time St. Pats 0:6 St Peters Dunboyne 1:7
The second half played out much like the first with both teams trading off points but mid way through the second half Pats began to get on top. The clever running of inside forwards, Whearty and Flaherty in particular causing the Dunboyne defence resulting in a couple of scoreable frees which Neil O'Flaherty duly knocked over. Pats gradually picked away at Dunboyne's lead with a good long range free from Vickers, and points from Shane Landy, Niall Whearty and O'Flaherty. Then with less than ten minutes on the clock it was Dunboyne left cursing the greasy ball after one of their defenders handled on the ground in a kickable area and o Flaherty stepped up again to draw the sides level. The closing staged of this game proved to be a serious dog fight with brilliant defending from Pats to keep out the Dunboyne forwards and good defending at the other end forcing Pats into kicking three wides in the closing stages. Then when it was looking like the game would finish as a draw Shane Landy stepped up and kicked an excellent long range point to clinch the one point lead, proving once again that we are in fact, good enough.
Final score Pats 0:16 St Peters Dunboyne 1:12
Scorers: S. Landy 0-4, A. Vickers 0-2, D. Hagan 0-1, S. Dowling 0-1, N. Whearty 0-4, N. O Flaherty 0-4
St Pats: Robert Cluskey, Adam Byrne, Kieran Lynch, David Stafford, Shane Dowling, David McQuillan, Alan Vickers, Darren Hagan, Keith Whearty, Shane Landy, Barry Mooney, Niall Mooney, Neil O'Flaherty, Niall Whearty, Ray Russell. Subs : Donal Landy for B. Mooney, John Curtis for Dowling, B. Mooney for Stafford, Micheal McNulty for Byrne, Daithi Whyte for N. Whearty
Most Read Stories