IFC: Big win for Castletown
August 15, 2016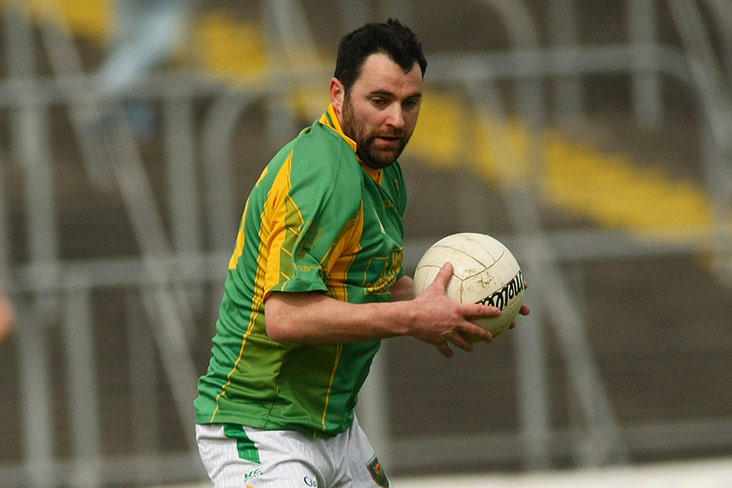 Castletown's Barry Smith
Castletown 4-19  St. Ultans 1-07
On a day that was perfect for football Castletown took on St. Ultans in Carlanstown. The men in green and yellow knew they had to win to keep their hopes of qualifying out of the group alive. 
The game started brightly with Shane Hoey scoring for Castletown after two minutes. St Ultans were quick to respond and had the umpire raising the white flag on four and five minutes. Castletown's second point again came from Shane Hoey after nine minutes. On eleven minutes Joey Carry who found himself further up the field than normal slotted over Castletown's third point and a few seconds later St Ultans broke up the field and scored their third point of the game. Thomas Smith pointed his first point of the game after twelve minutes and then Jamie McMahon scored Castletown's fifth point after fourteen minutes.
The game went three minutes without a score before St Ultans scored their fourth point on seventeen minutes. Thomas Smith scored his second point of the game on nineteen minutes. On twenty-one minutes came a defining moment of the first half Robbie Hoey scored Castletown's first goal of the game. On twenty-four minutes in typical fashion St Ultans broke down the field and scored a goal of their own, this only left two points in it Castletown leading 1-06 to 1-04. With only three minutes to go until halftime Castletown looked to extend their two point lead after conceding that goal from St Ultans and they did so with points from Barry Smith, Gerrard Farrelly and a well struck 45 from Robbie Hoey. The halftime score was Castletown 1-09 St Ultans 1-05.
St Ultans scored their first of only two points in the second half after 33 minutes. Kevin Ross kick started Castletown second half total of 3-10 from a free on thirty-four minutes. Darren Finney kicked Castletown's eleventh point also from a free after thirty-six minutes and one minute later Castletown were awarded their third free in quick succession which Kevin Ross slotted over on thirty-seven minutes. On forty-one minutes St Ultans kicked their seventh and final score of the game. Barry Smith fired the ball into the back of the net on forty-two minutes to extend Castletown's ever growing lead. On forty-six minutes Robbie Hoey stepped up again to hit another 45 which sailed over the bar. Barry Smith was in again on forty-seven minutes to score his second goal of the game which left the score 3-13 to 1-07 after forty-seven minutes. It was a matter of building up the scores and keeping their discipline which the men in green and gold from Castletown did successfully.
Halftime substitute James Finnerty scored a point on forty-seven minutes and on the forty-ninth minute Castletown were awarded a penalty which Kevin Ross calmly converted to leave the score 4-14 to 1-07. The final ten minutes of the game was all one way traffic with Castletown slotting over five points from play to which St Ultans had no response. Darren Finney scored his first point from play on fifty three minutes. One minute later Joey Carry found himself breaking through the middle and kicked over his second point of the afternoon. Castletown emptied the bench in the latter end of the second half and substitutes Francis Hoey and Damien Ginnitty got in on the scoring action with a point a piece fifty-six and fifty-seven minutes. The final score and Castletown's nineteenth point came two minutes into injury time and was scored by Darren Finney. The fulltime score was Castletown 4-19 St. Ultans 1-07. 
Castletown now go on to Páirc Tailteann next Sunday 21st August at 2:00 to play Trim in a winner takes all occasion.
Castletown Team: Johnny Ginnitty, Francis Bellew, Johnny Metry, Joey Carry (0-02),  Shane Hoey (0-02), Gerry Farrelly (0-01), Ross Blaney, Michael Mahoney, Robbie Hoey (1-02) Darren Finney (0-03) Stephen Duffy, Jamie McMahon (0-01), Tommy Smith (0-02), Kevin Ross (1-02), Barry Smith (2-01).
Subs: James Finnerty (0-01) for Francis Bellew (Halftime), Damien Ginnitty (0-01) for Stephen Duffy (43 minutes), Francis Hoey (0-01) Robert Hoey (53 minutes), Noel Farrelly for Gerry Farrelly (55 minutes), Kenny Smith for Barry Smith (55 minutes), William Bellew for Thomas Smith (58 minutes)
Most Read Stories