IFC: Curraha show great character after a tough week
August 15, 2016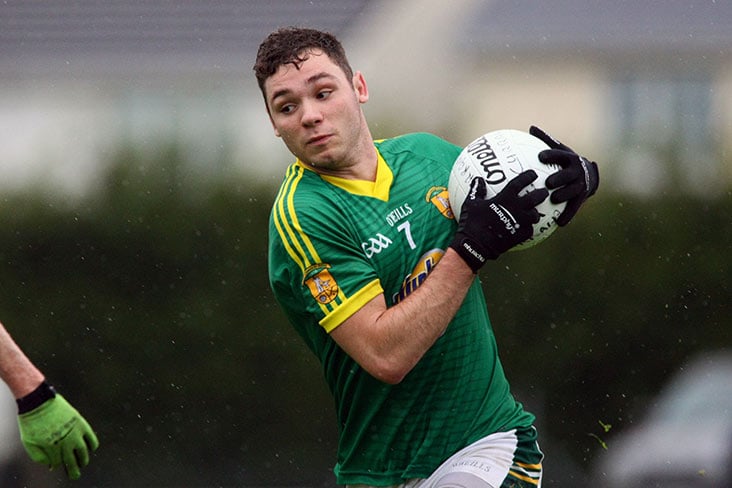 Curraha's David Toner
Curraha 1-10 Kilmainham 0-10
Curraha recorded their second victory in this year's Intermediate campaign with a tough and gritty victory over Kilmainham.
Both sides had plenty of chances to opening the scoring but the first score came from a Niall Moriarty free but was cancelled out from the resulting kick out before a Michael Newman free put his side in front. Some bad shooting and with most of the possession being around the middle third there were no further scores until a well worked move saw Conor Moriarty draw his side level on 19 minutes. The following three score came from Kilmainham which included two frees from Newman and they seemed to have the upper hand but Curraha finally got into a gear and a few positional changes saw them get on top around the middle and the clawed back the three point lead with three injury time points with the Moriarty brothers scoring one each while Neil Shortall got on the end of a well worked move that saw the defence opened up. This score was the last kick of the game and the sides went in at the break 05-05.
A Conor Moriarty point gave Curraha the advantage and they could of went further in front only for some wayward shooting and this let Kilmainham draw level for the fourth time. Both teams traded points with Shortall getting Curraha's score to have the sides' level for the fifth time with twenty minutes remaining. Curraha were starting to unload the bench and make changes and within a few minutes Conor Moriarty found himself on the end of a well worked move and despite having plenty to do he buried the ball to the net to give Curraha that vital score and lead. Sean Keogh was only on the field and he stepped up to take a free on the 14 yard line close to the stand and he slotted over to increase the lead to four. A Newman free was cancelled out by another point from Conor Moriarty and despite Kilmainham increasing the pressure on the Curraha defence they were holding out. Keogh restored the four point lead approaching injury time but another Kilmainham point added to the tension in the closing minutes but Curraha held on and showed great character and heart after a tough week for the Junior Champions.
Best for Curraha were the Murphy brothers, Conor Moriarty and David Toner.
Curraha: L. Hogan, S. Hogan, C. Joyce, N. Murphy, D. Toner, S. McDermott, S. O'Hanrahan, B. Joyce, P. Dowling, G. Coyle, C. Moriarty 1-3, N. Moriarty 0-2, N. Shortall 0-2, B. Murphy, C. O'Hanrahan 0-1. Subs: P. O'Hanrahan for B. Joyce, S. Keogh 0-2 for N. Moriarty, D. Coyle for G. Coyle, B. Joyce for Dowling, and L. Keogh for C. O'Hanrahan.
Kilmainham: Trevor Lynch, Joe Hahon, Paul Farrelly, Richie Brady, Jamie O'Sullivan, Seanie Mahon, Ger Morgan, Barry Lynch, Harry Newman, Paddy Hennigan 0-1, Michael Newman 0-7, Dean Peppard, Freddie Newman, Shane Morgan 0-1, Johnny Quinlan 0-1. Subs Conor Kilgallon, Colm McGivern
Most Read Stories