SFC: Back to back wins for Blackhall Gaels
August 15, 2016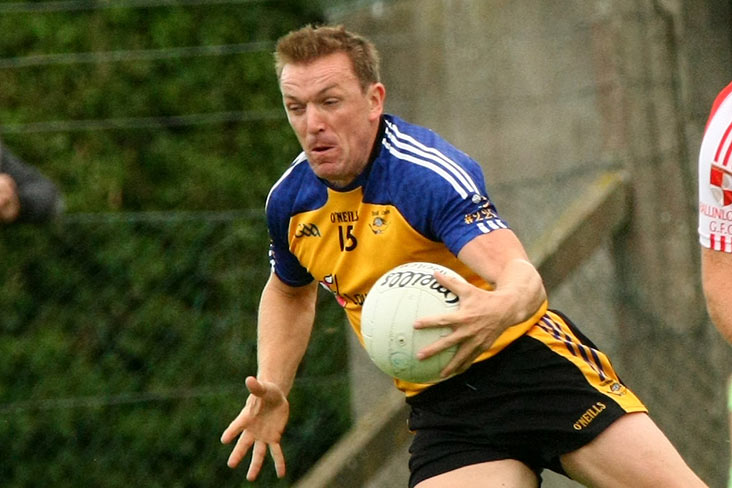 Graham Dillon - Blackhall Gaels
Blackhall Gaels 1-9 Rathkenny 0-11
Blackhall continued their winning ways last Saturday when they faced a tough challenge against Rathkenny.
From the throw in Blackhall laid down a marker that this was not going to be a walk in the park with Patrick O'Brien launching a ball into Tadhg Brosnan for the opening score. Paul kelly found the back of the Rathkenny net and the eventual winners were 1-3 up.
Rathkenny rose to the challenge however and worked back the 6 point deficit, scoring 3 points on the trot. Blackhall seemed happy to defend their lead for the rest of the half, scoring just twice more while Rathkenny piled on the pressure, though missing more than they were scoring.
The halftime score was BHG 1-5, Rathkenny 0-4.

The second half saw Rathkenny continue in the same vein, quickly scoring twice before Balckhall got going again thanks to Graham Dillon. Some really good defending meant Rathkenny were living off scraps and it looked like that would be enough to put them ahead. thankfully, Dillon slotted over another point as did full back Dan O'Neill to keep Blackhall ahead.
The most important score of the whole game came from the possible man of the match, Paul Kelly, who kept his cool and slotted over a beautiful free. The final few minutes were heart stopping, especially when Rathkenny almost got a goal, saved only by the skin of Donnacha Tobin's teeth.
The final score in Sean Newman Park was BHG 1-9, Rathkenny 0-11.

Another great result for Blackhall leaves them in a great spot. Next up is Seneschalstown and the way the lads are playing, especially the two Kellys, Brosnan and Dillon, it's sure to be another brilliant match.
Blackhall Gaels - Tommy Dalton, Tom Murphy, Dan O'Neill (0-1), James Kelly, Hugh Smith, Colum McElligott, Stephen Morris, Donnacha Tobin (0-1), Jonny Myler, Paul Kelly (1-1), Tadhg Brosnan (0-1), John Kelly (0-1), Sean Whelan, Patrick O'Brien, Graham Dillon 0-2. Sub: Dan Carty 
Referee: Colm McManus (Kells)
Most Read Stories