IFC: Syddan tops in local derby
August 15, 2016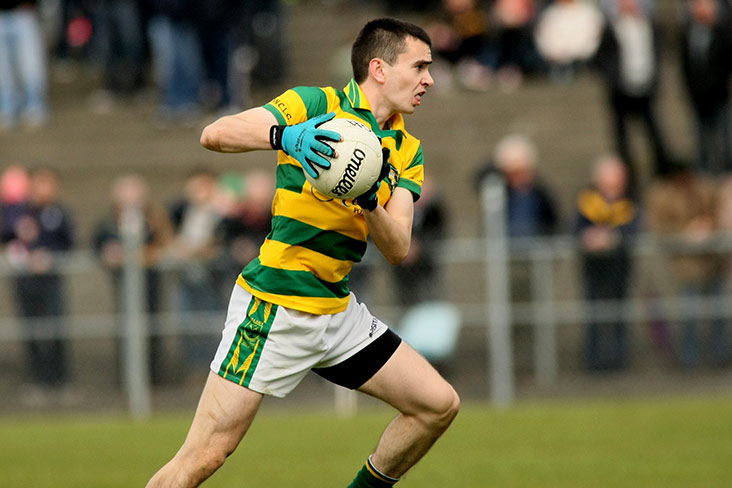 Syddan's Daire Rowe
SYDDAN 0-14 NOBBER 0-11
A FINAL quarter burst was enough to see Syddan over the line in this IFC local derby clash at Kilmainhamwood.
Nobber led for only the second time in the match when substitute Dale Larkin pointed them ahead at the three quarter way stage. However they were unable to kick on after that and it was Syddan who dug deepest as they outscored their opponents five points to one to put themselves back in contention for a knockout spot.
Kevin Garland, Ian Curran, Daire Rowe (two) and Paddy Farrelly were all on target in that productive spell for the Syddan men. Nobber's only score in the same period came courtesy of a Brian Farrell free.
It was Syddan who made a bright start to proceedings with Daire Rowe pointing them ahead from a free in the opening minute. Rowe hit two further points from play before Ian Curran pounced on a poor kick-out to leave it 0-4 to 0-0 after seven minutes.
Brian Farrell and Kevin Traynor then swapped points before Nobber enjoyed a spell of dominance during which Brendan Heffernan, Fiachra McEntee, Niall Farrell and McEntee again, were all on the mark to level proceedings at 0-5 each.
Syddan edged back in front with points from Rowe and Graham Garland to lead 0-7 to 0-5 at the break.
It was Nobber who started best in the second half with Brian and Niall Farrell on target to regain parity.
Nobber led briefly on two occasions after that, with both of their points coming from Dale Larkin.
Rowe and Kevin Garland both shot equalisers before Ian Curran gave Syddan a lead they weren't to relinquish for the remainder of the game.
SYDDAN - Ciaran Farrelly; Kevin Garland 0-1, Stephen Dillon, Mark Fedigan; Ronan Mooney, Thomas Dillon, Peter Sheehy; Kevin Traynor 0-1, Sean Clare; Gary Farrelly, Jack Reid, Cormac Rowe; Ian Curran 0-2, Daire Rowe 0-8 (5f), Michael Fedigan. Subs - Graham Garland 0-1 for Mooney, Paddy Farrelly 0-1 for Sheehy.
NOBBER - Barry McEntee; Padraig Weldon, Paul Meade, Barry Cassidy; Brian Meade, Niall Farrell 0-2 (1f), Stephen O'Brien; Alan Farrell, Richard Shields; Gavin Farrelly 0-1, Fiachra McEntee 0-2, Gerard Campbell; Brendan Heffernan 0-1, Brian Farrell 0-3 (2f), Karl Casserly. Sub - Dale Larkin 0-2 for Campbell.
REF - Liam O'Brien (Duleek/Bellewstown)
Syddan 0-14 Nobber 0-11
Syddan overcame Nobber in this tense match at a well appointed Kilmainhamwood on Sunday evening.
Syddan had the better start and led by four points after 7 minutes before Brian Farrell opened Nobber's account. Syddan went further ahead but Nobber responded with points from Heffernan, Fiachra McEntee (2) and Niall Farrell saw them draw level by the 26th minute. Once again Syddan hit the front with points in the 28th and 29th to lead 0-7 to 0-5 at the break.
Nobber started the second half well with points from Brian and Niall Farrell. Further scores from  from Farrelly and sub Dale Larkin gave Nobber the lead but six points in a row from Syddan gave them a platform for a three point victory.
While taking nothing away from Syddans victory Nobbers 13 wides over the hour didnt help their cause
Nobber scores: Brian Farrell 0-3, Fiachra McEntee 0-2, Dale Larkin 0-2, Niall Farrell 0-2, Brendan Heffernan 0-1, Gavin Farrelly 0-1.
Nobber: B McEntee, P Weldon, P Meade, B Cassidy, B Meade, N Farrell, S O'Brien, A Farrell, R Shields, G Farrelly, F McEntee, G Campbell, B Heffernan, B Farrell, K Casserly. Sub: Dale Larkin for Campbell
Most Read Stories