IFC: St Michaels move into pole position
August 15, 2016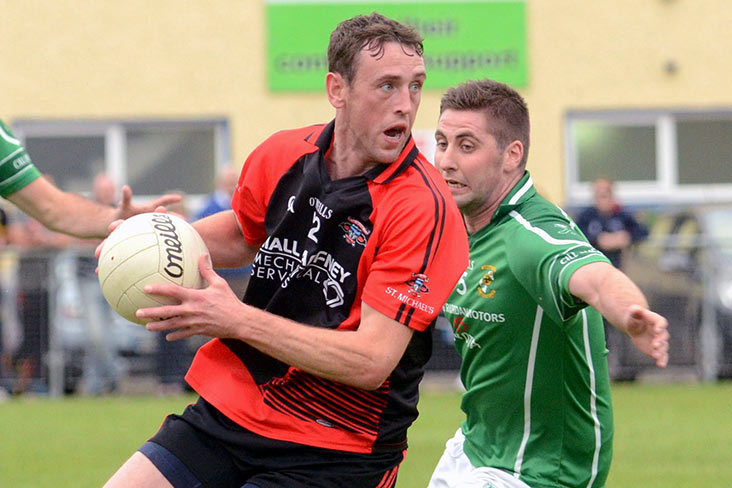 John Barry O'Reilly gains possession for St Michaels against Donaghmore Ashbourne in Seneschalstown
St. Michaels 2-12, Donaghmore Ashbourne 0-11
St. Michaels moved to the top of Group C table following this exciting match in Seneschalstown on Saturday evening last. The foundations were laid for this victory when they blasted 2-6 in the opening 30 minutes which enabled them to stave off a late Donaghmore Ashbourne resurgence in the second half and that fruitful spell was to prove crucial for St. Michaels as this was a period during which they played some splendid flowing football.
Donaghmore Ashbourne got off the mark first with a point after two minutes but that lead was to last only a minute as Jamie Reilly found J.B. O'Reilly in space with the next move and he made no mistake from 20 meters out. Gradually gathering momentum St. Michaels began to move the ball at pace and two minutes later good work by Davy Lynch and man of the match Oran Meehan found Ray Reilly who blasted to the net from close range.
Donaghmore Ashbourne responded immediately with a point at the other end and should have cancelled out that earlier goal with their next move as they had the St. Michaels 'keeper beaten only for their effort to come off the upright and was ultimately cleared to safety, however they reduced the deficit to a point a minute later following a '45. Ciaran Lynch opened his account with a point after good interplay between Meehan and Ray Reilly but again Donaghmore Ashbourne pulled two back to level the match on 21 minutes. J. B. O'Reilly floated over an excellent effort a minute later before disaster struck for the town side on 23 minutes when Oran Meehan who tormented the Donaghmore Ashbourne defence all evening sent a great shot to the roof of the net for a four point lead. Ciaran Lynch made it double scores with the next move and Shane McDonnell completed the first half scoring with two points from play for a 2-6 to 0-5 interval lead.
Donaghmore Ashbourne opened the second half scoring with a point after 3 minutes but they failed to raise another flag until the 22nd minute of the half as the St. Michaels dominance was such that Donaghmore Ashbourne were being forced back into a defensive situation in desperate damage limitation as McDonnell (0-1) and Ciaran Lynch (0-2, 1f) found the target. Matthew Halpin soared high for an excellent catch over his marker and he fed Davy Lynch who split the posts from 15 meters out for a 2-10 to 0-6 lead with 9 minutes remaining on the watch.
St. Michaels lost the industrious Peter O'Connell through injury, Jamie Farrelly also came on for Sam Briody but he too got injured after a couple of minutes on the pitch however these interruptions in play did St. Michaels no favours as they lost their concentration and allowed Donaghmore Ashbourne came back at them from the 52nd minute to register 5 points, but time ran out on them and two points from substitute Ronan Lynch in injury time settled the nerves and gave his side a well deserved victory.
This was an excellent team performance from St. Michaels with Oran Meehan, the Reilly twins Ray and Alan, Ronan Cassidy, Davy Lynch and J.B. O'Reilly among those who impressed throughout.

St. Michaels team & scorers: Shane McCormack, Joe Martin, Sam Briody, Adam O'Brien, Alan Reilly, Ronan Cassidy, Matthew Halpin, Peter O'Connell, Jamie Reilly, Davy Lynch 0-1, Ciaran Lynch 0-4, J.B. O'Reilly 0-2, Ray Reilly 1-0, Oran Meehan 1-0, Shane McDonnell 0-3. Subs: Mark Stafford for Martin 25 minutes, Ronan Lynch 0-2 for O'Connell 40 minutes injured, Jamie Farrelly for Briody 44 minutes, Briody for Farrelly 49 minutes injured. Referee: Pat Clarke.
Report and photo Pascal Reilly
Donaghmore Ashbourne Report
Donaghmore/Ashbourne 0-11 St. Michael's 2-12
Donaghmore/Ashbournes second team slumped to their first defeat in the Intermediate Championship as they went under to St Michaels 2-12 to 0-11 in a disappointing display in Seneschalstown on Saturday.
Don/ash were first on the scoreboard with a David Morgan point,but they were then rocked by a goal and a point from St Micheals.. Points from Martin Lynch , Dathi Murtagh and Ciaran Bierne (2) had the scores level at 0-5 to 1-2 after twenty minutes. However the wasting of a couple of good goal choices seemed to drain the confidence from Don/Ash as St. Michaels registered 1-9 without reply to lead at half time by 2-6 to 5.
Don/ash battled hard in the 2nd half but never looked likely to bridge the seven point gap . David Carey who was excellent throughout fielding several kick outs got the last point of the second half. Minor Leo Reilly looked lively when introduced in the 2nd half kicking 2 fine points, But over all it was a below par performance from Don/Ash.
Donaghmore Ashbourne: Andy Colgan, Iarlaith O'Donnell, Jack McCarney, Jack Giles, David Carey 0-1 Eoighain Riordan, Martin Lynch 0-1 Daithi Murtagh 0-1 Rory O'Connor, Sam Benville 0-2 Ciaran Beirne, Kevin Fenton, David Morgan 0-1, Eric Callaghan, David Dowd 0-1. Subs. John Broderick for Ciaran Beirne (ht), Leo Reilly for Rory O'Connor Stephen Carton for Eric Callaghan
Most Read Stories