IFC: Late Hoey goal earns Castletown draw with Walterstown
August 08, 2016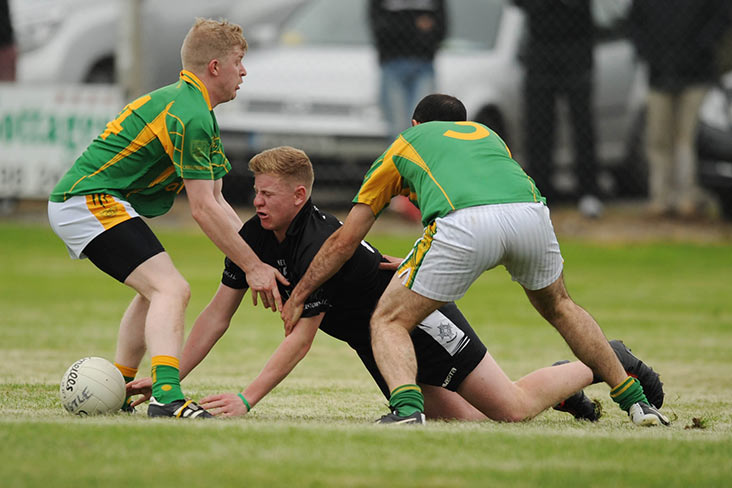 Castletown's Francis Bellew and Johnny Metry close in on Brain O'Connell Walterstown during the Meath IFC game in Rathkenny
Castletown 2-13 Walterstown 1-16
Castletown came from 9 points down after 14 minutes to level the match at full-time with a well worked goal from Robbie Hoey in a windy Rathkenny on Sunday afternoon.
Kevin Ross scored the first point of the game in the first minute but in the second minute Walterstown opened there account with a well worked goal. After the goal Walterstown settled into their stride and kicked 7 unanswered points to leave the score 1-07 to 0-01 after 12 minutes. Then on 14 minutes Walterstown were reduced to 14 men when they had a player sent off. Darren Finney kicked a free for Castletown which was their second point of the game after 15 minutes. One minute later Tommy Smith kicked Castletown's third point. A further five minutes passed until Kevin Ross kicked a free on 21 minutes. Barry Smith kicked the first of seven points from play on 27 minutes and then Gerry Farrelly chipped in a long distance point on 28 minutes. Walterstown added 3 more points to leave the halftime score of Walterstown 1-10 to Castletown 0-06. Castletown played with wind advantage in the first period.
Castletown and Barry Smith in particular had the better start to the second period with points from him on 31, 33, 35 and 37 minutes to reduce the deficit to  just 3 points. Walterstown then scored two in a row to leave 5 between the teams with 40 minutes on the clock. Barry Smith pointed again on 41 minutes and then Tommy Smith stuck the ball in the net to leave the bare minimum between the sides with 45 minutes played. Walterstown then hit two points on 50 and 51 minutes. On 53 minutes Kevin Ross hit his second point of the game. Walterstown then hit two in a row again on 54 and 57 minutes but Castletown had the last say Barry Smith pointed on 60 minutes and then 4 minutes into injury time Robbie Hoey ends up on the end a move he started from the middle of the pitch to punch the ball to the net to leave it all square at the fulltime whistle 2-13 to 1-16.
Castletown now go on to play St. Ultans next Sunday in Round 4 in Carlanstown at 2:30.
Castletown Team: Johnny Ginnitty,  Joey Carry,  Johnny Metry, Francis Bellew,  Ross Blaney,  Gerrard Farrelly (0-01), Jamie McMahon,  Francis Hoey,  Michael Mahoney, Stephen Duffy, Kevin Ross (0-03(1f)), Darren Finney (0-01), Tommy Smith (1-01),  Noel Smyth,  Barry Smith (0-07)
Subs: Robbie Hoey for Francis Hoey (14 mins), Shane Hoey for Francis Bellew (18 mins), James Finnerty for Stephen Duffy (halftime), Damien Ginnitty for Ross Blaney (42 mins), Noel Farrelly for Jamie McMahon (59 mins).
Most Read Stories