IFC: Syddan left to rue concession of soft goals
July 10, 2016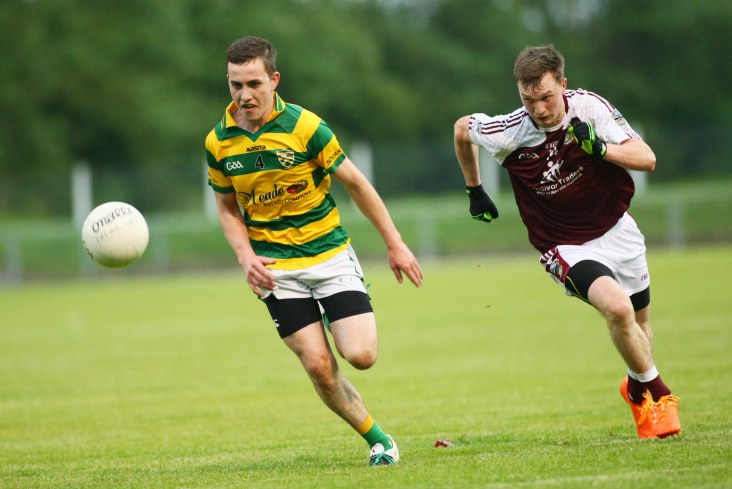 Sedan's Mark Fedigan with Adam Gannon Ballivor during the IFC game in Cortown.
BALLIVOR 3-11 SYDDAN 2-11
THE concession of soft goals proved Syddan's downfall in this IFC Round 2 match at Cortown.
Syddan led 0-5 to 0-4 at one stage in the opening half but it was Ballivor who turned up the heat in the second quarter and at the break they held a 1-8 to 0-6 advantage.
Steffan Kelly, Padraig Geoghan, and Adam Gannon who scored the goal, contributed handsomely to the Ballivor tally in the half while Daire Rowe was on target with four of the Syddan points.
The Ballivor lead stretched to nine points at one stage in the third quarter as blunders in the Syddan defence led to further goals from Kelly and Gannon.
Cormac Rowe pulled a goal back and Syddan slowly clawed their way into contention. Daire Rowe eventually found the net and brother Cormac was unfortunate to see an effort come off the woodwork.
The lead was down to two minutes in the closing minutes and while Syddan squandered chances, Padraig Geoghan made certain of victory for Ballivor with the last point in added time.
SYDDAN - Ciaran Farrelly; Kevin Garland, Stephen Dillon, Mark Fedigan; Ronan Mooney, Thomas Dillon, Peter Sheehy; Kevin Traynor 0-1, Sean Clare; Graham Garland, Cormac Rowe 1-2, Michael Fedigan; Ian Curran, Daire Rowe 1-8, Ben Bashford.
BALLIVOR - Raymond McKeown; Brendan McLoughlin, Sean Corrigan, Kevin Kelly; David Raleigh, Sean Heavey, Killian Canavan; Brian Perry, Keith Keoghan; Joseph McLoughlin 0-1, Gary Watters 0-1, Padraig Geoghan 0-4; Thomas Raleigh 0-1, Adam Gannon 2-1, Steffan Kelly 1-2. Sub - Brendan McKeown 0-1.
REF - Jack Gordon.
Most Read Stories