IFC: Michaels no match for Curraha
May 16, 2016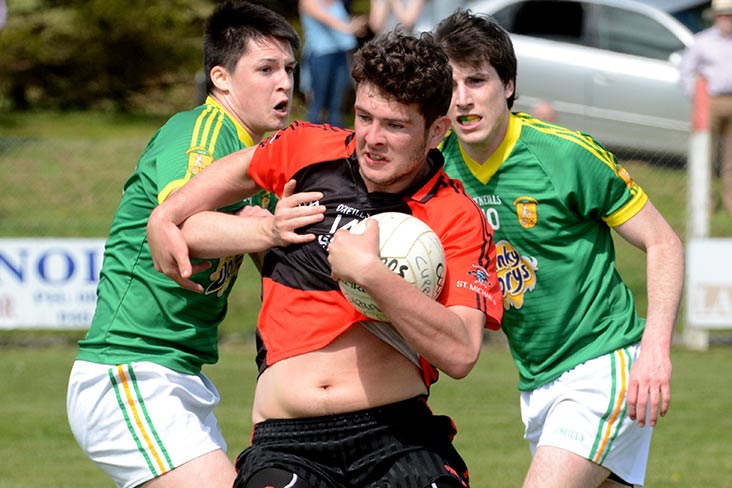 St Michaels Jamie farrelly is under pressure from Brian Joyce and Phelim Dowling Curraha during the Meath IFC game in Rathkenny
Curraha 4-12 St Michaels 2-08
Curraha recorded their first IFC victory with a comprehensive win against St Michaels at Rathkenny yesterday afternoon. Both sides traded opening points from placed balls with Niall Moriarty scoring for the Junior Champions while Ciaran Lynch hit his side's first score. From the resulting kick out Curraha worked the ball exceptionally well down the field as Gavin Coyle, Moriarty, Brian Murphy and James McEntee all linking up with the latter coolly finishing the ball to the net. Lynch responded with two frees to reduce the deficit to one but points from McEntee and Moriarty restored the three point lead. St Michaels pulled another one back but this was cancelled out with Currahas second goal of the game as Ciaran O'Hanrahan got on the end of another superb move which involved Coyle, David Toner and Phelim Dowling. St Michaels added a point but again this was cancelled out with three points from Moriarty. To their credit St Michaels didn't give up and when a high ball broke in the square Curraha didn't deal with the breaking ball and ended up conceding a penalty which was slotted to the net but Curraha responded again with two excellent points from the hardworking Toner and McEntee to give their side a lead of 2-08 to 1-05 at the break.
Points were traded at the beginning of the half with a 45' coming from Moriarty before St Michaels notched 1-01 without reply. Some slack defending was to blame for the goal but they also had a bit of luck as Luke McCarthy pulled off a great save only for the rebound to fall to a lone St Michaels forward who had an easy finish. This reduced the deficit to two points but McEntee added a point along with his second goal after great vision from Conor Moriarty who fisted the ball across the face of the goal where McEntee punched the ball to net. Conor Moriarty then got his own point which was cancelled out with a Lynch free. Another hard working sub Sean Keogh scored a monster point from the wing before Conor Moriarty scored Curraha's final goal which rounded off a great team display.
Best for the winning side were Niall Murphy, Brian Murphy, Danny Battersby and McEntee.
Curraha: L. McCarthy, S. Hogan, C. Joyce, D. Coyle, D. Battersby, S. McDermott, N. Murphy, B. Murphy, B. Joyce, G. Coyle, J. McEntee 2-3, P. Dowling, N. Moriarty 0-6, C. O'Hanrahan 1-0, D. Toner 0-1. Subs: M. Phelan for D. Coyle, C. Moriarty 1-1 for O'Hanrahan, P. O'Hanrahan for N. Moriarty, S. Keogh 0-1 for Dowling, A. Coyle for G. Coyle.
St Michaels Report
St. Michaels 2-08 Curraha 4-12

Curraha were simply unstoppable as they set about making amends for their first round loss to Dunderry with this 10 point victory over an injury hit St. Michaels side in sunny Rathkenny on Sunday afternoon.
The opening 16 minutes were lively with Curraha first on the scoreboard with a pointed free, Ciaran Lynch followed up as he split the posts for the opening point for St. Michaels, then on six minutes Curraha broke through for their opening goal. St. Michaels replied immediately with two pointed frees from Lynch which were immediately cancelled out by Curraha. Once again it was down to top scorer Lynch to pull one back for St. Michaels but his side were dealt a hammer blow a minute later when Curraha bagged their second major to lead 2-3 to 0-4.
An excellent point from play from Ronan Cassidy on 17 minutes reduced the deficit but Curraha began to gain control of things around the middle third which ultimately enabled their forwards to make powerful runs creating havoc for the St. Michaels defence which conceded three points on the trot, two from frees to lead by 2-6 to 0-5 as the minutes ticked down on the stop-watch. St. Michaels set up the next attack which resulted in Ciaran Lynch being brought down in the square as he was about to shoot on goal, Jamie Farrelly made no mistake with the resultant penalty kick. Curraha still had time to register two more first half points to lead by 2-8 to 1-5 at the break.
Ciaran Lynch got the second half underway for St. Michaels with a good effort from play after 40 seconds, Curraha opened their second half account with a point three minutes later, one more followed from Ronan Lynch and his brother Ciaran gave his side a lifeline when he latched on to a loose ball in the Curraha square and sent it to the roof of the net to leave just two points between the sides 2-9 to to 2-7 in favour of Curraha with just 37 minutes gone on the stop-watch, but incredibly for St. Michaels and their followers they managed just one more point in the remaining 23 minutes of the half, as Ben Tobin fired over from a free in the fifty second minute, the winners on the otherhand tagged on a further 2-3 for what was a comfortable victory in the end.
St. Michaels team & scorers: Shane McCormack, Jamie Reilly, Mark Stafford, Sam Briody, Joe Martin, Philip Rogers, Matthew Halpin, David Lynch, Peter O'Connell, Ciaran Lynch 1-5, Ronan Cassidy 0-1, Ronan Lynch 0-1, Oran Meehan, Jamie Farrelly 1-0, Ray Reilly.
Subs: Ben Tobin for Ray Reilly BC 26 minutes, J.B. O'Reilly for Mark Stafford injured 58 minutes.
Referee: Liam Reddy.
Report and photo Pascal Reilly.
Most Read Stories