IFC: Impressive start from St Michaels
April 26, 2016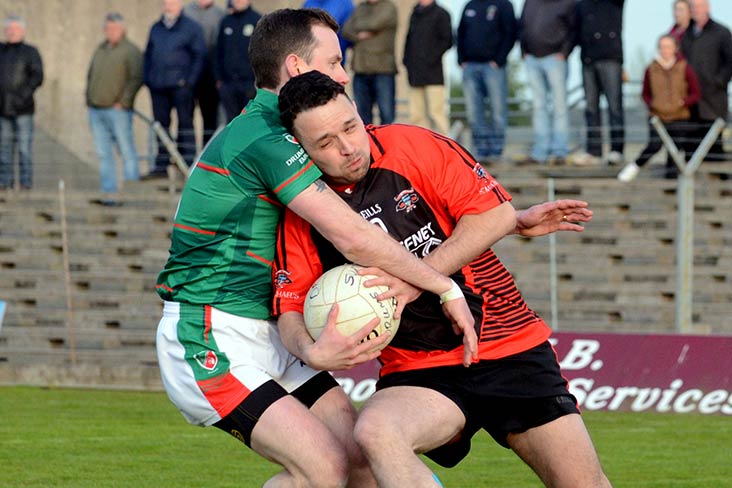 Ciaran Lynch St Michaels with Drumbaragh's Martin Kavanagh during the opening round of the IFC at Pairc Tailteann.
Match Report
St. Michaels 1-10, Drumbaragh 1-06
 
St. Michaels racked up two valuable championship points with an impressive and deserved victory over Drumbaragh in Pairc Tailteann on Saturday evening last.
A whirlwind start by St. Michaels had them leading by 1-2 to no score after nine minutes with Jamie Farrelly sending over the opening point of the match after four minutes, J. B. O'Reilly put Ciaran Lynch through for a second point 4 minutes later and Farrelly was well placed when grabbing the early goal as he cleverly punched a high ball in over the head of the advancing Drumbaragh custodian on nine minutes for a five point lead. Drumbaragh responded immediately with a point from play, scores were at a premium for both sides for the remainder of the half with both teams operating a strong running game as their main tactic, although St. Michaels were able to mix this with some intelligent long ball and they closed their opponents down well when they were in possession.
Shane McCormack who was making his championship debut between the posts for St. Michaels brought off some fine fielding to inspire his outfield team mates at a time when needed most as Drumbaragh were threatening to get a grip on the match in the second quarter. Ronan Lynch added his sides third point after 14 minutes while his brother Ciaran completed the first half scoring with a pointed free after Oran Meehan was grounded. St. Michaels lost Meehan at that point with a nasty looking nose injury however his replacement Ray Reilly did some excellent work in the forward division.
Drumbaragh added a point from play in the 20th minute and one from a free on 28 minutes to trail by 0-3 to 1-4 at the interval.
There was a flurry of points in the opening five minutes of the second half as Drumbaragh opened with a point on two minutes, Jamie Farrelly laid off to Ciaran Lynch who drove between the uprights, Drumbaragh won the kick-out and replied with a similar score to leave just a goal between the sides. Six minutes later it was level pegging as Drumbaragh converted a penalty awarded for one of their players having been brought down in the square.
However the St. Michaels players never flinched with this setback they knuckled down and got up a head of steam with three scores in a row all from Ciaran Lynch, the first from a free after Ronan Cassidy was hauled to the ground, followed by a great effort from play and the third from another free. Drumbaragh tagged on a point on 57 minutes to leave two points between the sides 1-8 to 1-6, but that proved to be their last score of the match as St. Michaels added a further two points from Ray Reilly and Ciaran Lynch.
This was an excellent team performance from St. Michaels who could easily have downed tools following the concession of the penalty, but the opposite was the case when the true character of the team shone through.
St. Michaels team & scorers: Shane McCormack, Jamie Reilly, Mark Stafford, Sam Briody, Christopher Drew, Philip Rogers, Matthew Halpin, Peter O'Connell, J.B. O'Reilly, Ciaran Lynch 0-7, Ronan Cassidy, David Lynch, Oran Meehan, Jamie Farrelly 1-1, Ronan Lynch 0-1.
Subs: Ray Reilly for Oran Meehan. Referee: Liam Reddy.
Report and photo Pascal Reilly.
Most Read Stories