IFC: Donaghmore Ashbourne too strong for Kilmainham
April 18, 2016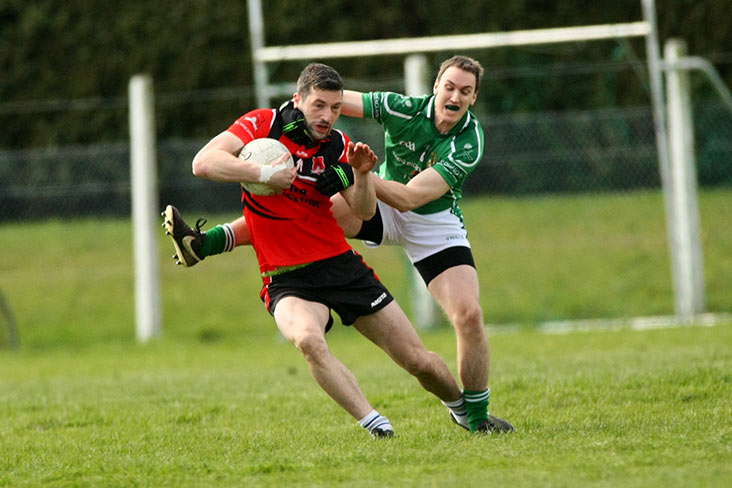 Michael Newman Kilmainham with Jason Boland Donaghmore Ashbourne during the Meath IFC game at Walterstown
Intermediate Football Championship
Donaghmore Ashbourne 2-12 Kilmainham 1-6
Don/Ash 2nd team gained revenge for last years 1st round defeat with this nine point victory over Kilmainham at Walterstown on Sunday. The foundation for this win was laid with two early 1st half goals. First Eoghan Riordan fisted to the net from a Ciaran Beirne pass after four minutes. Then a fine individual effort from Eric Callaghan in the 12th minute left the score reading 2.2 to 0.2, the points coming from Sam Benville and Daithi Murtagh. Two more points from Sam and one from David Dowd meant the half time score read 2.5 to 0.4.
Kilmainham scored a goal 4 minutes into the second half. David Dowd and Newman traded points from frees before Don/Ash stretched their advantage with three points in a row, first Dylan Brady, then a Ciaran Beirne free followed by a 45 from goalkeeper Andy Colgan. Newman pulled one back with another free after Don/Ash lost Jason Boland to a second yellow. Despite the numerical disadvantage Don/Ash finished strongly with points from Eric Callaghan, another Dowd free and a final score from Dylan Brady.
This was a fine team performance with Jack McCarney, Jason Boland and Marty Lynch very solid at the back, Rory O'Connor and Dathi Murtagh had the advantage at midfield while up front all six forwards played their part.
Donaghmore Ashbourne: 1. Andy Colgan (0.1) 2. Gareth Deery 3. Jack McCarney 4. Daryl Lawlor 5. Iarlaith O'Donnell 6. Jason Boland 7. Marty Lynch 8. Rory O'Connor 9. Daithi Murtagh (0.1) 10. Sam Benville (0.3) 11. Eric Callaghan (1.1) 12. Eoghan Riordan (1.0) 13. Dylan Brady (1.2) 14. Ciaran Beirne (0.1) 15. David Dowd (0.3). Subs: Kevin Fenton for Sam Benville, Tadgh Kelly for Dathi Murtagh, Jack Giles for Iarlaith O'Donnell
Kilmainham: Kevin Jordan, Joe Mahon, Richie Brady, Trevor Lynch, Mattie Mullen, Seanie McMahon, Ger Morgan, Barry Lynch, Paul Farrelly, Paddy Hennigan, Michael Newman 0-5, Conor Kilgallen, Freddie Newman, Davy Farnan, Johnny Quinlan 0-1. Subs: Jamie O'Sullivan, Colin McGivern 1-0, Brian Black
Most Read Stories