SFC: Devine Intervention saves the points for Na Fianna
April 11, 2016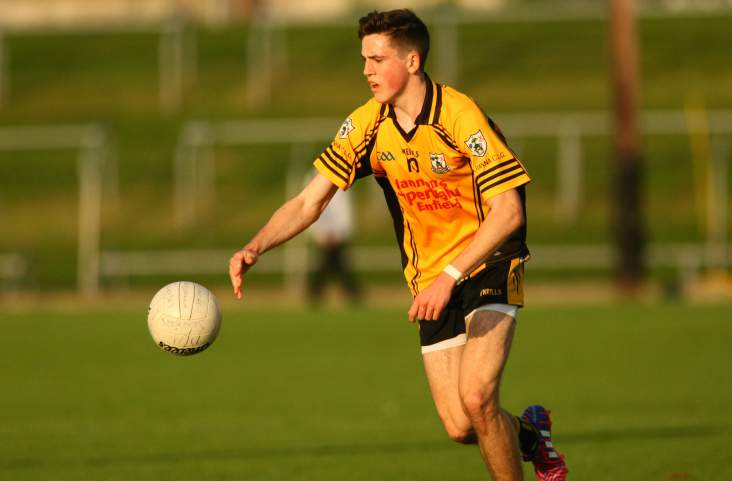 Na Fianna's Ethan Devine
Na Fianna 0-16 Dunshaughlin 1-12
Ethan Devine turned from scorer to Shot Stopper in the dying minutes of Na Fianna's Opening game in the 2016 Meath SFC at a wet Trim Ground on Saturday evening. Devine stood in for Shane Geraghty who had just been black carded to stop a Cathal Dwyer Penalty 3 minutes into injury time with Na Fianna just 1 point ahead to help secure a vital win for Fergal Foran's men.
Dunshaughlin started well on the evening and were 5pts to 4 ahead after 15 mins. Then Conor Downey levelled matters after a nice Mikey Collins lay off. Dan Queeney then pointed a free after Dalton McDonagh was fouled to put Fergal Forans side ahead 6pts to 5. That would be Na Fianna's last score of the first half though as Dunshaughlin rallied and finished the half much stronger. They tagged on 2 points from frees and one from play. Sandwiched in between was a goal by the Dunshaughlin danger man Cathal O'Dwyer. Shane Geraghty produced 2 magnificent saves in the lead up to the goal but it was 3rd time lucky for Dwyer as he rifled the ball to the top corner to leave the half time score Dunshaughlin 1-8 Na Fianna 0-6.

Fergal Foran's half time seemed to work wonders as Na Fianna thundered into the second half. First Dalton McDonagh went on a mazy run past the Dunshaughlin defence to pop over a great point. He then followed this with a pointed free before Dan Queeney proved deadly accurate with another free  to leave 2 points between the teams. Dunshaughlin replied with a pointed free to leave 3 between the teams again. Dan Queeney chipped in with 2 excellent points from his trusty left foot before Dunshaughlin replied again to leave 2 in it. Then Na Fianna really struck a purple patch. Captain Ollie Lewis led the charge with a fantastic point from play, followed by points from Dalton McDonagh Dan Queeny, a fantastic score from Ethan Devine and another great effort from Dan Queeney with his laser like left foot after a great pass from his brother Jamie.

This would be Na Fiannas last score of the evening and left the them 16pts to 1-10 ahead. In the frantic closing minutes Dunshaughlin tagged on 2 points to leave just 1 between the teams. Into injury time Dunshaughlin were bearing down on Shane Geraghtys goal and in the ensuing action Shane got black carded for a foul on the inrushing forward. The result was a black card for Geraghty and a penalty for Dunshaughlin in the 2nd minute of injury time. In what proved to be a masterstroke by Fergal Foran and the management team the goalie jersey was handed to young Ethan Devine. He faced up to Dunshaughlin sharp shooter Cathal Dwyer and produced a fantastic one handed save! He gathered the ball then and cleared out to the wing. Credit to O'Dwyer for going for goal as a point would have seen his team draw.
The drama wasn't over still as Dunshaughlin were then awarded a free on the sideline 21 yards out. Well into injury time the ball dropped in but Captain Ollie Lewis rose highest to gather the ball and referee blew for full time.

It was a dramatic and frantic end where a number of cards of all colours were issued to both sides and Harry Silk was mistaken for Harry Styles in the unfolding drama. In the end though the points just went in One direction. Victory for Na Fianna on a final score of 0-16 to 1-12.

Best for Na Fianna were Christy Cosgrave who was a collesus at the back, Mikey Farley, Captain Ollie Lewis, Dan Queeney, the magnificent Dalton McDonagh in attack and Ethan Devine.
Na Fianna: S Geraghty, J Baldwin, C Cosgrave, J Geagan, M Farley, A Neary, P Slevin, D Queeney (0-7), O Lewis (0-1), M Collins, J Queeney, C Downey (0-1), E Devine (0-2), D McDonagh (0-4), H Silke (0-1). Subs; Barry Clancy for Collins, Barry Slevin for Silke, Colin Ryan for Geagan.
Most Read Stories