IFC: Goals crucial as Dunderry make winning start
April 11, 2016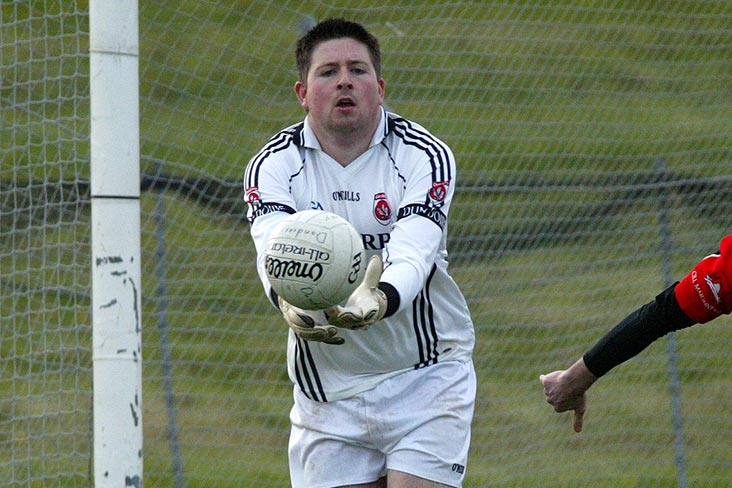 Dunderry keeper David Jennings
Dunderry 2-5 Curraha 0-9
This I.F.C round 1 contest was played in Stamullen after being moved from Summerhill and pitch and weather conditions were perfect.
Dunderry played Curraha in February in the league and were well beaten but this Dunderry team was a totally different animal too that one in terms of fitness and determination.
Curraha started the better and could have been 1-2 to 0-0 up after 5 mins but for a brilliant goal line clearance by Evan Stephens, this seemed to settle Dunderry and they started to impose their style of football on the game. Paddy Kennelly opened Dunderry's account with 2 points in the 10th and 11th minutes followed a well worked point from Conor Farrell in the 12th min to put Dunderry 1 point ahead. Dunderry's tackling was fierce but fair and they turned or smothered the running game of Curraha. The opening goal came in the 26th min from Conor O'Shea winning a midfield challenge he fed Kennelly who lofted a high ball into the square Mark Kane won the high ball held off his marker and with his back to goal clipped the ball over his shoulder and the out rushing keeper. Dunderry finished off the scoring on the stroke of halftime with a Stephen Coogan free to leave the score 0-5 to 1-4 to Dunderry at halftime.
The 2nd half started with Curraha coming out quickly and pulled back a point but Kennelly scored a fine point in the 34th min after a great interception by Darren Callaghan who found Damien Clarke who powered through three challenges and laid off to Kennelly. The defensive squad of Davy McCormack, Simon Carty, Conor Dempsey, Stephens and Callaghan were brilliant and put their bodies on the line, McCormack pulled off another goal line clearance.
The difference was only a point when in the 52nd minute a miscued kick found Luke Martyn on the clubhouse touchline he laid it back to Farrell who put in a dangerous ball into the square it managed to miss attackers and defenders and found Martin Garry in acres of space 10 yards out and coolly dispatched it into the net a score his brother T.J would have been proud of this put 4 between the teams. The decisive moment in the match came in the 55th minute when Curraha were awarded a penalty but keeper David Jennings got down brilliantly to his right and palmed it away to safety. Dunderry defended against severe pressure in the final minutes and held out to win 0-9 to 2-5.
Dunderry: D.Jennings, D.McCormack, D.Callaghan, S.Carty, E.Stephens, C.Dempsey, D.Clarke, C.O'Shea, P.Kennelly (0-3), M.Garry (1-0), C.Farrell (0-1), A.Watters, S.Coogan (0-1,1f), M.Kane (1-0), A.Newman. Subs: L.Martyn for A.Watters, A.Walsh for M.Kane, C.Harte for M.Garry
Curraha Report
Curraha 0-9 Dunderry 2-05
Curraha lost their first competitive game in Meath at the weekend a year on from their first round defeat to Bective. Playing Intermedaite for the first time since 2002, they would of been hopeful of starting the year well but a determined and gritty display from Dunderry saw them come away with the points.
Curraha made a fantastic start and were three points up after then minutes with inside forwards Conor Moriarty and James McEntee (2) getting scores. Dunderry replied with three quick unanswered points before Moriarty put Curraha back in front with a long range point. There was no score then for twelve minutes as most of the possession was fought between the sides in the middle third. During this period Sean O'Hanrahan was replaced by his brother Ciaran due to a fractured jaw. It looked as if the sides would be level at the break but Dunderry had different ideas and they got in behind the Curraha defence and raised a green flag and a point. Moriarty added a free to leave his side trailing by 1-04 to 0-05.
McEntee traded points with Stephen Coogan before adding another to bring his side to within one point.  A long ball into sub Neil Shortall saw him collect and get fouled which resulted in a penalty. Moriarty stepped up by David Jennings got down to low to save and this swung the momentum back in Dunderrys favour and another long ball got them in behind the Curraha defence as they added their second goal of the game. Curraha did t give up and showed good heart at the end and two McEntee frees reduced the deficit but that was as close as the Junior Champions got.
Curraha: L. Hogan, S. Hogan, C. Joyce, M. Phelan, G. Coyle, S. McDermott, N. Murphy, B. Murphy, S. O'Hanrahan, D. Battersby, B. Joyce, P. Dowling, C. Moriarty0-3, J. McEntee 0-6, A. Battersby. Subs: C. O'Hanrahan for O'Hanrahan, S. Keogh for Dowling, N. Shortall for A. Battersby, M. Jackson for Coyle, D. Coyle for D. Battersby, A. Coyle for Phelan.
Most Read Stories