IFC: Cortown see off Ballivor in Ding-Dong classic
April 10, 2016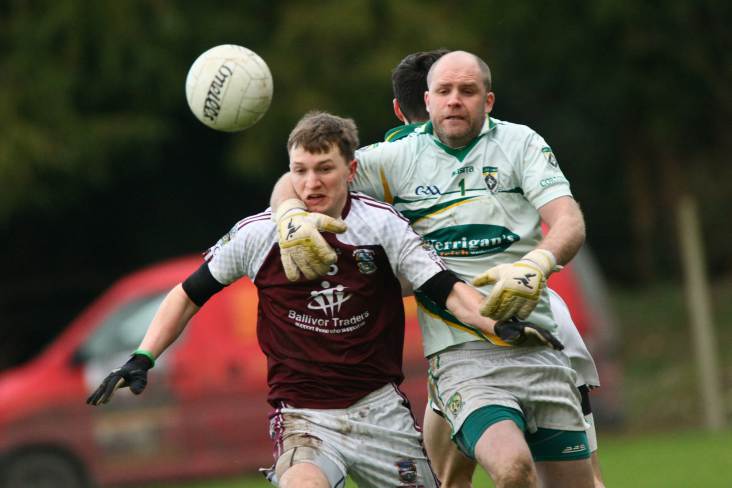 Ballivor's Adam Gannon with Cortown keeper John McFadden during the Meath IFC game at Athboy.
Cortown 0-13 Ballivor 1-09
Cortown kicked off their 2016 Intermediate Championship campaign with a massive one point win over Ballivor on Saturday evening in Athboy in front of a bumper crowd. Wrote off by almost everyone in forums, papers, bookmakers however Cortown always believed they could leave Athboy on Saturday evening with two massive points in the arse pocket after a mammoth's day work.
Davy Cahill's side went into the game with indifferent league form whilst their Ballivor counterparts were unbeaten to date. However as we all know, league form doesn't count for a jot when championship football comes into play and this was no different, this was everything a championship game should be; pure passion and commitment, no holding back, frantic pace and an enthralling watch for the spectators!
Cortown were forced into a late change almost right before the off as veteran former Offaly star Kevin McGuiness was ruled out through injury with the able deputy Declan Coyne coming in for the unfortunate McGuiness. Dancing queen Richie Flanagan was unable to feature despite scooping the Cortown Strictly Come Dancing title a couple of weeks ago with a quite exuberant performance to say the least! Boots Clarke was another one who picked up an Achilles injury whilst on dancing duty whilst Beanie Faulkner was cup-tied.
It was Ballivor who settled quickest in the contest and they boosted their credentials with an early couple of pointed frees. Cortown found their feet eventually however and responded with a free of their own with Ryan O'Rourke sailing over a peach from distance to get Cortown up and running in the contest. The boys in green struck level soon after when a beautiful patient move finally resulted in Donegal native Anthony Boyle bursting onto the scene to curl over his first ever championship score for his new club on his championship debut...great score it was too!
It was real gripping stuff and the nip and tuck fashion continued as the sides traded scores again with O'Rourke landing his second monster free from distance, almost a carbon copy of his first to draw the side's level again. Cortown were going somewhat of a foothold with Paddy Kerrigan and Johnny McGearty turning over serious ball in the full back line and launching attacks and that set up arguably the score of the first half with lovely interplay between Davy Rispin, Cormac Lindsay and Bull Casserly making his long awaited return to championship football eventually reaching former captain Colm Kerrigan who found space and curled over a corker to the delight of the Partisan Cortown Barmy army!
The nippy Adam Gannon was causing problems for Cortown and his pace and trickery was yielding frees which was proving crucial as Ballivor reduced the arrears once again. However Sergeant Brian Smith arrested the momentum by improvising to raise a fifth white flag before his namesake, Tommy pointed a worldie from distance which was immediately followed by a trademark Tommy Smith roar and fist pump. To say Tommy was buzzing would be somewhat of an understatement as the enigma also Ruled the world in the Grand National when he was on the 50/1 Mouse Morris shot! Ballivor did respond through Stefan Kelly to send the teams in deadlocked at 6 points apiece after a pulsating first half of Championship football!
The second half started at 100 mile an hour too with Ballivor once again edging their noses in front before a long ball from Colm Kerrigan rebounded off the chest of Casserly to the onrushing Rispin who managed to get the point from the tightest of angles to draw the side's level for the umpteenth time of the contest. They went ahead too when Brian Smith hit a gorgeous score with the outside of his right boot from his wrong side as Cortown took control.
With Cortown seemingly in a commanding position holding a two point advantage, disaster struck then as a rare defensive lapse from Cortown net minder John McFadden who had previously made an outstanding stop in the first half resulted in the ball dropping harmlessly in the back of the Cortown net to give Ballivor the impetus once more. Retired Cortown stalwart joked with McFadden that he shouldn't go home and hold his newly born son TJ, in case he drops him too!
Ballivor kept the advantage as the sides traded blow for blow in this heavyweight contest as a routine O'Rourke free kept the scoreboard ticking for Cortown after Smith was hauled down in front of the posts. As it seemed it was slipping away from the 2014 Junior Champions, Tommy Smith found Rispin with a pinpoint ball; he turned his man and again raised a vital white flag from another tight angle.
Ballivor weren't lying down however and they went two up again before the raiding and rampant corner back McGearty burst down the sideline and fired over a beauty with his right boot to reduce the deficit to 1 and suddenly entering injury time, hope sprung eternal for Cortown. At this stage, Cortown were absolutely dominant in and around the middle of the field and no more so than Declan (Hightower) Coyne who's probably 10 foot tall but my god he caught some unbelievable ball and put in his best display in a Cortown jersey that I've ever seen and he wasn't even named to start!
The roars from the crowd were urging Cahill's Cortown on and Brian Smith somehow managed to find room to swing a right boot to the ball and incredibly the ball found its way over the bar and the Cortown boys were level in stoppage time! You just got the feeling that if there was going to be a winner it was going to be Cortown and once again it was the magnificent midfield duo who won possession pumped it in, Brian Smith put the head down and earned a free straight in front of the posts which O'Rourke duly converted and unbelievably the boys in green led!
There was yet more drama as Ballivor gained possession and won a free in but the Ballivor man inexplicitly retaliated and lashed out at the brilliant Ivor O'Halloran. The captain reminds me of Gandhi, not just because he looks like him in stature and hair wise but he's such a brilliant motivator and positive man who's certainly an inspirational character in the dressing room. That was the final action as referee Marcus Quinn blew the final whistle and Cortown celebrated a huge championship win.
Going by the Bookmakers odds, this was the biggest upset of the weekend in the senior and Intermediate Championship but Cortown were always confident of victory especially the couple of shrewd men who took on Cortown at 5/2! All in all though this was a tremendous display from the Cortown men and will stand them in good stead for the remainder of the campaign with a second round clash with last year's beaten finalists Nobber on the horizon in a month's time and this was once again proof in case people didn't already know that Cortown will be hard bet!!!
Cortown: John McFadden, Stevie Clarke, Paddy Kerrigan, John McGearty (0-1), Cormac Lindsay, Ivor O'Halloran, Colm Kerrigan (0-1), Declan Coyne, Daragh O'Halloran,  Tommy Smith (0-1), Brian Smith (0-3), Ryan O'Rourke (0-5fs), Davy Rispin (0-2), Declan Casserly, Anthony Boyle (0-1).
Referee: Marcus Quinn
Most Read Stories