SFC Group B: Dunboyne impressive in emphatic win over Duleek
April 10, 2016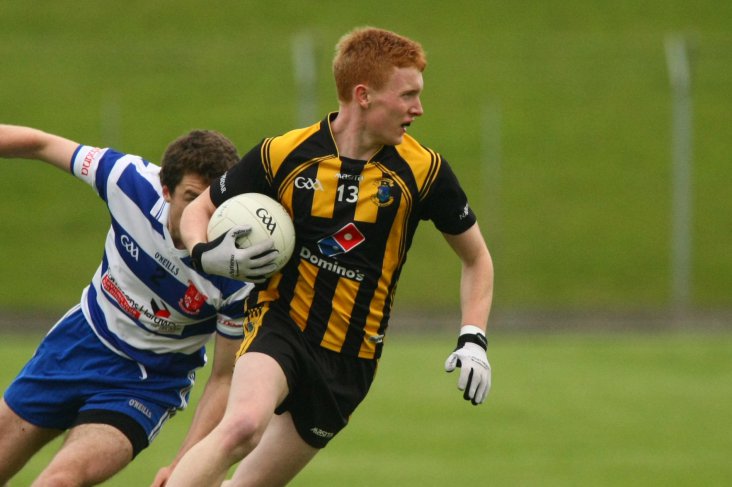 Dunboyne's Shane Comiskey
St. Peter's Dunboyne 3-21 Duleek-Bellewstown 3-04

St. Peter's opened their Senior Championship campaign with a convincing 17 point win over Duleek-Bellewstown at Ratoath on Saturday evening.

The game began with a strong start from Duleek-Bellewstown who were 1-01 to no score up after ten minutes. Shane Comiskey opened the scoring for Dunboyne and this was followed shortly thereafter by an excellent score from Michael Dunne who took on three men and sent the ball over the bar. Donal Lenihan saw his first goal chance saved after seventeen minutes. He followed this up minutes later with a lovely turn and a well taken point from the wing.

This was followed up by a Duleek-Bellewstown free leaving the scores at 1-02 to 0-03 for the Duleek men after twenty minutes. This seemed to be the end of their scoring run as Dunboyne went on to play some lovely fast paced football with some great moves up the field involving six or seven players and went on to score five points in the last ten minutes of the half. The last of these came from some great play from corner back Jordan McLoughlin who overturned the ball in front of Dunboyne goals after a Duleek attack and worked it up the field before getting the ball to Conor Doran who finished with a great point. The first half finished 0-08 to 1-03 in Dunboyne's favour.

The second half began with Dunboyne in flying form, and they registered five points without reply in the first seven minutes. At this stage Duleek got their last point of the game. They followed this up with a badly missed free from the 13 yard line. Dunboyne remained in control for the vast majority of the second half with Shane Comiskey and Michael Dunne following up with two points before man of the match Donal Lenihan scored the Dunboyne men's first goal after some lovely work with midfielder Ronan Jones.

This was followed up two minutes later by another goal from Shane Comiskey. Dunboyne scored another four unanswered points, the last of which was scored by substitute Robbie McCarthy before Duleek-Bellewstown got two scrappy goals in the dying minutes of the game.

Substitute Stuart Lowndes responded with a point and Robbie McCarthy went on to score a further 1-01 in the last two minutes of play.
St. Peter's Dunboyne lined out as follows: A. Markey, G. McCoy, J. Scannall, J. McLoughlin, J. Meehan, C. Finn, C. Doran (0-02), D. Gallagher (0-01), R. Jones (0-01), C. Lowndes, S. McEntee (0-01), S. Moran, M. Dunne (0-03), S. Comiskey (1-03), D. Lenihan (1-07). Subs Used: J. Daly for M. Dunne, S. Lowndes (0-01) for S. Moran, R. McCarthy (1-02) for C. Finn
Duleek Bellewstown Report
Duleek-Bellewstown 3-4    St. Peter's Dunboyne 3-21
A half time scoreline of Duleek/Bellewstown 1-3 St Peters Dunboyne 0-8 would have all who had an interest in this game anticipating a competitive second half with the game up for grabs right to the very end. But that is not how it turned out as Dunboyne completely dominated the second half and ran out comfortable winners on a scoreline of Duleek/Bellewstown 3-4 St Peters Dunboyne 3-21. 
With a heavy sleet shower before the game making playing conditions treacherous the early passages of play lacked any structure with neither team dominating proceedings. However a mistake in the Dunboyne defence in the fifth minute allowed Duleek/Bellewstowns Paudge Howard intercept a pass that saw him through on goal with only the keeper to beat which he did with a powerful shot. A further point from a free by John Flood in the 7th minute left D/B in a dominant position early on. Three points by Dunboyne from play in the next 10 mins closed the gap but another pointed free by Flood meant D/B had a 2 point lead going into the remaining minutes of the first half. A period of dominant play by Dunboyne who pointed five times in these remaining minutes of the half with a further pointed free by Conall McGinley for D/B meant Dunboyne went in at half time with a 2 point lead. 
Half-Time:  Duleek-Bellewstown 1-3     St. Peter's Dunboyne 0-8
If getting away to a good restart is the key to winning a game then maybe that's how Dunboyne managed to win by a 17 point margin. With 5 unanswered points in the first 5 minutes of the second half by Dunboyne, and a total of two goals and ten points against one point by Duleek/Bellewstown's John Flood in a 24 minute period, left the game over as a contest. To Duleek/Bellewstown's credit they never gave up, when that might have been the easier option, and with 2 forays up the field in the 56th and 57th minutes Johnny McDonnell and Mark Collins each had the ball in the back of the net to put a semblance of respectability on the scoreboard. A further goal and and 2 points by St. Peter's put the polish on their performance and left Duleek/Bellewstown with the task of lifting their spirits and possibly performance levels for the next round of the championship in a few weeks time. 
Full-Time:    Duleek-Bellewstown 3-4    St. Peter's Dunboyne 3-21
Duleek/Bellewstown Team: Anthony Dowling, James Murphy, Jason Brannigan, Johnny McDonnell (1-0), Robin Clarke, David Moore, Shane Townley, Stephen Nolan, Kevin McCann, John Flood (0-3), Mark Collins (1-0), Paudge Howard (1-0), Stephen McArdle, Conall McGinley (0-1),Anthony Burke. Substitutes; Eanna Byrne for Stephen Nolan, Des Teeling for Stephen McArdle. 
Most Read Stories