IFC: St Colmcilles lay down marker
April 09, 2016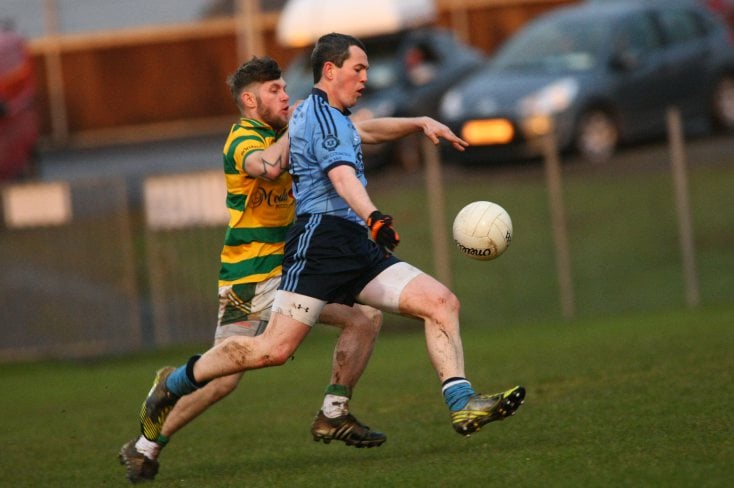 Syddan's Kevin Garland with Ciaran Kelly St Colmcille's during the opening round of the Meath IFC at Simonstown
ST COLMCILLE'S 5-14 SYDDAN 1-8
CHAMPIONSHIP favourites St Colmcille's laid down an early marker with a devastating second half display as they brushed aside the challenge of Syddan in the IFC at Simonstown.
It was division one against division three and the gulf in class was evident for most of the hour.
Syddan were on the backfoot from the early stages as the seasiders raced into a three point lead within five minutes.
Daire Rowe got Syddan off the mark from a free and the sides were level after Sean Clare fisted a Cormac Rowe centre to the net on 10 minutes.
That was as good as it got for Syddan though as Ciaran Kelly regained the lead for the Cille's with a pointed free. The full forward then found the net on 22 minutes to put his side into a 1-7 to 1-1 lead. Colm Nally's men eventually led 1-7 to 1-3 at the break.
St Colmcille's moved up the gears throughout the second half and the game was over as a contest when James Conlon pounced on a rebound off a post and crashed the ball to the Syddan net on 40 minutes.
That left it 2-9 to 1-4 and by the time Daire Rowe added to his opening point of the second half, Cille's had already rattled in another two goals. Both were scored by Jack Reyolds, the second from the penalty spot.
Graham Reilly added to his sides goal tally before the finish and Ben Brennan completed the rout with the final point from a free.
ST COLMCILLE'S - Jordan Browne; Adam Lynch, Jamie McDonnell, Ciaran Ward; John McKenna, Sean Collier 0-1, Danny McMahon; Graham Reilly 1-3, Robert McCloskey; Niall Ronan 0-1, Ben Brennan 0-4f, Mark Whearty; James Conlon 1-1, Ciaran Kelly 1-3 (0-1f), Jack Reynolds 2-1 (1-0 pen).
SYDDAN - Ciaran Farrelly; Kevin Garland, Ben Bashford, Mark Fedigan; Ronan Mooney, Thomas Dillon, Graham Garland; Kevin Traynor, Sean Clare 1-0; Gary Farrelly, Daire Rowe 0-7 (5f), Cormac Rowe; Ian Curran 0-1, Fiachra Ross, Stephen Dillon. Subs - Andrew Garland for Ross, Michael Fedigan for T Dillon.
REF - Seamus O'Connor (Carnaross)
Most Read Stories