SFC Group A: Seneschalstown resist Rathkenny rally
April 09, 2016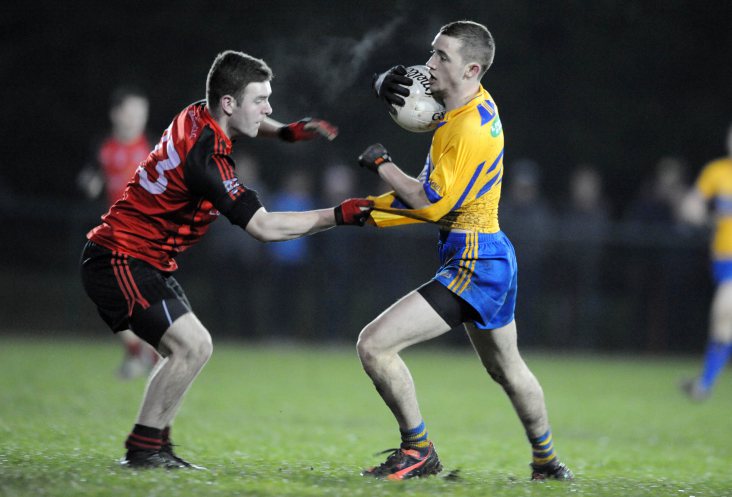 Rathkenny's Owen Elliott with Adam Carey Seneschalstown during the hoganstand.com Meath SFC game at Skryne.
In an exciting finale to this hoganstand.com SFC Group A opener at Skryne on Friday night Seneschalstown saw off Rathkenny
Seneschalstown .... 2-9
Rathkenny ........... 0-12
In the end it came down to economics and David Hosie's men prevailed in that area. Seneschalstown took their goal chances while Rathkenny were more wasteful, if not a little unfortunate.
Goals from Brian Sheridan (penalty) and Brian Clarke left Seneschalstown five points clear, 2-8 to 0-9, heading into the final quarter.
Rathkenny created a goal chance in the 48th minute when Donal Keogan's deft strike trickled wide. Had the county-man hit the shot full-blast, it was probably would have been blocked.
Seneschalstown 'keeper Davy Lyons picked up a knock in his effort to keep a clean sheet, but was able to resume following attention.
The Yellow Furze side lost midfielder Damien Sheridan to a straight red card in the 54th minute. Caolach Halligan was wide with the subsequent close range free awarded for a foul on Donal Keogan.
Another bad Rathkenny miss followed shortly after when sub Owen Elliott fired wide. Over the hour Seneschalstown's wide count was just five, half that of their opponents.
Stoppage time points from Brian Meade (free) and Halligan trimmed the deficit to just two. A Seneschalstown breakaway set Brian Clarke free to conclude the scoring.
Clarke finished with 1-6 to his credit with all bar two points coming from play. His goal arrived within two minutes of resumption and left the adjacent scoreboard reading 2-5 to 0-6.
One of Johnny Gilsenan's three points from play then left two goals between the sides in the 33rd minute. Moments later he repeated the feat after a Clarke effort rebounded off an upright. In between one of Jack Gore's trio of pointed frees boosted Rathkenny.
A long range Brian Meade free got the Rathkenny rally going that saw the team in red and black cut the gap but were unable to bridge it.
Rathkenny had the better of the opening quarter and led by 0-4 to 0-2 after 13 minutes. The game turned in the 17th minute when a Rathkenny player touched the ball on the ground. Brian Sheridan expertly netted the subsequent penalty.
It put Seneschalstown in front for the first time, where they remained to the end. Clarke's fourth point of the half left the men in yellow and blue 1-5 to 0-6 ahead at the break.
Clarke's goal cushioned them against Rathkenny's rally.  In the next round, Rathkenny take on Skryne while Seneschalstown face Gaeil Colmcille.
Before the game, a minute's silence was observed in memory of Dermot Curtis, a Rathkenny club stalwart, who died during the week.
Seneschalstown - David Lyons; John Smith, Cormac Noone, Sean McCabe; Teean Cummins, James Byrne, David Matthews; Damien Sheridan, Joe Sheridan; Niall Hickey, Brian Sheridan (1-0 pen), Adam Carey; Johnny Gilsenan (0-3), James Meade, Brian Clarke (1-6, 0-2 fs). Subs - Conor Cowley for Matthew (14), Paul Carey for Meade (51).
Rathkenny - Colin Curtis; Joe Gore, Robbie Garry (0-1), Thomas McGuinness; Niall Branagan, Donal Keogan, Ross Gore; Brian Meade (0-3, 2fs), James Macken; Ivan Lenehan, Jack Gore (0-3 fs), Stephen Crosby; Caolach Halligan (0-4, 3fs), Michael Macken, Brian Lenehan. Subs - Donal Curtis for M Macken (ht), Owen Elliott for Lenehan (ht), Graham Brennan for McGuinness (31), Christy Meade for Jack Gore (52).
Referee - Cormac Reilly (St Mary's)
Seneschalstown Report
Hoganstand.com Meath SFC Group A Round 1
Seneschalstown 2-09 Rathkenny 0-12
For the first time since 2012 Seneschalstown got off the mark at the first time of asking in the Meath Senior Football Championship when getting the better of Rathkenny in what turned into a battle in Skryne on Friday evening.  Boosted by a Brian Sheridan penalty they went in ahead by 1-05 to 0-06 at the interval and when Bryan Clarke netted soon after the break of play Seneschalstown appeared to be in the driving seat but, driven on by Meath captain Donal Keogan, Rathkenny refused to go away and in the end it was fourteen man Seneschalstown who were holding on following the fifty fourth minute sending off of midfielder Damien Sheridan before Bryan Clarke scored the insurance point deep into injury time.
There were many different aspects to this game but one crucial factor was Seneschalstown's greater efficiency in front of the posts as they recorded just five wides in comparison to the wasteful Rathkenny who hit ten, five in either half.  Meanwhile in the middle of the field the experienced Damien and Joe Sheridan provided a solid platform as they won plenty of primary possession.  Up front Bryan Clarke and Jonathan Gilsenan were on fire with the industrious Adam Carey and Senior Championship debutant Niall Hickey offering great support. 
When the game got underway following a respectfully observed minutes' silence for the late Dermot Curtis, uncle of Rathkenny stalwart and former Meath player Donal it was Rathkenny who were quickest off the mark as they went straight into the lead with just seventeen seconds elapsed when Ivan Lenehan sent over from play.  It didn't take Seneschalstown too long to reply and when they did they replied in some style as Jonathan Gilsenan sent over a booming effort from practically out on the bank on the left hand side of the field after he latched onto a pass in from Teean Cummins. 
Jack Gore soon edged Rathkenny in front when he sent over a free but on minutes Bryan Clarke punished a foul on Brian Sheridan and then some dissent towards referee Cormac Reilly when he emulated Gore's point.  Meath U-21 star Caolach Halligan pushed Rathkenny back in front from a free out on the right and that lead soon became two when Brian Meade pointed.  Following this score Seneschalstown decided remedial work was necessary in their defence and thus introduced Conor Cowley to the fray.  Jonathan Gilsenan was causing a plethora of issues in the Rathkenny defence early doors and after he won yet another ball he drew a foul which earned Thomas McGuinness a yellow card and presented Bryan Clarke with another opportunity from a placed ball which he converted. 
Joe Sheridan was having a stormer of a game around the middle of the field as he was winning a huge amount of possession and when on sixteen minutes he got his paws on another ball he quickly looked up and played it down the line to Niall Hickey who in turn played clever foot pass infield where he had spotted Bryan Clarke and Clarke made no mistake as he split the posts.  Hickey got back involved almost straight away when he picked up possession out on the right and realising he had open country in front of him he set off towards the Rathkenny goal on a run which eventually ended up with his side earning a penalty which Brian Sheridan assuredly dispatched to the bottom right of the goal with the 'keeper motionless on the line. 
Suddenly Seneschalstown were in the driving seat with a three-point lead but Rathkenny hit back through the influential Caolach Halligan who fired over a brace of points, the second of which came from play.  This left just the one point between the sides but it was Seneschalstown who had the final say when after a quickly taken free from Joe Sheridan, Bryan Clarke angled over a superb point from out on the left. 
Having only kicked one wide in the opening half and going in at the interval holding a 1-05 to 0-06 lead Seneschalstown would have been by far the happier of the two teams as while they were creating less opportunities and had been caused some difficulties by Rathkenny they will have been pleased with their attacking efficiency while also knowing they were capable of much better. 
Stung by being two points behind Rathkenny started the second half with reinforcements introduced to the team as Donal Curtis and Owen Elliot were introduced in place of Michael Macken and Brian Lenehan while just seconds into the half Thomas McGuinness was also called ashore.  Despite these changes it was Seneschalstown who got off to the better start when after some fine build up play involving Damien Sheridan, Bryan Clarke and James Meade, Clarke although he possibly got away with a few extra steps when under pressure from the defenders sent a cracking shot into the top corner of Colm Curtis' goal for Seneschalstown's second major of the game.  Jonathan Gilsenan soon added a point to stretch his sides lead out to six points and from here there only looked like being one winner.  
Jack Gore sought to start a fightback when he knocked over a well taken free but Gilsenan cancelled this score out in the thirty seventh minute when he pointed over his left shoulder after reacting quickest of all to a Bryan Clarke free which rebounded off the left hand upright following a foul on Adam Carey who was playing with a voracious hunger and seemed to be everywhere. 
Brian Meade sent over a Rathkenny free five minutes later before Jack Gore picked off one of his own when Sean McCabe was punished by Cormac Reilly for not putting his toe to the ball as he picked it up off the ground.  Seneschalstown were not finding the scores easy to come by but when Adam Carey forced another turnover he executed a one two with Brian Sheridan before finding Bryan Clarke who drove forward before arrowing his shot narrowly over the crossbar. 
Entering the final quarter Rathkenny went in search of a goal and almost got one when Donal Keogan surged forward and when he skipped around the despairing challenge of goalkeeper David Lyons who had rushed off his line Keogan was most unfortunate to see his goal attempt roll agonisingly wide of the left hand post as Seneschalstown defenders scrambled back to narrow his angle.  Brian Meade was becoming more influential and on fifty-two minutes he drew a foul from Conor Cowley out on the right in front of the clubhouse after which Caolach Halligan duly converted the resultant free kick. 
With the match now firmly in the melting pot Seneschalstown were rocked when the experienced Damien Sheridan was shown a red card by Cormac Reilly following a challenge on Keogan but much to the relief of the side in yellow Halligan pulled his free wide on the near side as the Yellow Furze men avoided the double whammy of losing a man and having their lead narrowed further. 
Momentum was now firmly with the Rathkenny men and with the regulation sixty minutes almost up the impressive Brian Meade pointed from a free following a hefty James Byrne foul before the impressive Halligan flashed a shot over off his trusty left boot.  However, it was Seneschalstown who had the final say as after their defenders with the assistance of Carey had forced another turnover Joe Sheridan sent a trademark dropkick upfield where he somehow picked out Jonathan Gilsenan in amongst four Rathkenny defenders and showing great spatial awareness he laid the ball off to his left where he found the supporting Bryan Clarke whose shot sailed between the uprights much to the delight of the large Seneschalstown support. 
On a night when the heavy underfoot conditions made life difficult both sides deserve great credit for a game which provided many moments of real quality as well as having all the hallmarks of a keenly contested derby encounter with a large dollop of hard hitting challenges mixed in with many individual battles which were always worth keeping an eye on.  Next up for Seneschalstown will be a clash with Skryne who opened their account with an impressive victory over Blackhall Gaels. 
Seneschalstown:  David Lyons, John Smith, Cormac Noonan, Sean McCabe, Teean Cummins, James Byrne, David Matthews, Damien Sheridan, Joe Sheridan, Niall Hickey, Brian Sheridan (1-00, 1-00 penalty), Adam Carey, Jonathan Gilsenan (0-03), James Meade, Bryan Clarke (1-06, 0-02 Frees).
Seneschalstown Substitutions:  Conor Cowley for D. Matthews and Paul Carey for J. Meade. 
Rathkenny - Colin Curtis; Joe Gore, Robbie Garry (0-1), Thomas McGuinness; Niall Branagan, Donal Keogan, Ross Gore; Brian Meade (0-3, 2fs), James Macken; Ivan Lenehan, Jack Gore (0-3 fs), Stephen Crosby; Caolach Halligan (0-4, 3fs), Michael Macken, Brian Lenehan. 
Rathkenny Substitutions:  Donal Curtis for M. Macken, Owen Elliot for B. Lenehan, Christy Meade for T. McGuinness, Graham Brennan for Jack Gore.
Most Read Stories