Flashback: when the U21's were Kings
April 01, 2016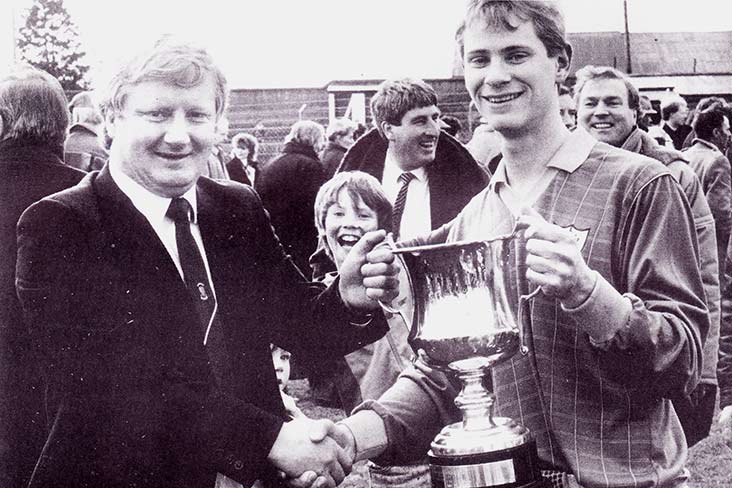 The 1st of the treble. Barry Ferguson receives the 1989 Leinster U21 FC Cup from Michael Delaney (Leinster Council)
Dublin are aiming for a three-in-a-row of Leinster Under 21 football championship titles this Saturday when they take on Kildare in the final at Pairc Tailteann. The last county to achieve this feat was Meath.
The Royals claimed the first of this hat trick in 1989. Neighbours Louth were beaten 1-9 to 1-5 in round 1 at Drogheda. Michael McDonnell got the important goal. Meath forced a 1-6 to 0-9 draw with Wicklow in the semi-final and came out 0-10 to 0-7 winners in the replay to set up a final date with Kildare. Padraig Coyle hit 1-2 and Sean Kelly raised a green flag against the 'Lilys' that day in Tullamore as Meath ran out 2-5 to 0-9 winners. 
The 1989 team. Team captain Barry Ferguson was missing from the photo.

Galway defeated Meath in the All Ireland semi final 2-7 to 0-10 in Portlaoise.
The 1989 Meath final team was: John Sullivan, Barry Ferguson, Tom Halpin, James Stafford, Ian Kearney, Alan Browne, Leo McEnroe, Colm Brady, Trevor Kane, Padraig Coyle, Sean Kelly, John Henry 0-1, Larry McCormack 0-1, Michael McDonnell, Billy Shaw. Sub: Martin Kirk 0-1.
The two-in-a-row was completed when Wicklow were comfortably beaten in the 1990 decider at Newbridge.
Once again Louth were sent packing in the opening round 0-13 to 0-8 at Pairc Tailteann. Billy Shaw 0-4 and Adrian O'Halloran 0-3 were Meath's top scorers.
The Royals came out on top by the minimum 2-10 to 1-12 against a very good Kildare side in the semi final also at Pairc Tailteann. Summerhill's Billy Shaw topped the scoring charts with an impressive 1-5. Tommy Dowd got the other goal and Meath were into their second decider.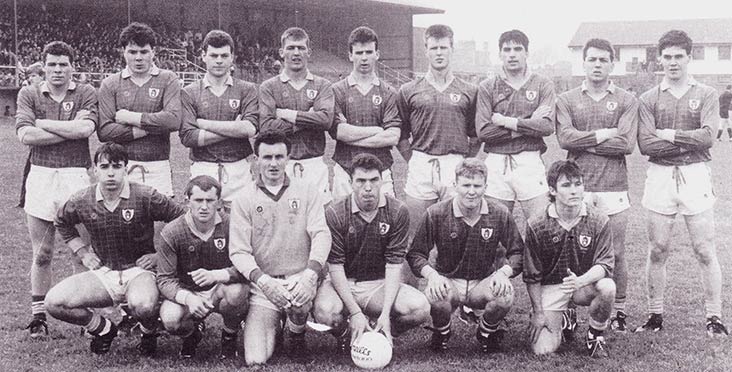 1990 champions
Wicklow were never going to stop Meath complete that two-in-a-row and The Royals ran out convincing 1-14 to 0-6 winners in Newbridge. Walterstown's Alan Browne got the goal while O'Halloran and Larry McCormack hit 0-3 each.

Tyrone stood in Meath's way and a place in the All Ireland final but it was the Ulster men who came out on top 2-10 to 1-9 at Breffni Park.
Meath lined out as follows in the 1990 final: John Brady, David White, Tom Halpin, Kevin Macken, Brendan Reilly 0-2, Martin Crosbie, Noel Hughes, Gerry Martyn, Colm Brady 0-1, Jody Devine 0-1, Martin Kirk, Billy Shaw 0-2, Larry McCormack 0-3, Tommy Dowd 0-1, Adrian O'Halloran 0-3. Subs: John Henry, Alan Browne 1-1 and John McDermott.
A year later the three-in-a-row was complete!
Carlow were dispatched 1-9 to 0-3 in the opening round. Adrian O'Halloran was top scorer with 0-5 while Ballivor's Terry Connor got 1-1. Fresh from his All-Ireland minor win the year before, Graham Geraghty came on as a sub in this comfortable win.
The Royals sent over 15 points to Offaly's 1-8 in the semi-final played in Pearse Park. Billy Shaw was in fine form that day kicking eight points.
The three-in-a-row was completed when Meath overcame a gallant Wicklow side 0-9 to 1-5 in Portlaoise. Again Billy Shaw was the scoring hero with five points.

Winners over Wicklow in 1991
A place in the All-Ireland final was to elude Meath once more as they were defeated by Kerry 2-7 to 1-7 in the All Ireland semi-final at Limerick.
The Meath 1991 final team was: John Brady, Cathal O'Bric, Thomas Halpin, Kevin Macken, Peadar McCaffrey, Enda McManus, Noel Collier, Kevin Cahill, Paddy Martyn, John McDermott, Billy Shaw, Brendan Kealy, Terry Connor, Neil Cooney, Adrian O'Halloran. Subs: Graham Geraghty, Alan Gillic and Martin Kirk.
Meath would have to wait till 1993 for their only All-Ireland success at this level.
Most Read Stories