IFC semi-final: Nobber nail final spot after extra time
September 23, 2015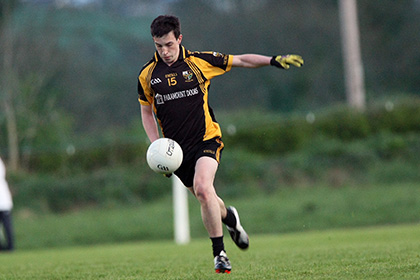 Nobber's Sean Meade
Nobber 0-16
Trim 1-11
Nobber booked a Meade Potato Company IFC final meeting with Ratoath with an extra time semi-final win over Trim at Simonstown on Tuesday night.
Four scores on the spin that stradled normal time and extra time ultimately decided the game.
Brian Farrell, who was a peripheral figure in the first 30 minutes, conjured up two magnificent points at the racecourse end of the ground to tie the scores at 0-11 to 1-8 after the hour.
His brother, and team captain, Alan posted a 45 within 70 seconds of the start of extra time and Nobber were never headed again. Another Brian Farrell free doubled the lead.
Trim came close to causing an upset and would have achieved it but for a couple of what proved to be wrong options at crucial moments.
Sub Sean Fitzgerald who made a big impression following his 39th minute introduction levelled matters for the fifth and final time in the eighth minute of extra time.
Sean Meade, with assistance from Brian Farrell, replied with a point that gave Nobber a 0-14 to 1-10 interval advantage in the additional 20 minutes.
Jamie Owens doubled Nobber's lead seconds into the final 10 minutes and Dudley Farrell's men had the nous to withstand Trim efforts to rally.
In stoppage time at the end of the hour, Trim earned a 45. Instead of putting the ball 'dead', James Toher tried to find a team mate. Nobber gained possession and swept upfield to notch the levelling score.
Then in the 19th minute of extra time, after Niall Farrell completed the scoring with a left footed free, Trim sub James Cullen was well off target from a free. Another chance (albeit a long one) was won by Davy Dalton's men. However, Toher's goal attempt from a close range free skimmed low, right and wide.
The favourites posted the first score through Jamie Owens (free) in the third minute.  The response saw Neil Heffernan point with assistance from Eoin McGrath.
Trim bossed the remainder of the half though Nobber hit twice as many wides in the opening period, eight to four. Eoin McGrath's ninth minute goal gave the team in red something to build on. Alan Douglas' run created the opening for the 'major'.
Rob Bourke placed Eoin Kelly to score before Toher left Trim four points clear after 14 minutes. A pointed free by the same player earned the town side a 1-5 to 0-5 half-time lead.
Nobber were renewed from the resumption. Four points in a row saw them regain the lead, 0-9 to 1-5, by the 44th minute. Trim were struggling to get out of their half.
Trim 'keeper James Andrews made a vital save from Colin Clarke early in the final quarter. Sean Fitzgerald made an impression with his side's first score of the second-half, in the 47th minute to level matters, 1-6 to 0-9.
Three minutes later, Trim regained the lead through another sub, James Cullen. Toher doubled their lead with a 58th minute free. The surprise result looked on.
Then Brian Farrell intervened with the two late scores to force extra time. Ratoath (following their win over St Colmcille's in the other semi-final) will be favourites for the final
However, this spirited Nobber side - who nearly fell into the junior ranks last year - know games are won on the day, not beforehand.
Nobber - Christopher O'Reilly; Conor Halpin, Brian Meade, Barry Cassidy; Brendan Heffernan, Richard Shields, Gerard Campbell (0-1); Alan Farrell (C) (0-3, 2 45s,), Gavin Farrelly; Colin Clarke, Brian Farrell (0-5, 3fs), Niall Farrell (0-3, 2fs); Karl Casserly, Jamie Owens (0-2, 1f), Sean Meade (0-2). Subs -  Fiachra McEntee for Farrelly (9 bc), Paul Meade for K Casserly (23), Andrew O'Brien for Shields (52), Stephen O'Brien for Heffernan (60). Extra Time - Dale Larkin for Meade (9), Gordon Weldon for Campbell (11).
Trim - James Andrews; Colm Flaherty, Robert Brennan, Rory McGrath; Shane Downes, Eoin Kelly (0-1), Ciaran O'Rourke; Frankie Murphy, Rob Bourke; Daire Lynch (0-1), Alan Douglas, Eoin McGrath (1-0); James Toher (0-4, 2fs), Neil Heffernan (0-1), Shane O'Connor. Subs - Sean Fitzgerald (0-2 for McGrath (bc 39), Ciaran Joyce for O'Connor (40), James Cullen (0-1) Murphy (43),  Eoin O'Connor for Douglas (bc 50). Extra Time - Cathal Bermingham for Downes, Robbie Kenny (0-1) for Lynch, Luke Moran for Fitzgerald (bc).
Referee - Cormac Reilly (St Mary's)
Most Read Stories