SFC: Defeat for under strength Skryne
August 11, 2015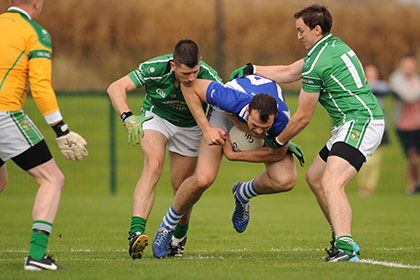 Skryne's Paddy O'Rourke is under pressure from the Donaghmore Ashbourne defence at Stamullen
Donaghmore Ashbourne 0-19 Skryne 1-7.
Skryne - short eight of the team that beat Ballinlough in the last round of the senior championship went to Stamullen yesterday in hope rather than confidence for this SFC match versus Donaghmore Ashbourne.
The fact that they came away with a nine point defeat does not do justice to the effort of the fifteen men who started the match as they conceded a few 'soft' scores, particularly in the first half, and missed some relatively easy points themselves. Add this to the fact that Skryne lost their top scorer, Mark Battersby, to injury in the opening five minutes of the match. This suggested 'Lady Luck' was not on their side yesterday and in fact she hasn't been around at all this summer. Sadly Mark could now be added to the list of long term injuries to hit the squad this term.
On the plus side Skryne had two 17 year olds making their Senior Championship debuts against a physically stronger Don Ash team who were also short County player Andrew Tormey.
Dean Reddy had an encouraging start in goals for the Blues and impressively kept a clean sheet. Darragh Campion came in at right half back and was probably Skryne's best player on the day. Cian Lynch came off the bench to also make his Senior Championship debut.
Skryne were behind by 7 points at half time 0-9 to 0-2 but should have been much closer, as already stated, some scores went by the wayside in this half. There were good performances from some of the more senior players but overall Skryne found it difficult to overcome the loss of so many experienced men. Hopefully some of the injured brigade and the 'travellers' will be back for the next game.
Skryne - Dean Reddy. Mark Jordan, Ciaran Lenehan , Stephen O'Brien. Darragh Campion, Mark Harrington, Ronan McCabe. Aidan Tuite (0-1), Thomas McKeown. John Morley, Brian Davis (0-2), Allan Carty. Declan Morley, Paddy O'Rourke (1-3), Mark Battersby.
Subs used - David Lynch and Cian Lynch.
Most Read Stories