IFC: Syddan scoring spree sinks Oldcastle
August 10, 2015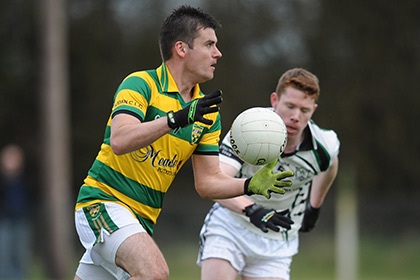 Syddan's Ian Curran gains possession against Longwood
SYDDAN 2-12
OLDCASTLE 1-8
A GOAL and five points without reply in the final 16 minutes was sufficient to give Syddan a comfortable victory in the IFC at Carlanstown on Sunday evening.
The win leaves Syddan with their destiny in their own hands and victory over Ballinabrackey in the final round would be enough for a place in the quarter finals.
For three quarters of the way this was a closely fought encounter but once Syddan upped the tempo Oldcastle had no answer.
The contribution of Ian Curran in attack proved a major factor in Syddan's victory.
The corner forward notched seven points from play and also had a role in both of his sides' goals.
The opening goal which was dispatched to the net by Daire Rowe came courtesy of the penalty spot following a foul on Curran on 23 minutes. That score was the difference between the sides at the break as Syddan led 1-5 to 0-6.
Rowe had earlier pointed on three occasions while keeper Conor McHugh had two points for Oldcastle, from a '45 and a long range free respectively.
Two points from Curran increased the lead within five minutes of the restart but Oldcastle replied with a brace of points from Robert Farrelly.
Oldcastle then went ahead for the only time when Jason Scully netted from the penalty spot, awarded for a foot block.
That left the Oldcastle men leading 1-8 to 1-7 but they failed to add to their tally after that as Syddan took control.
Curran hit the leveller before Paddy Farrelly pointed his side in front heading into the final quarter.
Curran added another point and then set up Kevin Traynor for the second goal that stretched the lead to five points.
There was no way back for Oldcastle after that and Curran added further to his tally before the final whistle.
SYDDAN - Ciaran Farrelly; Ronan Mooney, Cormac Rowe, Kevin Garland; Kevin Traynor 1-0, Sean Malone, Mark Fedigan; Stephen Dillon, Sean Clare; Andrew Garland, Daire Rowe 1-3 (1-0 pen), Graham Garland; Ian Curran 0-7, Paddy Farrelly 0-2, Gary Farrelly. Sub - Luke Halpenny for G Farrelly.
OLDCASTLE - Conor McHugh 0-2 (1f, 1 '45); Matthew Taggart, Barry Curran, Sean Maxwell; Paddy Gilsenan 0-1, C McPartland, Oran O'Reilly; Eoin Gilsenan, Stephen Tierney; Jason Scully 1-0 pen, Ronan Farrelly, Ronan Maguire; CJ Healy 0-2f, Patrick Rahill 0-1, Robert Farrelly 0-2 (1f).
REF - Ciaran Flynn (Dunsany).
Most Read Stories