SFC: Seneschalstown gain valuable victory over St Pat's
August 09, 2015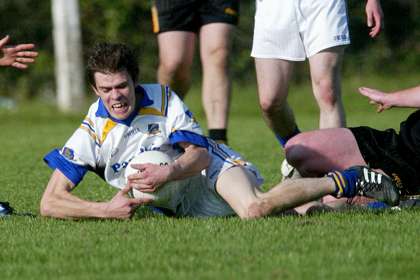 Seneschalstown's Conor Cowley.
Hoganstand.com Meath Senior Football Championship Group B Round 4
Seneschalstown 1-11 St. Patrick's 1-08
Saturday evening's Hoganstand.com Meath SFC Round 4 game between Seneschalstown and Duleek may not have been pretty, indeed dour was one word used to describe the fare on offer at half time but they say beauty is in the eye of the beholder and for Seneschalstown this victory over their East Meath neighbours will resonate as beautiful as it garnered them their first points of this year's Championship.  Having gotten their campaign off to a difficult start when falling to defeat in their opening three games the men from the banks of the Boyne were under severe pressure going into this match as they found themselves bottom of Group B and in danger of ending up in the relegation playoff with one round still to be played. 
These two sides had already met twice this year with St. Pat's having won in the Feis Cup and Seneschalstown claiming the points in their League encounter but there were very few in Duleek who were making confident predictions in favour of either side prior to the throw in.  Having met at Kentstown NS prior to the game where they held their pre match warmup Seneschalstown were eager to show they had absorbed the lessons learned in their previous games this year.  To this end the victory will have been especially pleasing to manager David Hosie and his selectors as the players implemented the game plan set out for them while working themselves to a standstill. 
Conditions in Duleek proved to be somewhat wintery as squally showers had struck prior to throw in leaving the surface greasy and then more rain arrived at half time which sent the spectators scuttling for shelter during the break in play.  On top of this a strong wind blew straight down the field in the opening period of the game while it faded somewhat following the half time rainfall. 
When the game threw in St. Pat's were the first to register when they pointed from play in the second minute but this score was cancelled out on five minutes when Brian Sheridan popped over a free following a foul on Bryan Clarke as he attempted a shot having easily rounded his marker.  Instantaneously St. Pat's replied with another from play before Seneschalstown conjured up two goal scoring opportunities and while neither of these was fully capitalised upon but from the second of these Joe Sheridan forced a fine stop from Robert Cluskey in the Stamullen goal and Bryan Clarke sent the resultant forty five sailing between the posts into the teeth of the strong breeze. 
Sean Noonan was having a fine game at wing forward and when he rose highest to claim a ball in the vital middle third he managed to pick out Joe Sheridan with an excellent delivery but once more Sheridan saw his goal effort saved.  Niall Mooney edged St. Pat's back in front as the game entered its second quarter but this was soon cancelled out when Brian Sheridan knocked over a free after Donal Smith penalised the Stamullen defence for a foul on Joe Sheridan.  St. Pat's moved back into a narrow lead when they scored a monstrous wind assisted point from way out the field.  However the very nature of the match almost guaranteed the next score of the game and so it transpired. 
Sean Noonan was once more a central figure and when he led by example by tackling hard but fair he forced a defender into holding onto possession for too long and Brian Sheridan gratefully accepted the fruits of Noonan's labour when popping over the subsequent thirteen metre free.  Next came the games defining moment.  Donal Smith blew the game up when a St. Pat's defender lay injured on the ground and when play resumed Brian Sheridan was informed that while he had the ball Seneschalstown couldn't score directly.  Sheridan surveyed his options and spotting Tean Cummins making a forward burst from his midfield berth he played the ball off to him and Cummins after breaking through a couple of tackles he sent a shot goal wards which dipped viciously and just snuck under the crossbar to give the side the massive boost of the games first goal.  Cummins had clearly been taking lessons from Jamsie Gillic who scored with a similar left footed effort for the club's Junior D's on Thursday evening.  St. Pat's did find a good response to this goal when on the lead into half time they registered two points, the second of which was fisted over when a dangerous ball landed in on the edge of of the Seneschalstown square. 
This left just the solitary point between the teams at the interval, 1-04 to 0-06 and having played against the elements Seneschalstown would have been quite content with how things stood at this stage of the game.  Indeed to hold the St. Pat's forward line to just six points when playing with the advantage of the strong breeze would have been regarded as a very impressive thirty minutes work for their defence in which Conor Cowley and John Smith were outstanding while Mark Fox was putting in a sterling shift.
When play resumed and the spectators had braved the elements once more Joe Sheridan picked off the first score of the second half when rising highest to fist over a sixty five metre Bryan Clarke free which had just dropped short.  Next came a score which started with goalkeeper David Lyons coming off his goal line to commandingly gather possession and ended with a very good Brian Sheridan point.  Then in the thirty eight minute controversy enveloped Duleek.  The umpire waved a St. Pat's shot wide which had appeared to go over the top of the right hand upright but following a series of protestations and a consultation between the referee and his umpires the man with the whistle gave the instruction for the white flag to the waved and the point to be confirmed. 
Seneschalstown were somewhat aggrieved by this decision but their response was most impressive as in the next two minutes Bryan Clarke sent two points sailing over, the first of which came from play and the second a free from all of sixty metres out.  St. Pat's were still looking dangerous and Seneschalstown were most grateful to firstly David Lyons and secondly Cormac Noonan when they combined to pull off two saves in a matter of seconds to prevent the concession of a goal.  Adam Carey then added a point when he got on the end of excellent work from Joe Sheridan and Sean Noonan who combined to force a turnover and then Brian Sheridan and David Matthews who placed Carey for the shot.
St. Pat's though were not lying down and they whittled the deficit back down to just two points entering the final quarter when Shane Landy fired a quite brilliant goal which David Lyons had no hope of saving.  Reacting to this score David Hosie introduced the fresh legs of Robert Ruddy and Niall Lyons for Tean Cummins and Sean Noonan who had worked their socks off and also brought Joe Sheridan out the field from his full forward berth as he switched with Brian Sheridan. 
This switch in particular had the desired effect as the former All Star nominee proved very adept at winning possession.  On fifty one minutes Joe sent over a point to extend his sides advantage back out to three points before with five minutes of the hour remaining Bryan Clarke pushed the margin out one further when getting on the end of a Brian Sheridan pass after his captain had been found by a long ball into the clubhouse corner by Joe.  This proved to be his team's final score of the game but there was still time for St. Pat's to narrow the gap once more to three points and ensure a nervy ending to the game when they pointed a free with a minute of normal time remaining.  Four minutes of stoppage time were played but in this time neither side were able to add to their total and it was Seneschalstown who were in greater spirits when the final whistle was sounded.
On an evening when the fare on offer may not have been the most pleasant on the eye Seneschalstown won't let this bother them as they have picked up a vital two points in their battle to remain in the Senior grade.  Among those who performed very well for Seneschalstown were Conor Cowley, Cormac Noonan, Sean Noonan, Bryan Clarke and Joe Sheridan. 
Seneschalstown: David Lyons, Conor Cowley, Cormac Noonan, John Smith, Mark Fox, David Matthews, Niall Groome, Tean Cummins (1-00), Damien Sheridan, Sean Noonan, Brian Sheridan (0-04, 0-03 Frees), Adam Carey (0-01), Bryan Clarke, (0-04, 0-01 Free, 0-01 '45) Joe Sheridan (0-02), James Byrne.
Seneschalstown Substitutions:  Robert Ruddy for T. Cummins, Niall Lyons for S. Noonan, T. Cummins for R. Ruddy. 
St. Pat's:  Robert Cluskey, Adam Byrne, Diarmuid Quinn, David Stafford, Ray Russell, David McQuillan, Barry Mooney, Alan Vickers, Shane Dowling, Ciaran Calvey, Niall Mooney, Andrew Mooney, Donal Landy, Kieran Lynch, Shane Landy. 
Most Read Stories