IFC: No separating Kilmainham and Nobber
August 09, 2015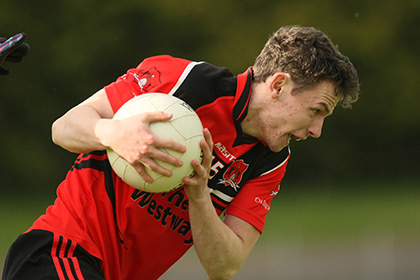 Kilmainham's Freddie Newman
Kilmainham report:
All square in Kilmainhamwood as Kilmainham and Nobber share the spoils.
Kilmainham v Nobber
H-T    0-04         1-05
F-T    0-13         1-10
Played in Kilmainhamwood Ref Marcus Quinn
Kilmainham team and scorers: 1 Kevin Jordan; 2 Ros Mooney, 3 Richie Brady, 4. Denis Newman; 5 Harry Newman, 6 Seanie Mahon, 7 Gerard Morgan (0-01); 8 Barry Lynch, 9 Michael Newman (0-05)(4frees 1 from play); 10 Trevor Lynch, 11 Shane Morgan (0-01), 12 Dean Peppard (0-01); 13 Mark Newman (0-02), Freddie Newman (0-01), Johnny Quinlan (0-01). Subs Paul Farrelly for Trevor Lynch, Conor Kilgallen for Johnny Quinlan.
Nobber had 4pts from play on the scoreboard before Mark Newman slotted over the bar for Kilmainhams first score in the 14th min. Kilmainham were awarded a free and Mickey Newman pointed with ease Nobber replied with another point and then Nobber to leave 0-02 0-05 to Nobber. Nobber then received a boost when they were awarded a penalty in the 23rd min. (this was the last score of the half) Kilmainham held their nerve and pointed two more points all from the boot of Mickey Newman. Kilmainham Trevor Lynch received an injury and had to be replace by Paul Farrelly who was tenacious in his duties. Kilmainham started the second half with great pace and determination and within the first 4 minutes there were points from Mark Newman Shane Morgan Freddie Newman (f) and Gerard Morgan to leave it 8pts to 1-06. in the 10th min Johnny Quinlan scored a fine point Mickey Newman fired over another free in the 13th min. was another point from Mickey Newman Dean Peppard and Conor Kilgallen (28th) in the 29th min Nobber got a free from an easy position to leave it all square. a good team display with Ros Mooney Harry Newman Seanie Mahon Ger Morgan Paul Farrelly Michael Newman and Shane Morgan showing for Kilmainham.
Nobber report:
Nobber.            1.10
Kilmainham.    0.13
A 61st minute pointed free from Brian Farrell to draw the match enabled Nobber to maintain their unbeaten run in this years competition
Kilmainham outscored Nobber 9/5 in the second half helped in no small way by the dismissal of corner back Barry Cassidy in the 34th minute for a second bookable offence
Nobber were the better side in the first half and despite the squandering of several scoring chances still led 1.05 to 0.04 at the break. Jamie Owens got them of the mark with a first minute point followed by further points from Karl Casserly 2 Dean Halpin and Sean Meade this was followed by a well taken. Penalty from Brian Farrell after Casserly was upended in the square after been put through by a great pass from Gavin Farrelly.
Farrelly added to Nobbers total in the 31st minute but with Kilmainhams emergance found themselves fighting a rear guard action for the remainder of this period with Brian Farrell keeping them in the hunt with his 4 points.
Credit is due to Kilmainham about the way they set about the task in the second half and allowing for the fact it was Nobber who pointed late to draw the match a division of spoils was the fairest result.
Nobber scores
Brian Farrell.   1.04
Karl Casserly. 0.02
Jami. Owens. 0.01
Dean Halpin.  0.01
Sean Meade. 0.01
Gavin Farrelly 0.01
Best for Nobber
Brian and Alan Farrell Kit O Reilly Karl Casserly Brian Meade
C O Reilly P Weldon Brian Meade B Cassidy B Heffernan Niall Farrell Alan. Farrell. G Farrelly C Clarke B Heffernan D Halpin K Casserly J Owens. Sean Meade
Most Read Stories