SFC: Dunshaughlin ease past low scoring Walterstown
May 25, 2015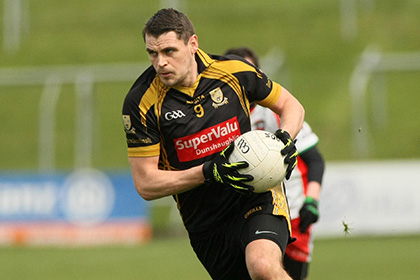 Ray Maloney Dunshaughlin.
Dunshaughlin 0-14
Walterstown 1-05
A beautiful summers evening in Trim was the venue as Dunshaughlin and Walterstown met in the 3rd round of the Meath SFC.
It was all Dunshaughlin in the first half with a converted Cathal O'Dwyer free  after 6 mins getting the black and amber off the mark. A Trevor Dowd point after 10 mins was backed up by a majestic Ben Duggan score 2 mins later following some good work from Dunshaughlin full back Alastar Doyle. Despite dictating long periods of possession Dunshaughlin had to wait another 12 mins before their inspirational midfielder Ray Maloney got his first score of the game to have Dunshaughlin leading by 4 points. Trevor Dowd was now starting to pull the strings at centre forward with him  getting his second  point after 25 mins who was ably assisted by John Crimmons  before Shane Gallogly got in on the scoring act on 27 mins to raise the white flag for Dunshauglin. Another Ray Maloney point after some good work from Tadhg O'Dushlained ensured the black and amber finished the half strongly leading by 7 points with Walterstown still not managing to register a score.
Two converted Cathal O' Dwyer frees in the 34th and 39th mins extended Dunshaughlin's advantage before Walterstown got their first point of the game after 40 mins. This score seemed to give the blacks some confidence and two converted frees in the 45th and 47th minutes had 6 points between the teams but a fine Cathal O'Dwyer point from play on 56 mins was to break the Walterstown dominance. Another point from the blacks meant they were hanging in there before Trevor Down got his third point of the game following a lovely pass from Danny Quinn. Dunshaughlin were now in total control of the game  after two Walterstown red cards and a lovely Niall Murphy pass that found Fergus Toolan resulted in a rare right footed score that impressively sailed straight over the bar. Dunshaughlin substitute Mark Devaney was also getting his hands on some good ball and a fine catch  from a Walterstown kickout and a beautiful point a minute later will have made his evening. Tadgh O'Dushlaine capped off a fine evening for Dunshaughlin with a point deep in injury time before a consolation goal from Walterstown was to be the last kick of the game. Best for Dunshaughlin in a solid team performance was Alastar Doyle, Tadhg O'Dushlaine, Ray Maloney and Trevor Dowd.
Dunshaughlin - M.Aherne, D.Ormsby, A.Doyle, F.Delaney, D.Dunne, C.King, T.O'Dushlaine(0-01), J.Crimmons, R.Maloney(0-02), F.Toolan(0-01), T.Dowd(0-03), B.Duggan(0-01), S.Gallogly(0-01), N.Murphy, C.O'Dwyer(0-04). Subs - M.Devaney(0-01) for S.Gallogly, D.Quinn for D.Ormsby
Walterstown Report
Dunshaughlin 0-14
Walterstown 1-5
Dunshaughlin got their second win of the championship campaign with Walterstown only registering their first score 10 minutes into the second half in this 3rd round encounter in Trim on Sunday evening.
Dunshaughlin got off the mark after 6 minutes from a free, Walterstown defended well to prevent further scores with only 3 points scored in the first 20 minutes. Walterstown however were closed down quickly in possession and lacked penetration up front with Dunshaughlin adding a further 4 points before the break to lead 0-7 to 0-0.
Dunshaughlin added to their tally with 2 points in the first 10 minutes of the second half. Christopher Farrelly opened the scoring for the Blacks after 10 minutes of the second half, this spurred Walterstown on with Alban Crosbie adding a 2nd point before Christopher Farrelly scored his 2nd to leave 6 between the sides with 13 minutes left. Walterstown however were dealt a major below with Mark and David Reynolds both receiving red cards in the closing 10 minutes, Dunshaughlin responded by adding a further score to put 7 between the sides with 5 minutes left. Walterstown finished the game strong scoring 1-02 however with Dunshaughlin continuing to add to their tally they ran out 0-14 to 1-05 winners to get their 2nd win of the campaign.
Walterstown: John Davis, Aron McLoughlin, David Reynolds, Colm Reilly, Peter Reynolds, John Geoghegan, Cathal Hennelly, Alban Crosbie, Conor O'Sullivan, Robbie McDonnell, Ruairi O'Dowd, Christopher Farrelly, Paul Donnellan, Mark McCormack, Richie Barry. Subs: Mark O'Meara for Robbie McDonnell, Colly McGrane for Ruairi O'Dowd, Mark Reynolds for Mark McCormack, Ray Reynolds for Paul Donnellan, Christopher Reynolds for Richie Barry
Most Read Stories