IFC: Clann defeated by Kilmainham
May 25, 2015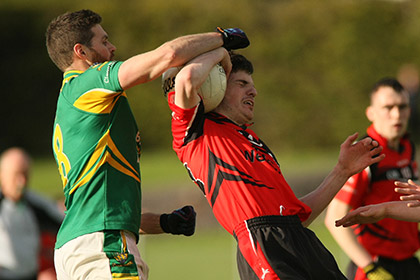 Clann Na nGaels Jamie Shaw with Mark Newman Kilmainham during the Meath IFC game at Simonstown
Clann na nGael 0-8
Kilmainham 0-13

Kilmainham minus County man Mickey Newman inflicted a third Championship defeat on Clann na nGael in Simonstown Sunday evening.

Clann na nGael got the worst possible start as Kilmainham dominated from  the start and raced into a 5 points to no score lead after 15 minutes.

Caoimhin Griffin got Clanns first score a long range free  then and this seemed to get the Athboy men moving as the scored three points on the trot.The game was tight going into the last five minutes of the half but with the wind at their backs Kilmainham tagged on three more points to leave the half time score 8 points to  four in favour of Kilmainham.

Clann na nGael started the second half minus Luke Swaine and Gavin Browne who both had to come off injured.However the Athboy/Rathcairn lads still managed to make a game of it cutting the Kilmainham lead back to two points at 9 to 7 ,with Brian Duffy running from deep and Caoimhin Griffin kicking some good long range scores.However when Referee Gerry mcGivney dismissed Kieran Smith who was having a good second half Clann faced an uphill final quarter .

Kilmainham dominated from there to the final whistle as the used the extra man well to  close out the game 13 points to 0-8.

Clann na nGael: P Garry, C Kelly, B Duffy, G Browne, T Whelehan, D Kelly, P Tiernan, J Shaw, G Woods, L Swaine, A Ennis (0-1) C Fitzsimons (0-1) Kieran Smith (0-1) G Hanly, C Griffin (0-5) Subs A Cully, D Brogan, P Garry.
Kilmainham: Kevin Jordan, Ros Mooney, Richie Brady, Denis Newman, Harry Newman, Seanie Mahon, Gerard Morgan 0-1, Barry Lynch 0-1, Trevor Lynch, Johnny Quinlan, Shane Morgan 0-1, Dean Peppard 0-1, Mark Newman 0-8, Pat O'Sullivan, Freddie Newman 0-1. Sub: Conor Kilgallen
Most Read Stories