IFC: Ratoath see off Dunderry
May 25, 2015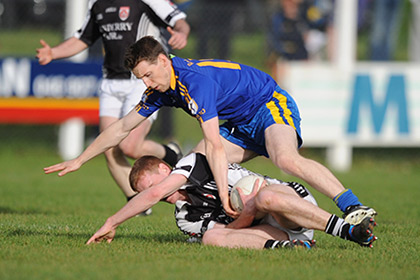 Ratoath's Bryan McMahon puts pressure on Conor Dempsey Dunderry during the Meath IFC game at Walterstown
Ratoath 2-18 Dunderry 3-7
Ratoath survived a stern test from Dunderry in a high-scoring IFC encounter at Walterstown where referee Padraig Coyle issued two black cards to Ratoath players in the opening eight minutes.

Ratoath's Brian O'Connor departed in the sixth minute and goalkeeper Shane Duffy was next to go.

Dunderry lost Conor Dempsey to a second yellow card in the 29th minute and soon after the resumption they had Damien Clarke black-carded.

Ratoath were ahead by 1-6 to 1-5 at the interval, the goal coming from Bryan McMahon inside 60 seconds, but Stephen Coogan found the net for Dunderry from a penalty after the second black card-incident.

Ratoath looked home and hosed 10 minutes into the second-half with a 1-12 to 1-6 lead, but then gutsy Dunderry unleashed a two-goal salvo in the space of 60 seconds with Luke Martyn the hitman - level at 1-12 to 3-6.

Ratoath forged ahead again but when Dunderry were awarded another penalty it gave them a potential lifeline - Coogan's effort went the wrong side of the post and Ratoath capitalised to win by 2-18 to 3-7.

Best for Ratoath were Bryan McMahon, Eamonn Wallace, and Cian O'Brien

Foireann Ráth Tó: Shane Duffy, Daragh Mcgill, Conor McGill, Gavin McGowan, Brian O'Connor, Brian Power, Emmet Boyle, Cian O'Brien(0-2), Keith McCabe(0-1), Conor Rooney(0-3), Bobby O'Brien(0-1), Gareth Rooney, Joey Wallace(0-1) Eamonn Wallace (0-4) Bryan McMahon(2-6) subs Brian Daly for Brian O'Connor (b/c), Frank Coyne for Joey Wallace (inj) Mark Daly for Daragh McGill

Dunderry 3-7
Ratoath 2-18
This Rd 3 of the I.F.C was played Sunday evening in Walterstown in perfect conditions for football and that's what the supporters got a display of high scoring and fast flowing football from both teams. Ratoath were fast out of the blocks and registered a goal in the 1st minute, but Dunderry came back straight away Stephen Coogan knocked over a free in the 4th minute. Then in the 11th minute Coogan made a surging run and was dragged down by the Ratoath keeper, Coogan calmly stepped up and fired home the resulting penalty and he followed up with another free in the 12th minute. Ratoath did not ease up and went score for score with Dunderry, Luke Martyn who the day before togged out for the Meath hurlers against Kildare was showing a fine display of high fielding and sent in some dangerous high balls. Paddy Kennelly was being doubled up on but in the 28th minute he broke free from his markers and put over a fine point from about 30 yrds out this was followed with another Coogan free in the last action of the first half to leave the score 1-5 to 1-6 to Ratoath.
Ratoath again came out quickly in the 2nd half but for some fine defending by Davy McCormack at fullback and Evan Stephens they could have added to the score. Coogan scored another free in the 33rd minute. Ratoath went on to score 6 unanswered points and Stephen O'Rourke responded by moving Luke Martyn to full forward and in the 42nd minute it produced dividends, a high ball was fed in and judged by Martyn he took it on calmly side stepped the keeper and coolly found the net. Then in the 44th minute Kennelly picked up the ball on the halfway line shrugged off 2 defenders and again Martyn won a high ball and hit the net again. This brought the scores level again but Ratoath went on a hit 3 points, then in the 52nd minute again Martyn was causing havoc and powered towards goal only to be hauled down for another penalty but unfortunately Coogan put it the far side of the post. Andy Coogan surged forward and from about 25 yrds out scored a superb point but Ratoath had enough in the bag too run out winners by a score of 3-7 to 2-18.
Dunderry: D.Jennings, A.Newman, D.McCormack, S.Carty, C.Dempsey, E.Stephens, D.Clarke, L.Dempsey, C.Farrell, A.Waters, L.Martyn (2-0), A.Coogan (0-1), P.Kennelly (0-1), B.Doherty, S.Coogan (1-5,5f's).
Subs: C.O'Shea for D.Clarke (B.C), D.Callaghan for S.Carty, T.Doherty, E.Dempsey, G.Dooley, S.Maguire, D.Gilkeson, M.Garry, S.Clarke
Most Read Stories