IFC: In-form Farrell leads Nobber past Don/Ash
May 23, 2015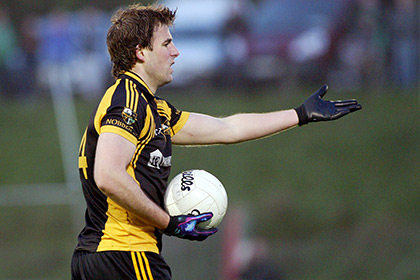 Nobber's Brian Farrell
Nobber                           0.15 (0 07)

Donaghamore/Ashbourne 0 08  (0 04)

Former county star Brian Farrell turned in a superb performance and in the process scored 6 pts 1 from a free and 5 absolute brilliant efforts from play to edge Nobber nearer the buisness end of this years championship.

Donaghamore/Ashbourne were no push over and Nobber had to use all of their guile and experience to win the day.

Alan Farrell got them of the mark with a well taken 45 in the first minute a feat which he also repeated in second half.

With Jamie Owens playing well at full forward contributing 3 first half points from play aided by a further 3 points from the Farrell brothers Brian 2 and Niall 1 Nobber led by 3 at the break.

On the restart Owens again popped up with another point from play to see Nobber lead 8/4.

As expected D/A came more into the game and by the 42nd minute had cut the deficit to 2 points.

At this stage Nobber needed a leader and up steps Brian Farrell to grab the game by the scruff of the neck kicking 4 wonderful points from play to ease the Nobber worries. Further scores from Heffernan and Dean Halpin ensured a very game Nobber victory.

Nobber scorers: Brian Farrell  0 06 (5 from play), Jamie Owens 0 04 (all from play), Alan Farrell    0 02 (2 45s), Niall Farrell    0 01 (free), Brendan Heffernan (0 01 play), Dean Halpin   0 01  play

Best for Nobber: Brian Farrell, Jamie Owens, Conor Halpin, Pauric Weldon, Brian Meade, Alan Farrell

Nobber team: C O Reilly P Weldon B Meade C Halpin B Heffernan R Shields B O Reilly G Farrelly A Farrell C Clarke B Farrell N Farrell D Halpin J Owens S Meade

Nobber's experience gets them across the line.
Date: 22nd May 2015
Venue: Dunsany
 Donaghmore Ashbourne 0-08 Nobber 0-15
Nobber, led by a super Brian Farrell display needed all their experience to shake off a young Donaghmore Ashbourne challenge when the sides met in the Intermediate Championship on Friday night in Dunsany.  It was a perfect evening for a game and both sides produced an entertaining match that was keenly contested until the final quarter. Donaghmore Ashbourne's second team worked hard throughout the hour and made Nobber earn their victory as a strong finish from the North Meath side eventually put a bit of light between the teams.
Nobber opened the scoring with a point from a 45 within the opening minute of the game and they extended their lead on 4 minutes with a point from play. Donaghmore Ashbourne registered three wides in the opening minutes before Sam Benville opened their account with a free on 8 minutes. Nobber then  hit a bit of a purple patch and registered four unanswered points  (one from a free and three from play)  to go 0-06 to 0-01 ahead by the end of the first quarter.  Sam Benville did hit a brace of  points from frees on 17 and 21 minutes with the  North Meath side replying with a point on 22 minutes.  Kevin Fenton got the final score of the half in injury time to leave Donaghmore Ashbourne trailing at the interval by 0-07 to 0-04.
There were early exchanged in the opening period of the second half with Nobber extending their lead on 31 minutes from play with Jack Hannigan converting a free for Donaghmore Ashbourne on 34 minutes and Benville also converting a free on 36 minutes. The sides traded score again late in the their quarter with Nobber raising the white flag on 40 minutes and Iarlaith O'Donnell replying on 43 minutes to leave only two between the teams heading into the final quarter.
Nobber did extended their lead with two quick pointes before Donaghmore Ashbourne's final score of the game came from a Dylan Brady point on 47 minutes.
The closing stages of the game saw the more experienced side Nobber side pull away from Donaghmore Ashbourne and during this period they registered four unanswered points with Farrell taking some fine scores from play.
Overall Donaghmore Ashbourne competed well with notable contributions from Gareth Deery and Jack Mc Carney but the experienced Nobber side were deserving winners.
Donaghmore Ashbourne: P. Durkan; G. Deery , J. Mc Carney, D. Lawlor; M. Quinn, M. Lynch, D. Brady (0-1); R. O'Connor, C. Brady; D. Murtagh, T. Kelly, I. O'Donnell (0-1); S. Benville(0-4) (4f), J. Hannigan(0-1), (1f), K. Fenton (0-1)
Subs: S. Kavanagh for Fenton, D. O'Donnell for Hannigan, I. Byrne for Benville, R. Bannon for Quinn
Most Read Stories