IFC: St Michaels leave it late to claim victory
May 23, 2015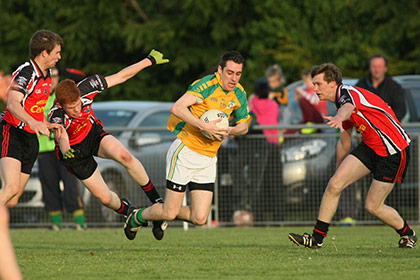 Cortown's Brian Smith is under pressure from sam Briody, Matthew Halpin and Mark Stafford during the Meath IFC game at Moynalty
St Michaels report:
St. Michaels 0-12
Cortown 1-6
For three quarters of this keenly contested Group A match played in ideal conditions in Moynalty last evening the result was in doubt.
St. Michaels who were without the services of J.B. O'Reilly and Jamie Farrelly started with a lot of possession but could only muster three points from Johnny Reilly 0-2 and Ciaran Lynch in the opening 14 minutes. They were winning plenty of ball around the middle third and it was at this stage of the game that they looked the most dangerous but they failed to take advantage of their ample possession and make it count on the scoreboard. Cortown fared worse having not troubled the scoreboard attendant until the 17th minute with their opening point, but when they got started they quickly followed up with their second two minutes later, however two points in quick succession from Ciaran and David Lynch put three between the sides once more at 0-5 to 0-2.
Cortown then took complete control of the remaining five minutes of the half and the turnaround came in the 25th minute when a high teasing ball into the St. Michaels square was contested by Paul McCormack and a Cortown player who managed to flick it over his head past the St. Michaels keeper to the back of the net to level the match with the only goal of the game. Cortown now with a head of steam won the resultant kick-out and sent it over the crossbar for the lead point, they followed with their fourth point in the dying moments of the half to lead by 1-4 to 0-5 at the interval.                                                                  
The second half exchanges were intense and uncompromising throughout but again scores were at a premium, St. Michaels fired over just three in that third quarter courtesy of Ciaran Lynch who got the leveller on 44 minutes, his third of the half came a minute later to put St. Michaels back into a one point lead. Cortown levelled matters on 50 minutes but a Johnny Reilly pointed free two minutes later put St. Michaels back in front, substitute Kevin Cassidy put two between the sides entering the final 5 minutes.
Cortown responded once more to leave just the minimum, but on 58 minutes Oran Meehan fed Ciaran Lynch who made no mistake and Meehan himself sent over the insurance point in the second minute of added time to earn his side a deserved victory.
Along with the scorers St. Michaels were well served by Peter O'Connell, Felim O'Reilly, Philip Rogers, Jamie Reilly, Mark Stafford, Ronan Lynch and Sam Briody.                                                                                                   
St. Michaels team & scorers:
Paul McCormack, Mark Stafford, Jamie Reilly, Sam Briody, Christopher Drew, Philip Rogers, Matthew Halpin, Felim O'Reilly, Peter O'Connell, Ronan Cassidy, David Lynch 0-1, Oran Meehan 0-1, Johnny Reilly 0-3, Ciaran Lynch 0-6, Ronan Lynch.
Sub: Kevin Cassidy 0-1 for Johnny Reilly 51 minutes.
Report and photo Pascal Reilly.
Cortown report:
IFC: Micks pip Cortown in Derby classic
Cortown 1-6
St Michaels 0-12
St Michael emerged victorious after an intense, ferocious battle against Junior Champions Cortown in Moynalty on a gorgeous Friday evening. A massive crowd descended on the venue which I must say was facilitated magnificently with programmes being distributed to the spectators.
It was a crunch game for both possibly more so for St Michaels who only had 1 point to show from they're opening two games with Cortown winning one and losing one. Both teams were missing key men with Glen Loughran and Danny Murphy away for the Junior Champions whilst The Michaels lost influential midfielder JB O'Reilly last week to injury.
This was always going to be a war of attrition with space at a premium and a real sense of intensity which epitomises local derbies so often. It was a frantic start to proceeding with The Micks dominating the early exchanges and after 15 minutes they were 3 points up and you'd be forgiven to think this was going to be one-way traffic throughout.
However, Cortown who missed several decent opportunities for themselves, finally got to grips with the occasion and Ryan O'Rourke pointed a free after Tommy Smith had been fouled. Cortown were eager to stay on top and did so when O'Rourke curled over his second point of the evening and all of a sudden there was only a point between the sides.
St Michaels lead by the Lynch-pin trio of David, Ciaran and Ronan started having an influence but were struggling to convert opportunities with some last ditch defending from the hounds in the Cortown backline. Referee Paul Mooney was making some controversial decisions for both sides and this gave the game a bit of an edge and added spice, not that it needed anymore than it already had!
Tommy Smith struck a beautiful point before the big moment in the first half came in the dying embers of the half when a huge delivery from Smith found his namesake on the edge of the square and despite big Paul McCormack coming out, he couldn't get anything on the ball and the slightest of flicks from Brían Smith deflected the ball into the back of the Michaels net and suddenly the game was turned on its head!
Leading by a point, another delivery was broken by Smith and David Rispin burst onto the scene and was denied but captain Kevin McGuiness cleverly executed a left footed finish which squeezed inside the upright and as Mooney blew his whistle for half time, the Junior Champions had a shock lead winning by 2, 1-4 to 0-5.
Millennium man and Michaels mastermind Martin O'Connell took his time releasing his troops from the dressing room, obviously giving his side a real dressing down! When the game did recommence the sides traded scores with O'Rourke pointing a routine free to keep Cortown's noses in front.
St Michaels then gained a foothold as the tempo once again increased with some serious tackles going in and scores at a premium. Peter O'Connell and David Lynch came to the fore for the men in red and black and got the Carlanstown club back into contention. Cortown wouldn't lie down though, and Rispin nearly had to be murdered over towards the dug-outs to get a free and the free was expertly dispatched by McGuiness from the sideline for a real inspirational score from the captain.
The Micks once again got their noses in front and didn't look back with some real big contributions from the substitutes in particular. Cortown threw on the veteran Butch Casserly in hope he could engineer a goal opportunity but it wasn't to be as St Michaels defended well against the dangerous Cortown forward line. In the end the Michaels emerged 3 point winners but my God did they know they were in a game and were no doubt relieved to hear the final whistle.
It was a cracking contest and despite the defeat when the dust settles Cortown will take positives from this to take into the remainder of the championship. It's a simple equation now for the Cortown men: win both games and it's a quarter final. The two games won't be easy but are certainly winnable but a big break before Donaghmore Ashbourne represents a real chance to get things right in the league. In the more immediate future, Cortown have a massive game tomorrow noon in the Junior C against Dunsany where a win would see Jose Rennicks' men qualify for the quarter-finals with a game to spare.
Cortown: John McFadden, Stephen Clarke, Paddy Kerrigan, Ivor O'Halloran, John McGearty, Daragh O'Halloran, Colm Kerrigan, Kevin McGuiness (0-2,1f), Richie Flanagan, John Casserly, Tommy Smith (0-1), Ryan O'Rourke (0-3,2fs), Brian Faulkner, David Rispin, Brian Smith (1-0).
Subs: Brian Casserly for J Casserly, Declan Clarke for Faulkner.  
Most Read Stories