SFC: Dunboyne make it three from three with win over Rathkenny
May 23, 2015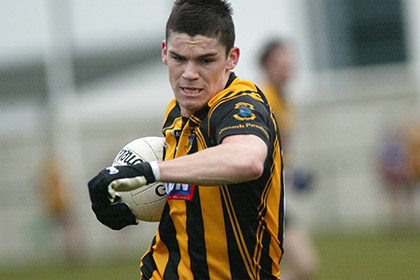 Dunboyne's Donal Lenihan
St Peters Dunboyne 0-14
Rathkenny 1-10
It was a lovely summer evening in Trim as St. Peter's Dunboyne and Rathkenny lined out for the third round in Group A of the Senior Championship.
Dunboyne's top scorer Donal Lenihan opened the scoring on the night with a fine point. This was followed by two points from corner forward Jason Daly and another from Lenihan before Rathkenny swiftly moved the ball up the field and got a goal. This was followed by an excellent point from play from Shane McEntee and topped up with two more points from play for Donal Lenihan. It looked at this stage as if Dunboyne were to sail home, ahead by 0-07 to 1-00, but a shift in momentum came when Dunboyne missed two wides and Rathkenny kept attacking, scoring five points unanswered to finish the first half ahead by 1-05 to 0-07. 
This trend continued for the beginning of the second half with Rathkenny furthering their lead to 1-09 to 0-07 as Dunboyne were slow off the marks. Dunboyne began to rally back beginning with a 45 from Lenihan and followed by a score from play from Cathal Finn, responsible for many of Dunboyne's attacks on the night. It was then the momentum began to shift back to Dunboyne as they began to take control for a period of about fifteen minutes. Two frees, one each from Ger Robinson and Donal Lenihan and another from play for Robinson saw the sides return to level.
At this stage, Dunboyne were reduced to fourteen men following a second yellow card for midfielder David Gallagher. Rathkenny then scored a point in the last minute of normal time which was quickly responded to in style by Dunboyne's Tommy O'Connor. The last minute of injury time saw a great contest at midfield between Dunboyne's Shane McEntee and Ratkenny's Brian Meade with Shane McEntee winning the ball and getting it to Donal Lenihan who converted it for a last minute score for Dunboyne to win the game by a point. A closely fought game thought which now see's St. Peter's Dunboyne top of Group A having won all three matches so far.
Best for Dunboyne: Shane McEntee and Cathal Finn.
The Dunboyne team lined out as follows: J. O'Connor, S. Lavin, J. Scannal, J. Meehan, C. Clarke, C. Finn (0-01), C. Doran, D. Gallagher, G. Gallagher, S. Moran, D. Lenihan (0-07) (1f) (1,45), T. O'Connor (0-01), G. McCoy, J. Daly (0-02), S. McEntee (0-01). Subs: D. Sweeney for G. Gallagher, S. McGarrell for J.Daly, G. Robinson (0-02) (1f) for S. Lavin.
Most Read Stories