SFC: good start for Skryne
April 13, 2015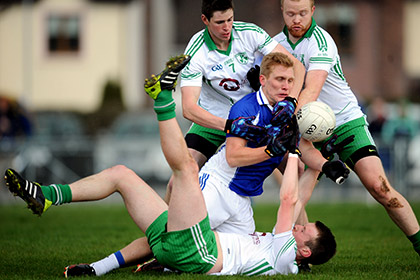 Many hands make light work. Skryne had five points to spare over St Pats in Duleek.
Skryne 1-14
St. Patrick's Stamullen 3-3
Many Clouds reigned supreme at Aintree and there were many clouds over Duleek also as Skryne overcame St. Patrick's yesterday in the first round of the Meath SFC.

While the clouds never really broke and the rain stayed away for most part, the strong breeze towards the Town end of the pitch made playing against it very difficult. Therefore the old saying of a game of two halves was never more accurate than it was.

St Pats had the benefit of this very strong wind for the first half and made very good use of it to lead at half time by 3-2 to 0-5. Two of their goals came within a two minute spell after about 20 minutes of this opening period to leave them 9 points in front and the Blues looked in serious trouble. Defensively Skryne were all over the place at this stage but to their credit the forwards rallied and added 3 unanswered points before the break through Patrick O'Rourke, Paddy Fox and Mark Battersby.

With the gale force wind behind them Skryne went for the jugular in the second half and restricted the losers to a single point from a free during this 30 minutes. Meanwhile scorer in chief Batts and the excellent Big P accounted for all of Skryne's 9 points in this half. The goal which sealed the Stamullen men's fate coming as the last score of the game from Brian Davis after good approach work from all the Skryne forwards.

So its onwards and upwards to the next match versus Seneschalstown in Ratoath in two weeks two weeks time.
Skryne - Ian Gillette. Niall Lenehan, Ciaran Lenehan, Vinny O'Reilly. Ronan McCabe, Mark Jordan, Adam O'Sullivan. Donie Ryan, Thomas McKeown. Conor O'Brien, Stephen O'Brien, Paddy Fox (0-1). Brian Davis (1-0), Patrick O'Rourke (0-5), Mark Battersby (0-8). Sub used Aidan Tuite.
Most Read Stories